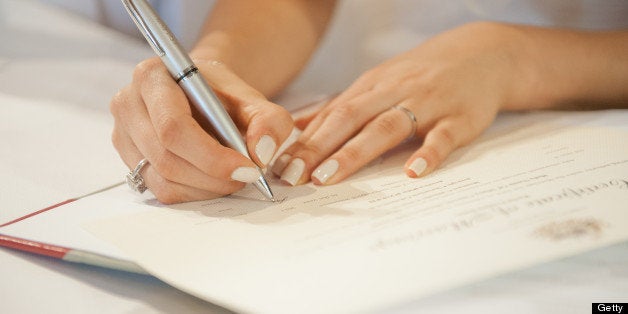 If you were to marry, would you take your spouse's name?
It's a highly personal question that, for many women, has relevance long after they say "I do." On Sunday, divorce coach Mandy Walker opened up about the regret she felt after taking her husband's last name -- and the trouble she ran into when she decided to switch back to her maiden name after they divorced.
"The sheer number of accounts that had to be changed was overwhelming," she wrote. "Even now, some six years later, there's one account where my married name still pops up on some correspondence. I've given up trying to get it corrected."
Ultimately, though, she said the trouble was worth it: "[My ex's last name] doesn't fit. It's a name I don't associate with myself," she wrote. "In contrast, my name, the one that I grew up with, is an integral part of my identity. It's part of me and I won't ever be changing it again."
We knew Walker couldn't be the only divorced woman to rethink the merits of taking your spouse's surname, so we decided to ask our readers on Facebook and Twitter to weigh in with their thoughts. "If you were to marry again, would you take your spouse's last name?" we asked. Click through the slides below to see what they had to say, then head to the comments and tell us your take.

Would You Take Your Spouses Name?