 "No problem, Grandma. I can pick up something after work -- any veggie will do?"
"That must suck," said my 21-year-old cube mate after I hung up the phone. "If I were 30 and living with my grandparents, I'd kill myself."
It was hard to believe that just one year earlier, I had been renting my own Manhattan apartment while dating a handsome, smart man who wanted to marry me. Now I was 30, single and schlepping to my grandparents' New Jersey house every night. I looked out the window onto the big city buildings. Finding home was always a difficult journey for me.
My younger brother, Ian, was born deaf with Down Syndrome, and had never-ending needs. He required medical appointments, physical therapy sessions, sign language classes, checkups -- a constant flurry of activity that I helped with. The New Jersey hospital we frequented was close to my mother's parents' house and I looked forward to visiting Grandma Ann and Grandpa Bob afterwards. My younger siblings and I would pull up to their tiny yellow house and I'd charge up the brick stairs where Grandpa would greet us at the screen door with his biggest smile. "What a bevy of redheaded beauties!" he'd beam. Grandma smothered us with kisses, served Jello-pudding snacks with Cool Whip, and Ian and I would play "crawl tag" around the living room while "Reading Rainbow" played in the background. When it was time to leave, Grandpa Bob's voice would boom from the den, "I'm gonna find you, you turkeys!" I'd pick up Ian and scurry behind the couch where we'd hide until Grandpa found us curled in our familiar spot. He'd give me noogies until my hair stood up straight and tears streamed down my face with laughter.
When I was 7, Ian died and it all stopped. My mother and father were left with each other and their sadness. I was left without my closest friend.
Our happy practices stilled, and my parents fumbled to find the perfect home, the best school system, a better Presbyterian church -- anything to take away the sorrow that lingered like a storm cloud after my brother's death. I started and stopped at two New Jersey middle schools, three high schools and five churches as a result.The instability magnified tension in my parent's marriage, and left me disoriented, lonely and desperate for friendship. My two younger sisters could not offer much emotional support.
After classes, I'd tiptoe down to the basement and gorge on chocolate chips, peanut butter out of the jar, Triscuit crackers, Pop Tarts and heaping spoonfuls of Breyer's ice cream. Then I'd sneak up to my room and create Instant Messenger screen names to chat with boys from different states. I felt like a ghost at home and a stranger at school. My mother opened an etiquette consulting business and gave her heart to her work. My father, a West Point graduate, took a 3:00 a.m. paper route to help pay back my brother's medical bills, then went to his full-time job in computer technology.
Both my parents became heavily involved in every church we attended. My dad was a deacon, my mom was on all the committees and a Martha Stewart "hostess with the mostest." On weekends, she threw gorgeous dinner parties, ingratiating us to every new community we joined. She'd curl my hair, dress me up in poofy Laura Ashley dresses and I'd walk down our spiral staircase and play the piano and sing hymns for company. Everyone adored the performances. But to me, they were uncomfortable and felt staged. Earning acceptance was a constant chore, and whenever we'd move, the circus started up again, again, again.
When I graduated from high school, my parents divorced. My father remarried and moved to another state with his new wife and three step-children. My mother moved into a rental unit that didn't have a bedroom for me.
Grandma Ann and Grandpa Bob were the only constant in my life. Growing up, we drove a half-hour to see them every Sunday for dinner. My grandmother Antoinette was a funny, vibrant, Italian matriarch. Grandpa Bob was a noble, earnest Scotsman. Grandma rang a brass dinner bell and I'd run to the table, gobble up spaghetti, meatballs and pastries, then sit in the den and watch old movies (Captain Blood, Oliver!, Gigi) while the adults made small talk. I felt safe there, and special.
Throughout adolescence, I scrawled earnestly into my Mary Engelbreit journal and read inspirational essays from Oprah Magazine before bed. I lined my bookshelf with self-help titles and became best friends with "The Dr. Phil Show." My journal began to reflect the life I longed to lead once I could shake New Jersey and mark my own path: "Move to New York City and lose a ton of weight. Get an amazing job and gorgeous apartment -- just like Rachel in 'Friends.'"
Once in Manhattan, I tried to erase my past. I lost fifty pounds and took jobs in the entertainment industry, becoming an assistant to important people. Rich people. Famous people. After a few years, I was surrounded and loved by big shots who I thought mattered. The validation soothed me like a drug.
The red hair I once despised became an asset and moving around as a child gave me a high emotional IQ. I attracted men. I did not have a boyfriend my entire high school career. Yet for the next ten years, I always had a man by my side, wrapping their approval around me like a snuggly comforter and relishing the feeling of being wanted. Each relationship offered a temporary family and place to call home.
"I'll take care of everything," I'd tell my boyfriends at the holidays. Every year, I'd put on an exhausting show for their families. I purchased thoughtful gifts I couldn't afford, then stayed up into the wee hours of the morning competing with myself over which could be wrapped the finest. A little voice inside me resented it all.
By 28, I was working in the film and television department of a talent agency, living in a sublet in midtown and wearing a size 6. My boyfriend was seven years older than me. Everyone expected us to marry.
"Dinner's ready!" my boyfriend called from the dining room of his impressive Park Slope apartment.
I sat on the edge of the bed in the next room in my short skirt, high leather boots and fitted, Tahari top and stared ahead at the brick wall, feeling as empty as I did as a child. I was doing my best to please and change, to suit him and keep our relationship alive. But something inside me was off.
Over dinner, I pushed roasted chicken and mashed sweet potatoes around my plate and avoided eye contact. For months, I had been hiding from real conversation, but he was growing tired of chit-chat.
"What's going to make you happy? I don't get it," he said.
I was unable to come up with an answer.
"You have everything going for you, but you're never satisfied. What are you looking for? What do you want?"
I went silent.
Eventually, he stopped asking questions.
Instead of the expected engagement, we broke up. I started smoking and crying and stopped eating or showering. I lit cigarette after cigarette while circling Bryant Park, left with myself for the first time in a decade. I hurdled back into memories of my lonely childhood. I started mourning the loss of my brother and so much more.
I left my job at the talent agency. I couldn't live in the apartment anymore. I needed to go somewhere. To think. To breathe. I called Grandma Ann and Grandpa Bob. When Grandma Ann picked up the phone, the sobs burst out of me.
"Grandma, I'm scared. I'm not right. I feel alone."
My grandmother listened patiently as I cried into the phone, then called for my grandfather to pick up the other line.
"Hiya, redhead!" he chirped.
When I heard my grandpa's voice, I let go of the phone and began heaving into my pillow. They had been there all along, and I had taken them for granted. I thought love would be beautiful and perfect, but being loved unconditionally was so messy and worn and flawed and childlike. I had been looking to men and glitz and glam to fill such a deep void and realized how terribly misguided I had been. I continued sobbing.
When I finished, my grandmother spoke softly, "Jillian, sweetheart, you are not alone. You have family that loves you. And you have a home. You come here. "
Grandpa Bob piped in, "Whatever you need, kid."
A wash of calm came over me when I moved in with them at 29. I woke up to scrambled eggs and bacon on Saturday mornings. I watched "20/20" and "Nightline" with them on Friday nights. I looked through old family photo albums and cookbooks. I told them about my problems with my parents and how much I missed my brother and my relationships and my struggles. Every single day, my 82-year-old grandfather drove me to the South Orange train station so I could make the 7:15 a.m. train to my new job. Then he picked me up in the evenings. He was never late once.
The night of my 30th birthday, I fell asleep in my mother's childhood bedroom. The next morning, my grandparents served me Entenmann's crumb cake. It was the first birthday I celebrated without a date in 10 years. I felt whole and at peace.
On that Tuesday at 5 o'clock, I left my cube mate without making a snarky comment back. I took the train into New Jersey where my grandfather was waiting for me amidst harried commuters in his green Camry.
I heaved my bags into the backseat and then plopped down into the passenger's side and let out a deep breath.
"Sorry, today was a crazy day. I'm a little bit of a mess," I told him.
Grandpa Bob leaned over and gave me a big kiss on the cheek, "Are you kidding me? You're just fine, kid."
After a while, I started to believe him.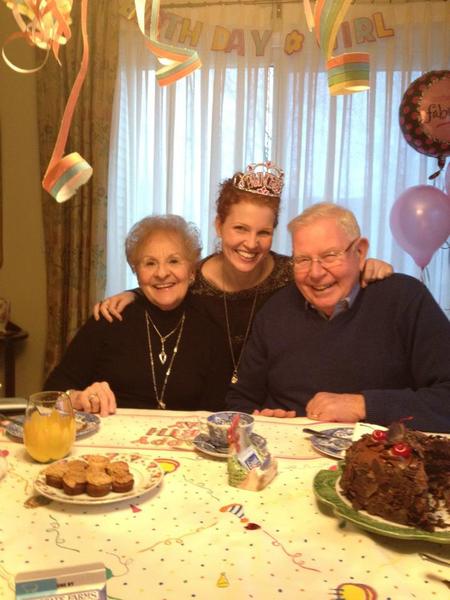 REAL LIFE. REAL NEWS. REAL VOICES.
Help us tell more of the stories that matter from voices that too often remain unheard.