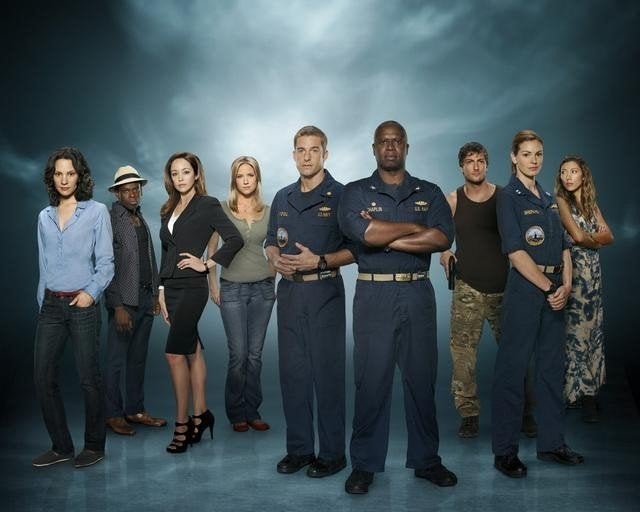 Shawn Ryan is no stranger to layered, cerebral dramas, having masterminded critically acclaimed (and underrated) series such as "Terriers," "The Shield" and "The Unit." That streak is set to continue with ABC's "Last Resort," a tense thriller set aboard a rogue nuclear submarine, starring Andre Braugher, Scott Speedman, Daisy Betts and Autumn Reeser.
The cast, along with Ryan and co-creator Karl Gajdusek, were on hand at the Television Critics Association Summer Press Tour to preview the new show, which had critics discussing race, politics and the corrupting influence of power (after Braugher opened things up with a Darth Vader impression, naturally.)
One reporter asked Braugher for his opinion on the state of race in network television -- especially in terms of the lack of leading roles for people of color -- and the Emmy winner gave an admirably diplomatic response.
"In essence, things will continue to progress. but I can't tell you what decisions went into allowing me to be in here as opposed to someone else. As television progresses, we're going to see a lot more varied stories. I really can't tell you what the world would be like if things were different, only the world we have. I'm part of the long arc of progress in which people of different races and ethnicities get a chance to shine."
Though Braugher couldn't weigh in on the decisions that went into hiring him, Ryan could, pointing out that this was the second show he's done with a person of color as the lead -- Dennis Haysbert on "The Unit" being the first. "I wanted the best actor for the role. I want to be as colorblind as possible for most roles that I cast. Networks want people to watch their shows and a lot goes into who the audience is, I don't concern myself with that, I just concern myself with how good the show can be," he said. "Things are changing, things are getting better, I think, we're just trying to make as good a show as possible. I do believe that Hollywood is the kind of place where merit is rewarded. It'll be nice when these questions don't get asked anymore, when Andre can just be an actor portraying [a character] -- hopefully 20 years from now we won't have to worry about it."
A critic pointed out that smaller, more internal stories have been Ryan's bread and butter for many years, but the writer-producer admitted that he's always had aspirations for tales with larger scope. "When we pitched this to [ABC president] Paul Lee last summer-fall, I described it as the show I couldn't make five years ago because I didn't possess the skill set," he admitted. "It's not like I didn't want to do something of a huge scale, but this is a really difficult show, it's a big budget, very huge scope show that I wouldn't have been capable of doing before."
The pilot centers around the crew of the USS Colorado after they receive an unverified order to fire a nuclear missile at Pakistan, but when the crew questions the command, they are fired upon by another US sub and forced to flee to a nearby island to regroup and figure out who is trying to incite nuclear war. "We go in a lot of different directions -- there's going to be a Tom Clancy aspect of this show, but TV is about relationships, so it will be characters first," Ryan said. "We've described this not as a show about war, but about people in a time of crisis. It's not going to be a monster-of-the-week situation, but there will be high stakes."
Ryan also pointed out that the political climate is currently ripe for examination, since both the Tea Party movement and the Occupy Wall Street protests have demonstrated a distrust of our country's institutions and those in positions of power.
Still, the creators want to avoid making any overtly political statements one way or the other. "I don't think we would ever pigeonhole ourselves as a political thriller," Gajdusek said. "We believe that our crew and our captain are patriots; they get this questionable order and do what should be done, which is question an order. It's not the United States itself that has chased them out -- it's more a portrait of an executive gone wrong, if the checks and balances of our system went off the rails. [Autumn Reeser's character in Washington] will be uncovering that side as our submariners try to prove their innocence or their righteousness [on the island]."
Check out a slideshow of of ABC's other new fall shows below:
PHOTO GALLERY
New ABC Series
Calling all HuffPost superfans!
Sign up for membership to become a founding member and help shape HuffPost's next chapter
BEFORE YOU GO