News of death bursts through the door, breaks your heart, and emotional chaos destroys the peace. This claxon sounding of all futures marks the final note of a life, bringing the aria to an end that is a beginning. The news of Violette Verdy's death for us in the dance world is even more terrible. And yet, as the memories cascade through the tears, they are memories of joy, life, celebration and above all, music. As brilliant and vivid as her footwork, memories of her flash in rhythmic cadences. Violette did not slow down, but rather took clever moments to rest, or think, or test, or wink. In the auditorium or in the theater of life, when Violette took the stage, all could relax into her magical tour of imagery and music.
Violette's origin, history and climb to international stardom ought to be well known, and if they are not then, dear reader, get busy. Her life is one that is important, and any deep viewing of it will reveal truth and artistry. Her classical training delivered her onto the professional stage at a time of profound change. As society ventured beyond the regularity of the industrial age, and individuals began to question their own limits and proclivities, Violette was drawn out of classical companies to those of avant-garde masters of creation. Even so, her work with Roland Petit, George Balanchine and Gerome Robbins was also balanced by appearances in classical companies like Festival Ballet and American Ballet Theatre.
Her pure classical training, the kind not achieved by today's world of stylistic fusion in training, allowed her to break free and deliver to visionary choreographers the stuff of their dreams: a dancer who could do anything--and everything--they might imagine. She danced on both sides of the dance divide, classical and neo-classical, bringing clarity of expression and a new freedom that relied as much on her regimen of top drawer training as on her irrepressible spirit of adventure.
Violette was musical, and experienced life as music. Her voice, laugh, cooking, stories and teaching were all movements in little private symphonies. Through them her bass notes of facing the perpetual demands of life's foundational needs were balanced by her titillating treble calling all to action and adventure. For several years each morning my phone rang, and her laugh broke through the haze of the day. She was then director of the Boston Ballet, but very concerned that I remained connected to the dance world as I healed from career-ending injury. She demanded that I come, in my wheelchair, to the studio to coach principal dancers. Not to be denied, she often called when I was at my day job. I was serving temporarily as "office manager" for Gillette, where my boss imagined he was Henry VIII, and personal phone calls were cause for beheading. One day he grabbed the phone from my hand, and got out perhaps two syllables of his booming bully tirade when he stopped mid-word and took in his breath. First he blushed red, then he turned white as a ghost. He gently put down the phone, and turning to all employees in the cubicle corral said "Any time Madame Violette Verdy calls Mr. Ludden you are to put the call through immediately, and never interrupt!" Whatever she said had brought a titan to his knees.
Before that, as I lay in the hospital having been told I would never walk again without prosthetic help, her call came to my bedside phone. Without introduction, her musical voice took the form of the Mars section of Holst's The Planets as she proclaimed
"If you have money, or if you do not have money, no matter. You are a dancer and you get the very best doctors!"
Another time, years earlier still, her message was a soft pastoral etude from a romantic era passage when she said
"Your baby and you are dancing on this first day of her life, and both of you must partner your wife. Do not think of going to the studio, you are in a performance so there is no need to rehearse today."
After her class one day she passed me in the hallway and said "there is something wrong, down there" and she pointed to my lower legs. Another day, when studios had been switched, schedules tangled and confusion reigned, she came up behind me and tapped me on the shoulder saying "make for the best!"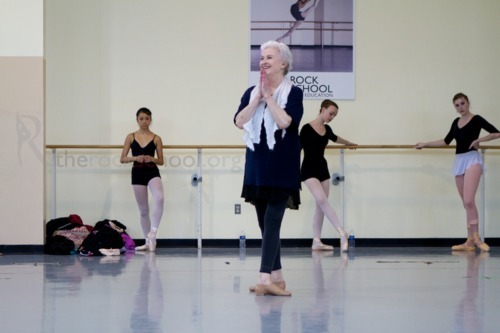 Photo courtesy of The Rock School
And always her refrain was "Dancing is easy! It is singing! And singing is natural!"
These memories go back to when I was only 14 years old and met her for the first time at a cocktail party (which I was far too young to attend). A group of us stood chatting; she joined our circle. Unaware of who she was, or the silence her presence had caused, I kept on talking. One of my dance teachers touched my elbow in a silencing gesture, but Violette's had stopped it. I looked from my elbow to the two hands, one on me, the other on it, and hesitated, very confused. My stare was lifted to her beauty when she said, "do not stop what you are saying." I couldn't remember what I had been saying, and murmured some self-deprecating remark about it not being important. "But it was!" she insisted. "It was because you were saying it! You are a young artist, no? We need what you have to say, it is our future!" Her tone had gone from lilting whim to Royal decree. And at that moment I had to find something worth saying.
Excerpt from Documentary on Violette Verdy
Violette was forever after firmly planted into my life, and I still had no idea who she was...until I saw her dance a few days later. (For those enamored of George Balanchine, I am about to blaspheme). I did not like the work of Mr. B. It made me feel nervous, distracted, fidgety. It made me think the dancers were amateurs with very odd training, trying hard to be classical but missing every mark. Yet I went; we all did. I watched all of the performances, and as I adjusted to this new kind of movement, I only wish I had known at the time that Balanchine intended to do avant-garde choreography, for that would have allowed me a way to view it that made sense. Yet there were some dancers who made it make partial sense. Millie Hayden was definite and unyielding, demanding respect for her power and intention. Allegra Kent was fun and free, running away from each nearly-achieved moment in a way that made me have to chase her in fun. Eddie Villella was strong and like an animal force in nature. Jacques D'Amboise was a showman, all sparkle and glitter. Arthur Mitchell was a cause-celebre behind whose banner I proudly marched.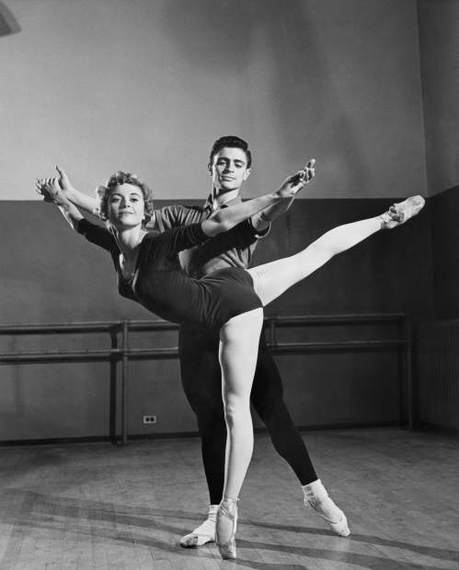 Nov. 17, 1958: Violette Verdy, practicing at the School of American Ballet
Photo: Sam Falk/The New York Times
But it was Violette who captivated me. With her it didn't matter that there was no recognizable statement beyond the visualization of music. And because her dancing brought the music alive in the moment, the experience lingered. Then, the afterglow brought abstract imagery and subtext. For several years I wanted all Balanchine dancers to be Violette, so I could find something to love like everyone else did. Later came others with strong classical training , like Bonnefous and Martins. They, too, had the technique to do all of the steps clearly, and musically in a way that I could appreciate. I still didn't "get" Balanchine, but I couldn't get enough of Violette. And only decades later she exposed the inherent questions "is just the music enough?" and "is abstracted essence a sufficient base for choreographic works?" Through Violette, the answer became "yes it sometimes is," but never to the exclusion of the rest of dance.
>
Coaching NYCB Principal Dancers at City Center
Violette Verdy was a poet when she spoke, a powerful force of nature in her work, a visionary in her choreography and writing, and a Philosopher-Queen in her teaching. The world has lost something profoundly important with her death.
For the past few years we have been working on the establishment of a substantial educational institute so that the vast collective of knowledge is found in one place. This knowledge is currently held by those who were there when standards were high; when fine art was distinct from commercial art; and when artistic achievements were ever expanding and uniformly substantial. We spoke periodically rather than daily, each of us too busy for regular morning calls. She had finished a flourish of activity at University of Indiana in Bloomington that she referred to as "all this avalanche here in Bloomington." She was heading home to France for a rare visit with her family. Then illness quickly came and took her.
Violette coaching dancers from Pacific Northwest Ballet in Emeralds
She had kept busy with the professional world of dance, but had found her place in university education, just as Fonteyn had in her post-performance career years. Violette had become an institution in Indiana, and her dedication propelled her through the fatigue of the ceaseless demands, just as the force of music propelled her to deftly weave together unlikely steps in magical ways. A few weeks before her death she wrote: "I...am mostly interested in education, and what it takes, and I have to say that going in the direction of a University, finally, at this time and age, is the right direction."
The last song of Violette is just the overture of the Symphony of the Future.
"In Memory of a Great Artist of the Ballet" published February 9, 2016 by Markie Polo on YouTube
REAL LIFE. REAL NEWS. REAL VOICES.
Help us tell more of the stories that matter from voices that too often remain unheard.