Cinderella, for Adults Only
There's only one week left to catch Austin McCormick's, Company XIV World Premiere of Cinderella at the Minetta Lane Theatre, so hurry, run and don't miss out on this glittering ode to excess, fun and raucous sensuality.
It's almost easier to describe what the production is not rather than list all of what this versatile company encompasses. It's certainly not a stuffy gala reiterating that tradition knows best. Despite the vaudeville feel and slapstick comedy, the production is neither parody or satire--the performers are way too talented for that. Nor is it by any means a free-for-all even though there are elements of ballet, burlesque, theatre, opera, circus and even cabaret. No, there is a method to the madness and meaningful choreography behind the chaos.
McCormick's vision is at once a dreamlike, Dionysian carnival and a classical retelling of Charles Perrault's Cinderella (1697). His interpretation defies genre, era, and gender, just as much as it rejects being classified as any one art form. McCormick's production challenges the audience to believe that every recognizable parameter is in fact mutable, and there's always a hint of unease as we wait to discover just how far he'll push the boundaries.
The result is a live performance that defines itself as it goes, taking the raw talent of the performers and the energy of the audience to mold the backbone. The freedom and fluidity that ensues is contagious, as bodies become props and merge into one with set, men become women and women, men, or sometimes, even something in between. Pop songs and pop culture references fuse seamlessly with classical arts, souped up sexuality and nods to bondage. Pole dancing and classic burlesque lose the taboo and become just another medium to showcase the dancer's body. It's a dizzying, luminary blend of high art and the endearingly lowbrow, which unapologetically and continually pose the question: Are we at the ball or prom or wait, is this perhaps the disco?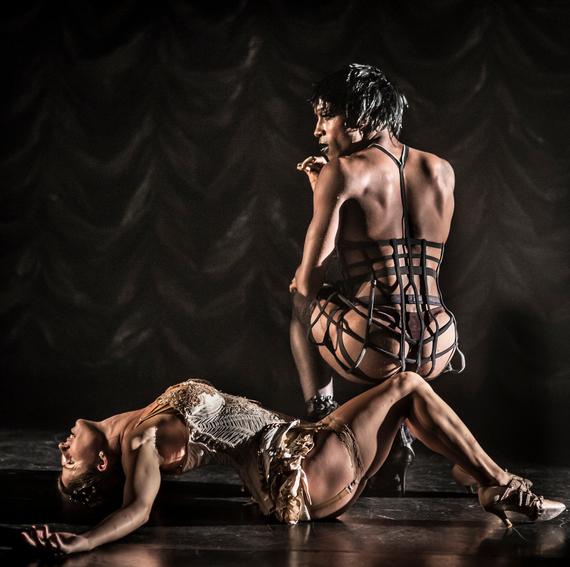 Photo Credit: Mark Shelby Perry Featuring: Allison Ulrich and Davon Rainey

The cast of Cinderella, a mixture of both Company XIV veterans and a few newcomers, are exceptionally talented and versatile. Just when you think a performer might lack in vocals what they make up for in dance, they go and prove you wrong in the very next scene. All of their talents are showcased and exploited, a gesture which brings the cast to life as performers. They become that much more dynamic to the audience when we're allowed to see all of their facets. And see them we do, as the cast parades before us in nothing more than sparkling G-strings and pasties, their athletic bodies just as much objets d'art as they are the instruments. Sexualized, yet lightheartedly so, as their politicized bodies have literally been stripped to become hedonistic without any weight of morality. Sensual they are too without a doubt and while there are hints of the erotic, Company XIV doesn't aim to cultivate arousal, instead they titillate and then laugh at you for thinking something you weren't supposed to.
The costumes and set are exquisitely expressed by Zane Pihlstrom. The theatre is intimate and the back stage open so that we witness costume changes and crossovers from stage right to stage left and back again. The small size and open back area give the impression that the spectator is at once, on stage, in the dressing room and perhaps in bed with the characters. So close, in fact that we can see every dimple and when the music is low and the action is high, even the accelerated breathing of the dancers can be heard. It's voyeuristic and goes well with McCormick's themes, and yet, despite being "offstage" the performers never come out of character. The result is surreal and lends to the tone of the ambiance as a whole. Was I meant to witness that or am I privy to something I'm not supposed to be?

There are quite a few standout performances, Davon Rainey as the evil, Step-Mother and Marcy Richardson and Brett Umlauf as the Step-Sisters are all devilishly good. Katrina Cunningham as the Fairy is such an alluring seductress that it often seems Cinderella will end up ditching the Prince to explore her sexuality with her own Fairy-Godmother. Allison Ulrich and Steven Trumon Gray as Cinderella and the Prince are captivating on their own and breathtaking together in the final pas de deux that's performed in its entirety on a single, acrobat's aerial ring--suspended a good ten feet above the audience.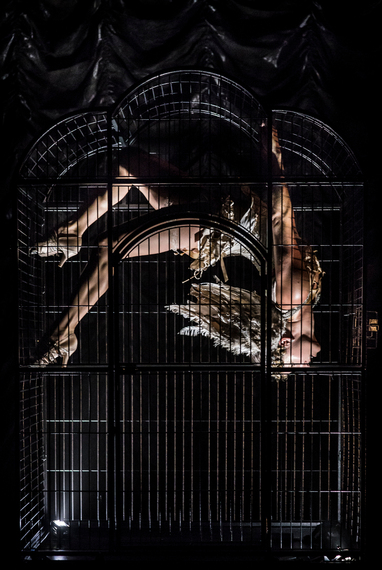 Photo Credit: Mark Shelby Perry Featuring:Allison Ulrich

Company XIV's World Premiere of Cinderella runs until November 15th at Minetta Lane Theater. Tickets and additional information can be found on their website: http://companyxiv.com
Calling all HuffPost superfans!
Sign up for membership to become a founding member and help shape HuffPost's next chapter