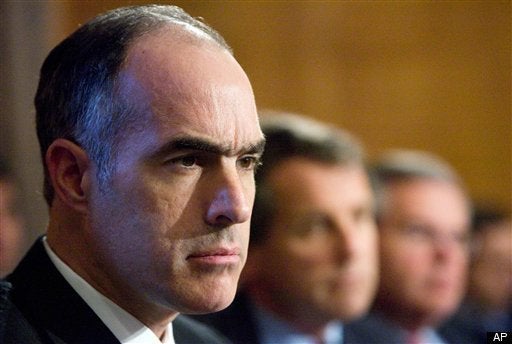 Advocates of a welfare-to-work program that has created an estimated 240,000 jobs are lobbying frantically to get Congress to reauthorize funding for the program before it expires at the end of the month.
Sen. Robert Casey (D-Pa.) is hosting a press conference on Wednesday with Philadelphia mayor Michael Nutter and several Philadelphia employers who have been able to hire workers with the help of the program, which was created by the 2009 stimulus bill to boost hiring via states' Temporary Assistance for Needy Families (TANF) programs by paying or subsidizing new workers' salaries.
"Mayor Nutter's witness on this has been very compelling -- he said it's been very effective in Philadelphia, more effective than anything that he has seen to have rapid attachment to jobs in a city that's just a hair below 12 percent unemployment," said Sen. Casey in an interview with HuffPost on Tuesday. "It's a jobs issue and we're going to try to have an extension of it because it's working."
Senate Democrats attempted to reauthorize funding for the program back in March, but failed due to objections over the $1.3 billion deficit impact of the program. The Center on Budget and Policy Priorities estimates that the program has created more than 240,000 jobs, many of which will simply end without Congressional action.
"As the Emergency Fund's September 30 expiration looms, states are ramping down their subsidized jobs programs, stopping new placements and giving notice that existing jobs will end," wrote Liz Schott and LaDonna Pavetti of the CBBP in a blog post. "For example, Illinois plans to send notices shortly after Labor Day to 26,000 workers participating in Put Illinois to Work to inform them that their jobs will end on September 30. In San Francisco, where all except a few hundred subsidies will end on September 30, letters have already gone out to employers and workers."
"This was part of the original stimulus so I guess everyone figured by the end of 2010 we'd be back on our feet," said John Dodds of the Philadelphia Unemployment Project. "It's crazy to pull the plug on this program."
Dodds said the program has put 12,800 people to work at 4,200 businesses. Dodds said he'll Casey in Washington Wednesday with a petition to save the program signed by 1,200 employers.
Advocates of the Emergency Fund's reauthorization are hoping it can attached to a "tax extenders" bill or possibly a "continuing resolution" to fund government operations needed in lieu of a formal budget.
"We're not sure what the best vehicle is yet," said Sen. Casey. "We're going to try every way possible, but it is a short window."
Support HuffPost
The Stakes Have Never Been Higher
Popular in the Community