The Spring of 1970, I was working part-time after classes my senior year at Music & Art, the same high school my pal, Stan Eisen, had graduated from the year before. From about 2 to 5pm, four days a week, I was a file clerk for the Director of the Placement Department at Columbia Law School (finding jobs for graduates with brand new law degrees), a very Englishman named Howard. He was clearly a muckety muck. A lovely guy, but always carrying an air of harried distraction with him (lots of that Hugh Grant running-his-fingers-through-his-vexed-hair when Hugh was 2). I haven't seen Howard in decades, but, his younger brother, Roger, a thorough rock 'n' roller, and I remain fast friends.
I shared a small office with a young woman. I was 17, she was 22. Let's call her Emily. She was a second-year law student defraying a smidge of her tuition with a semi-menial job. She was very sweet, but a stone cold string-of-pearls/fuzzy sweater square.
One day, out of nowhere, she said, "You really are into rock 'n' roll, aren't you, Binky."
"I live and breathe it, Emily".
"Well, you might like to know... I have a Rolling Stone's autograph."
"You know, I don't remember. I got it at Heathrow Airport in 1965. I was too shy to ask all five, so, I just got the guy who was standing nearest to me. They all looked the same to me, Binky. I'll bring it in tomorrow. If you want it, I'll sell it to you for five dollars."
"Emily, you've got a deal. I don't care who it is."
The next day I bought Brian Jones' autograph for five bucks.
That same spring, my father received an amazing offer as well.
A well-to-do family, living in central London had wanted to swap homes in New York City for the last two weeks of June. Somehow, my Dad had gotten wind of this. He'd offered, and they'd accepted, the swap of our brownstone in Brooklyn Heights. Then, it got even better. The British family decided to go to Ibiza instead. But, would my Dad and his family be interested in sort of house-sitting for them instead, gratis?
That's how we wound up on this quiet, beautiful, narrow mews, Cadagon Lane, for two weeks, just off the very 'old money' Sloane Square. The immortal Judy Garland had died on Cadagon Lane the year before, about 5 doors down from "our" house.
This was a three story private home in the direct center of perhaps the poshest area in London, one of the top three, no question. When the cab dropped us off, we were delightfully aghast. The house was ridiculous. The furnishings were purest late-60s hip. The layout was odd and fun. There was sunlight in every room. Everything seemed to be bright white.The kitchen looked into a private garden, and, oh man, a gigantic color TV! In Brooklyn, we were still stuck with a dinky black and white ("Wait 'til they perfect it!" was my Dad's excuse). This 27 inch monster in this 1970 English living room was maybe the best part of the whole deal. My sister sure thought so.
My own favorite thing about the house was my top floor bedroom's view of the very new, very snazzy apartment building with balconies and picture windows opposite us. At dusk, I'd sit and watch the hip well-to-do "Madmen" types with their austerely elegant wives, all sporting Diana Rigg's Emma Peel cut, having cocktails with loosened ties and bare feet, the dry-martini-jazz from their hi-fi drifting off their miniature verandas, into my darkening room. While that was my bedroom those 13 nights, I spectated at three different parties. They seemed even more handsome and beautiful in groups. Their upper crust accents made the most agreeable sound, though I was too far away to make out anything but the occasional shout of "I say!" or "Dear boy!" My God, I was incredulous. These people were impossibly Playboy After Dark Cool. They existed.
Anyway... Back to me... sorry...
Within 15 minutes of unpacking, I announced that I was off to Granny Takes A Trip, somewhere on King's Road, and then, just walked out the door. I didn't know or care if it was two hours away. I was on a mission. To my amazement, I walked the 2 minutes to Sloane Square, knowing only that there was a tube stop there, and was suddenly actually on King's Road. And, at the top of King's Road at that. I didn't have to wonder which way to walk. There was only that way, south... I think.
I'd seen Joe Cocker's dark blue boots with 2 inch heels and silver stars and crescent moons in "Woodstock". I'd seen several photos of a few Brit Rock Stars with wild multi-color patchwork boots. Keef, for one. I'd find out where they'd got them. I was determined to mix the two ideas some day.
I'd saved up my file clerk money expressly for this moment.
My walk up (or was it down?) King's Road was endless. Well, at least a mile and half, anyway. I was getting worried. Where the hell was this place? The shops were starting give way to rather ordinary-looking residences, the vibe of the street, at first tres chic, was now getting a bit working class.
As I was passing a small dull mustard-yellow building, I had to walk around it's two-step patio jutting out onto the sidewalk. I looked up and gasped...

Granny Takes A Trip.
The epicenter of Rock Cool on planet Earth. Not hyperbolic whatsoever, actually.

The place was tiny. Lots of maroon, it seemed. Velvet curtains semi-hid a small 4 step staircase into a work area. The showroom was maybe 16 x 16. Dresses and shirts (extra-large floral prints mostly) were hung around in a casual way, a line up of ready-made shoes and boots stood along one wall. The only other people in the shop were two guys about 5 or 6 years older than me.
One of them, looking exactly like a-pretty-much-just-as-cute Johnny Thunders, a mere two years before Johnny's New York Dolls played the Mercer Arts Center, gave me a big rowdy Hello!
The other, a really skinny sandy-haired guy, with his back to the door, turned and said, sounding stoned, "Hey man..."
Both guys had really pronounced Brooklyn/Queens accents.

HOLY SHIT!
The guys running the coolest clothing store in the world were... New Yorkers!!
It took several seconds for that to sink in and then it took the three of us about 10 seconds to go into Deep Nooo Yawk Bonding Mode. Oh, man, they were hungry for NYC dirt.
By now, though, I was just out of it. That endless walk, my jet lag kicking in, and these guys with these totally unexpected almost atrocious NYC accents... Better get to the point while I could talk...
"So, fellas, I wanna order a pair of knee-high multi-color patchwork boots, as many colors as possible, that's really important, with the silver stars and moons and 2 and 3/4 inch heels."
Marty smiled, "Of course, you do."
Gene asked, "You gonna do him?"
Marty replied, "Yeah, come on, Binky, take off both your shoes, leave on your socks, and roll your pants up to your knees."
He took at least seven measurements and traced both feet. They were gonna cost $65 US. In 1970, that was bordering on insane for footwear. I had brought all my file-clerk cash with me. I had enough.
The early evening before I was to go back to New York, I breathlessly went to pick up my boots. Only Marty was in.
"Kid, they forgot the stars and moons. I sent 'em back. You didn't want 'em without the stars and moons. That I knew, right?"
Yes... He was right. Damn! Man, was I ever bummed.
But, before we get on the British Airways jet back to JFK in New York, howzabout some snapshots and 8mm home movies of that last two weeks of June 1970 in London, England...
We got lucky for the whole stay, maybe rained twice. But, for the first 4 or 5 days we were there, the weather was wonderful. Low 80s, dry cool breezes, bright blue skies, chubby teddibly British clouds majestically sailing by all day...
The top story in all the newspapers and the BBC television news programs was...
HEATWAVE CONTINUES!

I'd landed in London the week that Mungo Jerry's "In The Summertime" had displaced a song by a band called Free for the number one spot on the BBC charts. From the moment we got in the cab at Heathrow and throughout our entire stay, wherever you were, in any kind of shop or restaurant or public place, "All Right Now" went head-to-head with Mungo, all day, every day. It was a blissful soundtrack to my days wandering endlessly in central and semi-central London. Either song still takes me straight back, decades later.
One of my prime objectives, once The Boots had been ordered, were Non-US B-side songs by any number of this here Anglophile's faves.
My second day in Jolly Old, I walked into a busy HMV store on Oxford St (NYC-ers, think West 34th St). Standing behind the counter was a guy about 20 years old with a very cool haircut. I walked up and asked, "Do you have any old Kinks singles, particularly with non-LP b-sides?"
The guy replied, "Oh, Oi fink Oi kin dig sumfin up. D'j'know, Kinks jus' puh ow a new sing-goo today."
[The Kinks barely make it into my Top Three All Time Favorite Bands]
"Why'ncha go inna boof free, give a listen. Lemme see wha'else we've got for ya..."
And that was where and when I first heard The Kinks' masterpiece, "Lola".
With four Kinks 45s, and two by The Move, I'd left the cool guy at HMV and headed towards a shop I realized I'd heard of when he'd recommended I check it out.
It was a few blocks away on the other side of Oxford St, up a flight of stairs. I walked into a large cool dark blue low-ceiling-ed space; some okay Roger Dean-inspired murals on the walls, lots of fully filled record bins, some really good band on the stereo... I had the place to myself. Except for this one shaggy blond guy in his maybe-late-20s. He was leaning on the customer-side of the counter. He was talking to the very long haired guy behind the counter in a way that made it plain, Blondie was the boss. I couldn't quite hear what he was saying, but, it seemed like it was a quick little brook-no-dissent lecture. The guy behind the counter seemed used to it. Did I see Sir Richard Branson chewing out one of his guys at his first, and back then, only Virgin Record Store?
Naturally, I had to go to The Marquee club, what with "Maximum R&B" an' all.
During a possible 8 nights of gigs to choose from, I went to see Atomic Roooster. This was Arthur Brown's insanely good organ/bass/drums trio who'd left his Crazy World about 6 months earlier. But that night, Atomic Roooster no longer had (the) Carl Palmer on drums. Instead, I sat 10 feet away from Rick Parnell's kit as he just killed it all night. You might know Rick from the other band he was in, Spinal Tap.
I also had the pluck to find some church in the outskirts of London that had been converted into a venue. Roger Ruskin Spear's Amazing Kinetic Wardrobe was appearing. I was, and am, a Bonzo Dog Doo Dah Band freak. Bonzo member, Roger was doing a solo act. It was a amiable shambles. Those of us there for him were delighted. I remember being most impressed with the Dadaist in the audience, who between "songs" brayed, in what the Brits call a plonking tone...
"I say, where is your sombrero?"
Roger nodded at him as if to admit, "Good one."
I decided to stay for the next band. I'd heard of them. Savvy-guitar-freaks, in late June of 1970, I got to see Richard Thompson playing his sanded-down Stratocaster in Fairport Convention. It's all true. My God, what a guitar player. Good band, too!
Here's two odd sorta opposite sides of the same British coin...
On Day Three, while on a side street, I was approached by two tough looking black guys about my age. Their style was surprisingly close to their US counter-parts. In other words, they looked like the guys who often made my life gleeful hell back home. As I prepared for the worst, one of 'em said...
"Oi, mate! We on bloody Wardour Street, yeah?"
Astounded, I could only nod.
I stood there for like 15 seconds, agog. Guys that looked exactly like tough stylin' Brooklyn hoods speaking with actual Cockney accents, friendly and open like... It still ranks as one of my life's favorite shocks.
Not more than 5 minutes later, and I guess Soho was the kind of area where you were asking for it, four true Oh My God hard-nut skinheads were walking towards me about 80 feet out. They had the red braces (suspenders), the rolled up pale Levis, the tight white dress shirts, the 1/4 inch hair, the oxblood Doc Marten "Bovver boots". I'd read all about them and knew I was in imminent danger. They were coming and coming fast and just the way they walked was panic-button shit.
They hadn't spotted me yet. I quickly crossed the street.
With a few seconds, heavy harsh Cockney was coming at me...
"Tha's a goo' littoo 'ippie, crossin' uh stree' li' 'at!"
"Hold on! You a 'ippie boy or 'ippie girl? Should we fine owt?"
And then... "OI! We tawkin' uh you!"
I suddenly felt like stretching my legs and... took off! I heard their peals of lout-laughter fade. But, ran an extra two blocks, y'know, for the exercise.
My almost-everyday pilgimages to London's Soho area were almost entirely Who-based.
I found Old Compton Street, a legendary Who address, a tiny two block lane with Dickensian cobblestone pavement. I rang the bell, was buzzed in, and went up two flights of stairs and into the Track Records offices. Track being the label The Who's managers had started four years earlier. They had a small roster besides The Who. A guitarist named Jimi Hendrix was a Track recording artist. He was quite good, really. Also, Track had a band called Thunderclap Newman had just had a towering smash with "Something In The Air"; a song that sat at Number One for at least a month in England earlier that year.
Anyway, a Mr. Dave Ruffell, sitting all by himself in what seemed like a 5 or 6 room suite, yelled from his office, "I'm in here."
There sat a guy who looked like a WWF villain-wrestler. Swarthy, burly, balding, with long black hair down his back, thick glasses, thicker eyebrows, a cigarette in his mouth, actually dangling... a Javier Bardem character.
He had me sit down while he finished typing something.
Dave burst out laughing, "That was you?!"

"Yeah!"
"I heard all about that! Hey! [leaning forward urgently] Did you go to Woodstock last year?"
"No, I had a ticket, but my folks wouldn't let me." Dave didn't notice my little Who joke.
Unexpectedly, Mr. Ruffell was so crestfallen about me not being at Woodstock, he kinda flopped back in his chair. I found this disconcerting.
Then, rallying, he started 'mucking about' his desk area, opening draws, and lifting piles of paper...
"Ahhh... Here's something. This is really a collector's by now. We haven't done a run with this logo in years."
He handed me a t-shirt emblazoned with that odd sort of stretched and arrow-headed The Who logo that John Entwistle is wearing on the "Magic Bus" album cover. Dave had just handed me one in red ink. I hadn't come there for swag, but, yeah, I knew how cool this shirt was. It's draped across the back of my office's couch like an old lady's doily, in the room where I'm typing this blogarino.
Then, to my amazement, Dave Ruffell casually said, "Come on, let's go. I've gotta supervise an edit on the next b-side. Come see how it's done."
"What b-side? For which Track act?" I asked.
"Oh, the next Who single is "Summertime Blues" [Live @ Leeds had been out about 60 days]. The guys have recorded a studio version of "Heaven And Hell" and there's a problem with the last 3 seconds."
"Heaven And Hell" was/is, flat-out, my favorite John Entwistle song of all time. It had been The Who's set opener for over two years. And, being The Who, for those two years, that was the only way or time you heard the damn song. Now, I was going to an 'editing session' on the last 3 seconds of the (Finally!) studio version.
So, what was the problem with the last three seconds?
Dave pushed play. At the end of what clearly was The Take, as the guitar and bass notes fade, as the cymbals' sizzle decays, Keith knocks over a glass of brandy that shatters, but good.
"That's our problem, Binky."
Dave and I had a good hearty chuckle.
After trying about 3 or 4 tricks, none of which worked, the decision was made to just do a quick quick quick fade on the tinkling glass. Of course, in 2013, we'd mix that shatter UP, yo!
Just as Dave was signing off on this fade, the editing room door opened and in walked Speedy Keen, Jimmy and Jack McCullogh of Thunderclap Newman. I recognized them instantly and went into fan-shock.
"Oh, Binky, I forgot to mention, I've got a meeting with the Thunderclaps. Sorry. This is Binky Philips. He's the chap that caught Pete's guitar at The Met two weeks ago."
Lots of 'ellos and 'Great catch!'s...
Dave to me, hinting it was time for me to hit the dusty trail, "Perhaps you can drop by my office again before you go back to New York?"
But, mentioning New York and catching the guitar had tweaked Jimmy and Jack. The three of us, all within a year's difference age-wise hit it off so quickly that Dave just turned to Speedy, who was clearly preoccupied and cared a naught about me, and the two of them quietly started the meeting by themselves on the other side of the room.
Maybe ten minutes later, the door opened and in walked Thunderclap himself. He was so precisely as advertised, it was almost burst-out-laughable. He was tall, at least 6' 2", just rolly-polly, old man's suspenders, an off-white dress shirt that looked like it was once bright white, his glasses sorta sliding down his nose, shy and awkward, kinda sad, really.
Everyone's demeanor changed.
Everyone seemed very careful with their conversation with Mr. Newman. Kind of like that Twilight Zone episode where Billy Mumy is the kid in control of everything. In this case, the people in this editing room were clearly not remotely afraid of TN. The unmistakable impression was that the "Thunderclap is a genuinely odd fellow"-Myth was no myth.
I took my mind-blown leave.
The second to last night of our 13 days in London, some old friends of my parents, who'd moved to England two years before, loaded us into their enormous Jaguar, and as the sun was setting, set off into the near-suburbs to what was promised to be a "crazy party".
We hit the driveway and parked with at least a couple dozen other high-end motors, off to the side of a swanky swank "house in the country". We walked into large den sort of room filled to the brim with about 100 outlandish hootin' and a-hollerin' tres tres gay British Paul Lyndes and Charles Nelson Reillys. All of them in almost a uniform; short-shorts, skimpy sleeveless tops, silver or gold leather baseball caps, goofy extra-clunky sneakers or high heeled boots, clearly ripped to their dripping sweaty hairlines.

How do I know this?
For the entire hour or so that we endured this party (the host was our ex-pat friend's client), the only song, and I mean only song they played at discotheque volume was that summer's novelty record, "Gimme Dat Ting" by The Pipkins. This was raucous faux-30's "ditty" (like an uptempo "Winchester Cathedral") with an incredibly grating hook where they just sang the title over and over and over...
These guys were going absolutely bonkers to this song. Eighty percent of them were wildly dancing, 20 percent were drinking, shouting conversations in outrageously camped-up posh British accents. Yes, some were making out. These dancers had gotten themselves into a Sufi trance with that absurd song. The second it was over someone near the turntable would put the needle back the beginning... a few dozen of men would scream with delight and off they'd go again... Raving to an extended mix, à la 1970.
About 30 minutes into this ummm wacky jamboree, I saw two guys my age, both with hair as long as mine, huddled in a corner, both looking really uncomfortable. I ventured over and said Hi.
Me: "Are you with these guys?" pointing to the manic dancers.
Both guys' hands shot up in the international gesture for NOT ME!
"Hell no, someone my folks know brought me here... What the fuck is this?"
Both guys just immediately flipped and I mean, like, really mind-blown...
"Oh my God, You're... an... American!"
They were unabashedly dazzled.
Okay, so what was the very next thing they asked? Go on... tell me, don't peek.
"So, were you at Woodstock?"
"No, I had a ticket, but my folks wouldn't let me go..."
Again with the goddamn ludicrous crestfallen bullshit!
I said, "Look, I've been here almost two weeks. Every record store has the Airplane or the Dead or Quicksilver in their windows. What the hell, I came here to escape that shit. Are you guys into those West Coast bands, too?"
"Ahhhh, Fuck, no, man! We dig The Hollies, The Move, Small Faces, The Kinks, The Who..."
And, to this day, I love that the first band they mentioned was The Eternally Fabulous Hollies.
"So, ya wanna smoke some hash?"
"Oh, wow, I'm gonna get high in England! How cool is this shit!"
They burst out laughing. We went outside and they lit this really large ugly joint. We passed it around. I made sure I was toking deeeep. The third hit, my head got very light.
I fell over. I was on the ground. I was dying.
The two English kids freaked, ran inside, found my parents, who took me upstairs to a bedroom, thinking I'd snuck some drinks. My head was spinning at 45 rpm. My breathing was labored. I felt almost paralyzed. For the only time in my life, I would've welcomed death. I mean, I actually was thinking... "If I'm gonna die, let's do it..."
The two guys tip-toed into the dark room...
"Fuck's sake, man, what happened?! You okay?"
"What was in that joint?", I croaked.
"Nuffin', mate, nuffin'! Just the hash and tobacco."
And that was the night I found out my body really fucking hates tobacco.
You know what, on second thought, that last story has wiped me out.
We can fly back to New York next week...
JULY/AUGUST, 1970: The boots arrive, I gopher at the hippest guitar shop in New York City, and meet "Keith Richards with..."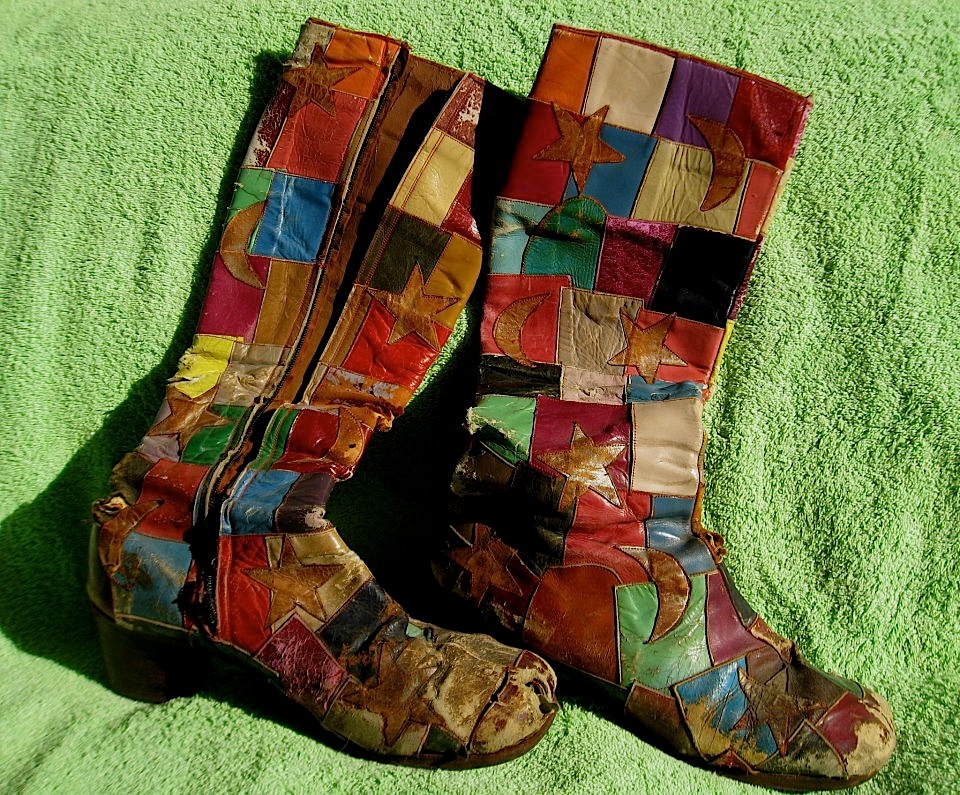 REAL LIFE. REAL NEWS. REAL VOICES.
Help us tell more of the stories that matter from voices that too often remain unheard.