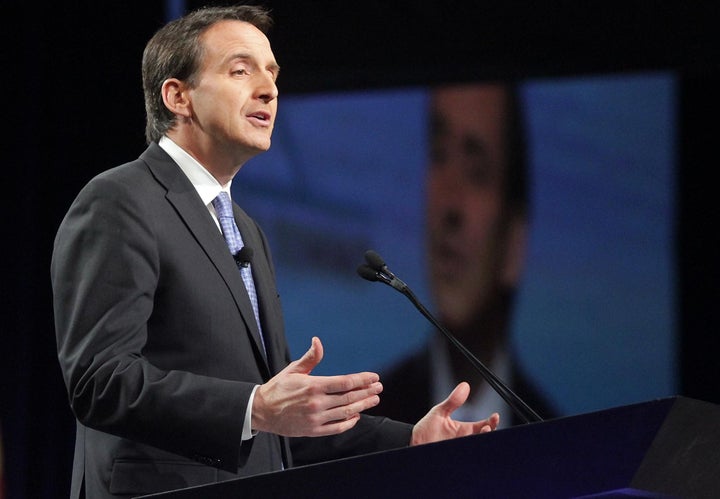 Yesterday, Tim Pawlenty made news when he announced that he was launching a presidential exploratory committee. This is exciting news! It means that Pawlenty has inched a little bit closer to actually running for President. And that's the complicated thing about this big slate of would-be presidents: some are further down that road than others. So, for the sake of keeping you abreast of what's going on in your politics, we thought we'd run down where everyone in the (presumed) field of candidates stands.
Michelle Bachmann: Has not formed an exploratory committee. Has not made a formal announcement. (At least not one that we could discern! You know how politicians issue "dog whistles?" It is quite possible that Bachmann has announced her intention to run at a frequency that only canines can hear.)
Haley Barbour: Has not formed an exploratory committee, but he's been snapping up top staffers at a prodigious rate and is starting to draw contrasts between himself and the field. Mother Jones' Andy Kroll speculates, "He may not officially be in the race, but it's only a matter of time before he puts his name in the hat." (It remains our firm hope that he announces his intentions on William Shatner's Raw Nerve.)
Herman Cain: Has formed a presidential exploratory committee. In fact, prior to TPaw's announcement, he is often erroneously credited in the media as being the only GOP candidate to have formed one. (Wondering who else had previously done so? Keep reading!)
Mitch Daniels: It seems Pawlenty's announcement is part of a "package deal" that includes Mitch Daniels not running for president. It would seem that primarily, Daniels' wife Cheri has explored the possibility and remains cool to it. Daniels has a book to sell, however.
Newt Gingrich: "I am contemplating the possibility of thinking about under some circumstances exploring the potential" of running for President. So, yeah, as incomprehensible as always.
Barack Obama: Is the current president, and it's presumed that he wants to continue being president, for some reason.
Sarah Palin: She's making foreign trips to India and Israel and continues to tweet and change her Facebook status, but there's no exploratory committee and no campaign in sight, owing to the fact that she's not very popular.
Ron Paul: Paul continues to raise money at a prodigious clip, but has no exploratory committee. (His fervent supporters consider themselves to be his "exploratory committee.")
Tim Pawlenty: Is exploring! And making cool movies!
Buddy Roemer: Roemer has been wonderfully decisive about things. Rather than suggest he'd be interested in running for President and then spending months dicking around, he came right out and formed an exploratory committee. After what Newt Gingrich has put us through, we appreciate this immensely.
Mitt Romney: The last time Mitt Romney formed an exploratory committee was January 4, 2007. So, he's running a smidge behind his prior campaign. Obviously, it's widely presumed that he's running.
Rick Santorum: Santorum has not formed an exploratory committee, but he's been running for President really, really, really, really hard, seemingly for no reason!
Donald Trump: Plans to "surprise" people in June, probably with the news that the winner of Celebrity Apprentice will be the head of his exploratory committee. (So, this could be good news for Garey Busey.)
Here's how Jeff Greenfield responded when asked to speculate on how Sarah Palin would fare against Obama in 2012: "I do not do this kind of thumb-sucking...I think it is a humongous waste of time. It's what substitutes for talking seriously about politics." (He then gave in and did that very thumbsucking, but it was a nice moment while it lasted.) [TVNewser]