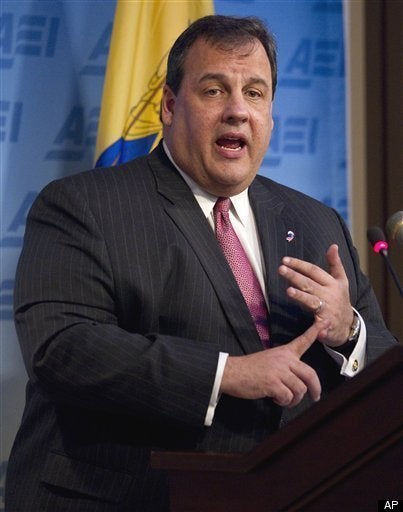 New Jersey Gov. Chris Christie (R) has been pretty adamant about his intention to absolutely, positively not run for president in 2012. But all of his prior demurrals ran headlong into the generic Beltway preview of his remarks at the American Enterprise Institute Thursday, which captured his big new shiny "D.C. rollout" and are typical of higher-office ambitions. So naturally, he had to shoot down speculation, again.
"Listen, I threatened to commit suicide, I did, I said, 'what can I do short of suicide to convince people I'm not running?'" Christie said. "Apparently, I actually have to commit suicide to convince people I'm not running."

[...]

Christie said it wouldn't make his wife happy either.

"My wife would kill me," he said. "There's certain things that you know just will not be accepted and I think that's on the list."
(Chances are that David Gregory would still stand over the remains of a murder-suicided Christie and ask him if he was running for president about 5,704 times.) [The Hill]
_______________
-- Here's another thing that Public Policy Polling felt was necessary to survey voters about: "In a hypothetical match-up" between President Barack Obama and former President George W. Bush, "Obama led by a slim four-point margin, 48% to 44%." This is important in the parallel universe where term limits do not apply. [TPMDC]
-- 2012 is not just about the presidential race. It also has plenty of Senate contests to shock and/or terrify you. Alex Pareene raises the curtain on what's shaping up in Arizona. [War Room @ Salon]
-- Is he human, or is he dancer? Mitt Romney sits down with Killers frontman Brandon Flowers to "[court] the all-important glam rock vote" and figure out what that lyric is supposed to mean. [The Fix]
Calling all HuffPost superfans!
Sign up for membership to become a founding member and help shape HuffPost's next chapter