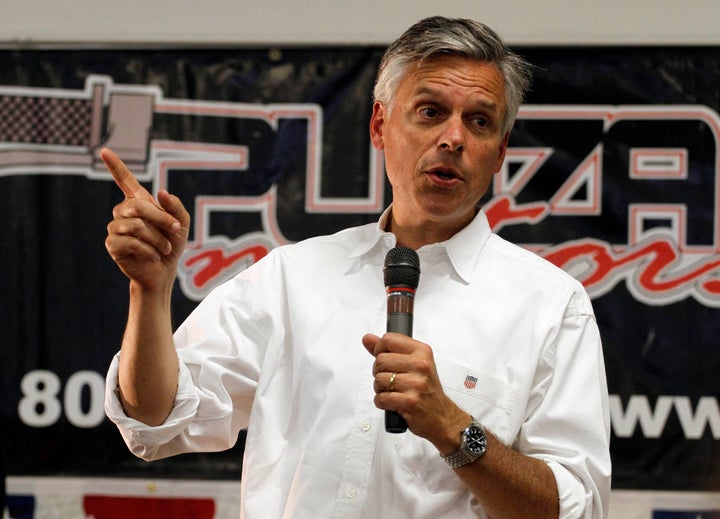 While Jon Huntsman was winding down his tenure as the U.S. Ambassador to China, a "campaign-in-waiting" was being carefully assembled, so that when he was free of his duties to the Obama White House, he could hit the ground running and get his 2012 candidacy in gear. Those first days of the Huntsman campaign were a model of efficiency -- Huntsman got on the ground, met with state officials, laid out a plan of attack and -- with a little bit of web-video whimsy -- they got the media to devote lots of time covering the lead-up to his official announcement in front of the Statue of Liberty.
And that announcement? Well, it was kind of a bust! Republican voters, as it turned out, liked him less the more they got to know him. And since then, the campaign has gotten stranger. According to the Wall Street Journal, Team Huntsman is all about "focusing on the 'cool' factor":
He resigned just 11 weeks ago as the U.S. ambassador to China, but already Jon Huntsman has a logo, a musical theme, a small arsenal of promotional videos, a Hollywood narrator and a line of travel mugs, lapel pins, baseball caps and T-shirts emblazoned with the distinctive H of his infant presidential campaign. He even has a generation named after himself. "Generation H," his campaign calls it.

[...]

But Mr. Huntsman is trying something different in GOP politics: a campaign based almost entirely on atmospherics. It is, in many ways, the political version of a Ralph Lauren product launch.
But what does that amount to? That WSJ article goes on to talk about iPads and the "slow, gauzy sell," and you get to hear about how he's gotten a profile in Esquire. And it's all amounted to nothing in terms of winning the favor of primary voters. But now, Team Huntsman is going to evolve by hiring a bunch of new dudes to hand out in New Hampshire, so: GAME CHANGER!
The candidate added two New Hampshire employees this week, bringing to 21 the size of his paid staff in the state. That's almost triple the size of any other presidential contender, including Romney.

If the campaign follows through with its plans, "it would be the biggest paid operation for a Republican campaign in New Hampshire primary history," said Jamie Burnett, a political veteran who was Romney's state political director in 2008.
So that's "the plan"? To build "the biggest paid operation for a Republican campaign in New Hampshire primary history"? I am starting to think that the Jon Huntsman campaign is planning some sort of jewel heist.
Need a reminder that Sarah Palin is not running for president? Two aides "whose decision to rejoin the former Alaska governor's camp this spring was seen as a sign of her interest in the 2012 race" have moved in a freelance direction, newly engaged to a speaker's bureau. [Politico]
Since mounting her presidential campaign, Representative Michele Bachmann (R-Minn.) has "missed 40 percent of her votes." No liberals will complain about this. [TPMDC]
Calling all HuffPost superfans!
Sign up for membership to become a founding member and help shape HuffPost's next chapter