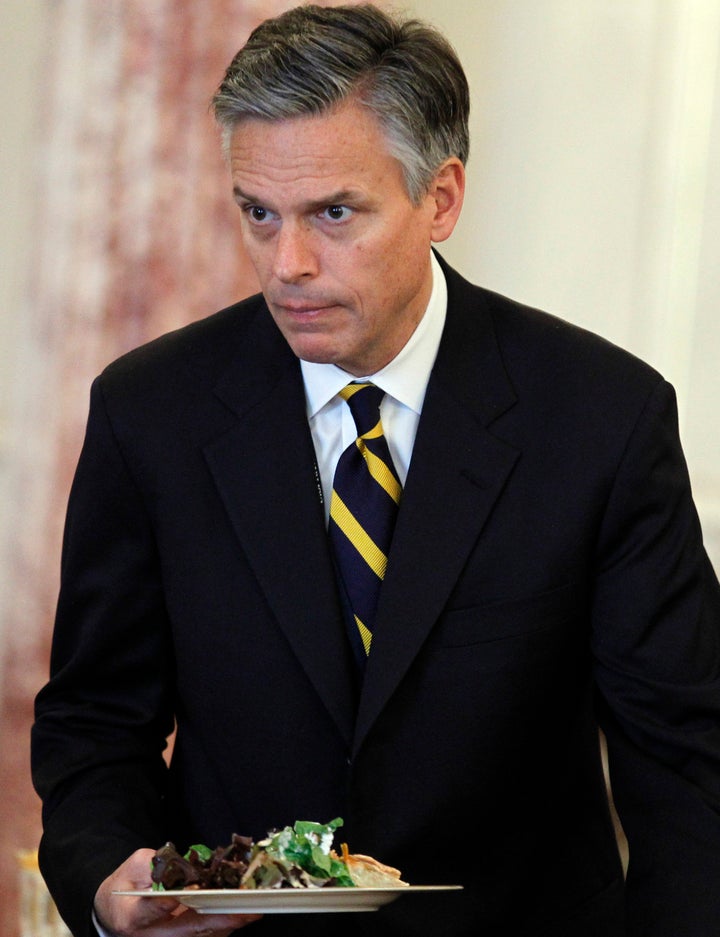 Former Utah Governor and U.S. Ambassador to China Jon Huntsman has only recently completed his overseas obligations, but as reports from last week suggested, he's pushing ahead on making a possible White House run in 2012.
Moving swiftly since his return to Washington from Beijing Friday, Huntsman filed paperwork with the Federal Election Committee to begin "H PAC." In the event he runs, the organization will be the last placeholder before he announces a full-blown campaign.

"This is a paperwork step," said spokesman Tim Miller. "He's doing the organizational things required by campaign finance law. When he wants to make an announcement he will make an announcement."
H PAC is an organization distinct from "Horizon PAC," which launched a few months ago with a website containing some poetry about the future of politics. Huntsman is likely to hold off making his intentions crystal clear until June. In the meantime, he'll stump in South Carolina and New Hampshire while avoiding Iowa and its headlong rush into what looks to be a festival for social conservatives.
It's a particularly sad state of affairs that it would be considered a knock against Huntsman for merely liking or choosing to serve the nation alongside his political opponents, but that's where the base is, I guess. I have a lot of respect for the way Huntsman advisor John Weaver is choosing to deal with this issue (even if typical Beltway pose is to refer to it as "spin").
The Basilica of St. John in Des Moines, Iowa has cancelled an appearance from wandering would-be presidential candidate Newt Gingrich at a May 16 event honoring Pope John Paul II because the organization somehow got the crazy idea that Gingrich would make the event "too political." [Politico]
Barack Obama wasn't the only 2008 candidate who got hammered for saying he would "strike at terrorists inside Pakistan's borders with or without permission from the country's leadership." Mike Huckabee took flack from John McCain as well. [Taegan Goddard's Political Wire]
The "get Osama" op may provide a poll bounce for Barack Obama, but it's just Real Talk to remind everyone that as far as 2012 is concerned, it's still all about the stupid economy. [Washington Post]
Canada had an election, but they'll obviously never get anyone in America to care about it unless the Canadian media is willing to start blathering on and on and on about it two years before it's really necessary. [War Room @ Salon]