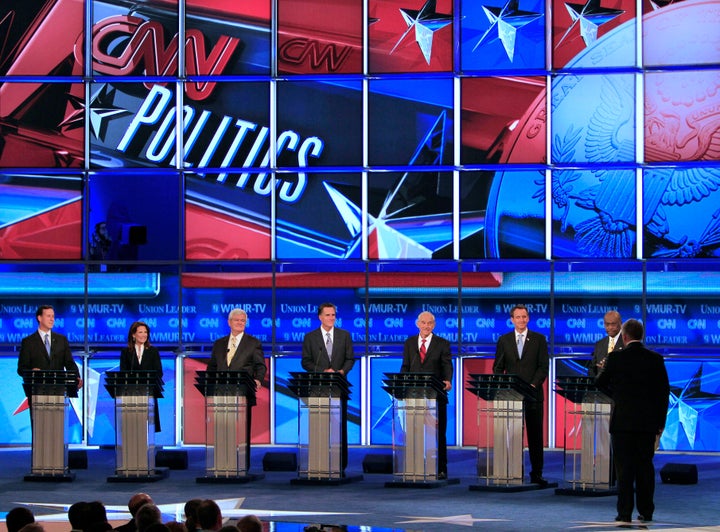 The more things change, the more they stay the same. While it seems to me that the GOP field contains just about every variety of Republican candidate you could possibly want, Republican voters remain unsatisfied with who they have to choose from, at least according to the most recent New York Times/CBS News poll:
Republican voters are not satisfied with the candidates running for the Republican nomination and wish they had more choices, according to the latest New York Times/CBS News poll. None of the candidates currently hoping to challenge President Obama in 2012 has earned enthusiastic support from more than 7 percent of Republican voters.
Along those same lines, Americans remain "closely divided over Mr. Obama's handling of his job as president: 47 percent approve and 44 percent disapprove," and "are especially critical of the way Mr. Obama has handled the economy."
Sounds like a job for Rick Perry/Jeb Bush/Chris Christie/Rudy Giuliani/Thad McCotter/Sarah Palin/George Pataki! (Pick one.)
Michele Bachmann may not succeed in running away with Tea Party support if Rick Perry jumps into the race: "The Texas conservative, who's weighing a late entry into the field of GOP candidates, beats other candidates among members of the Tea Party, the conservative grassroots wing of the Republican Party that's battling to shape the race for the nomination." [The Hill]
Newt Gingrich says he is "recovering" from the mass exodus of his entire campaign team, presumably not as well or as quickly as his entire campaign team is from being a part of Gingrich's campaign. [The Hill]
[Would you like to follow me on Twitter? Because why not? Also, please send tips to tv@huffingtonpost.com -- learn more about our media monitoring project here.]
Popular in the Community