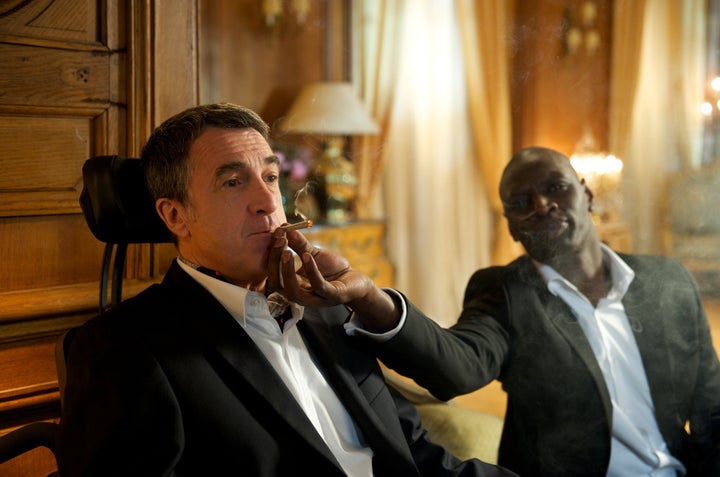 I know that I am a little bit late to the party celebrating the film The Intouchables, but better late than never. Having seen it I have to declare it to be the best film I have seen this year. It has heart, humor, hope and in the end happiness. The fact it is based on a true story is just icing on the cake. Here's hoping that people search for this film, find it and enjoy it before there is an American version. This original French film is a classic.
The movie tells the story of Philippe (Francois Cluzet), a rich man living in Parris who is a tetraplegic as a result of a paragliding crash. His condition requires a constant caregiver and when he advertises for one he gets Driss (Omar Sy) as an applicant. Driss doesn't really want the job, he just wants to get his paperwork signed showing he applied for the job. That way he can get his "unemployment" check.
Philippe however sees something in Driss that he thinks will work and he offers him the job. Driss takes it on a trial basis but the luxurious life it offers him is hard to refuse. Driss edges his way into being Philippe's caregiver and almost involuntarily makes Philippe's life better. From the time Driss walks in the door Philippe is either laughing or has a smile on his face.
The charisma or rapport between these two actors is amazing. Their warmth spills off the screen and into the audiences' hearts. Driss is a charmer, that's for sure, but so is Philippe. He has an infectious smile and a radiant essence for life, He has been handed a tough deal with the accident and other tragedies in his life but he is still pursuing happiness. Cluzet perfectly captures each longing and each triumph.
Sy is another charmer. He has a wide smile that projects perfect white teeth. It is dazzling and comforting at the same time. If Sidney Poitier was a younger man this is a role he could embrace. Sy gives Driss his spirit and gives him his heart. He also throws in some smooth dance moves just for the heck of it.
The movie is rated R for profanity and adult situations.
Some people will refuse to watch the movie because it is French with subtitles. That is a shame because hearing the French language enhances the film rather than detracting from it. It is almost musical to hear the two men's conversations. The acting of Sy and Cluzet, the beauty of the story, and the magic of France make this a movie to be treasured.
Some day there will probably be an American version of this story (I can already see Dustin Hoffman as Philippe). We can only hope that the magic of this story of hope can be captured. For now the original is my choice for best film of the year.
I scored The Intouchables a touching 9 out of 10.
REAL LIFE. REAL NEWS. REAL VOICES.
Help us tell more of the stories that matter from voices that too often remain unheard.