Global auction sales from 2015-2016 dropped from $21.08 Billion to $16.9 Billion, down -19.8%. In the Americas, auction sales volume dropped -40% with the United States specifically dropping by -9%. In Europe, sales volume is down by -13% with the UK down by -24%. However, Switzerland's sales volume has increased by +35%. Asia's performance was relatively better, with sales volume at -1.6%, China down by only -2.6%. Unsurprisingly, emerging markets such as Japan and India have increased by 101.5% and 110% respectively. Art and antique imports have also decreased in the United States and Hong Kong, down -20% and -30% respectively.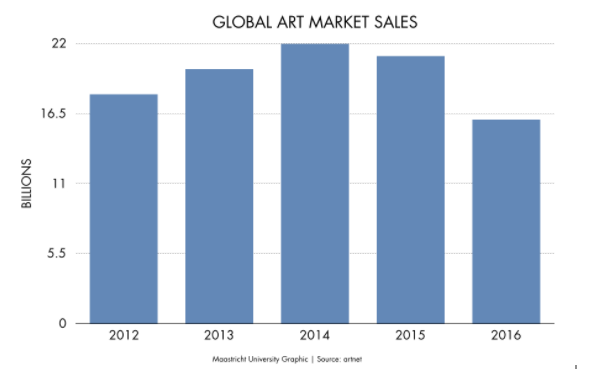 Traditionally, banks lent up to 50% of the artwork's value - leading the pack in the specialist lending market. However, recently, auction houses are also in the game. According to Barron's,"auctioneers contributed about $1 Billion to the total loan pool." Wealth managers have also caught up with the trend; 69% of wealth managers' institutions now offer financing for new purchases.
3. Rise in Art Collecting Support Services
Companies like Artsy, Paddle8 and Artnet, amalgamate different sectors of the art market into one, creating a hub that offers services of a gallery and an auctioneer, while providing art market data and news to users. According to Ateo Finance, venture capital backed art industry startups have increased from $125 Million to $505 Million in the past three years. Online art sales increased by 8.40% between 2015 and 2016, from $3.27 Billion to $3.75 Billion.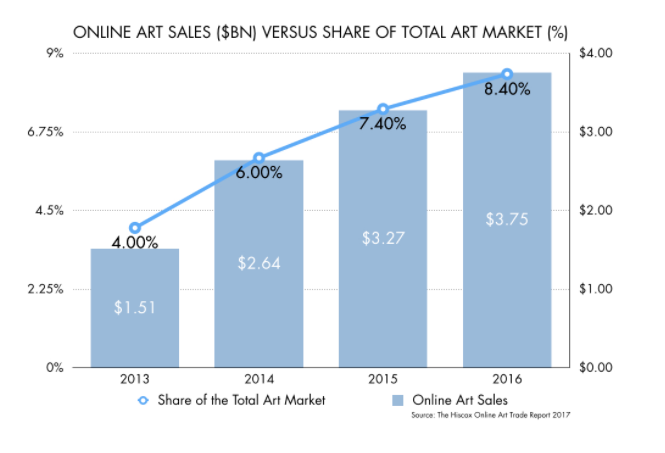 REAL LIFE. REAL NEWS. REAL VOICES.
Help us tell more of the stories that matter from voices that too often remain unheard.
This post was published on the now-closed HuffPost Contributor platform. Contributors control their own work and posted freely to our site. If you need to flag this entry as abusive,
send us an email
.