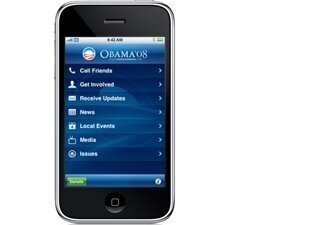 I couldn't have been more geeked to receive a tweet via text to my iPhone yesterday morning from 'BarackObama' announcing the launch of the campaign's official iPhone application, 'Obama '08'. Thanks to the Twitter-SMS combo, five minutes later, I had downloaded the app and begun using it. I was able to read the latest campaign press releases, connect directly to the latest TV ads, access issue statements, and find the MOMocrats' VP debate watch party I was co-hosting last night.
Cool gizmo, yes, but the iPhone app is also a serious tool. If I'm in a meeting and someone brings up Obama's plan on a particular topic, now instead of having to go to the web site and spend a significant amount of time waiting for pages to load while poking around to find the right statement, I can just go on my phone and read the appropriate plan. It takes under a second to load and then it's almost as quick to e-mail it out to others. Most notably, the application has a 'Call Friends' feature that splits contacts by area code and marks when they have been called from the app. Enter anyone into the iPhone contacts and they will become part of the application.
It seems the Obama campaign is launching new tools every week, last week's being the VoteforChange web site. With a font large enough to be seen by voters without reading glasses, the sleek interface quickly brings users to finding out whether they have registered, locating registration information if they have not, and directing them to locations for early voting. Polling place data should be up on October 15th.
According to Judith Freeman of Obama for America, VoteforChange.com "has made the voting process quicker and easier than ever before... you're ready to vote in less than five minutes." It's a sleek tool and all of the data is transferred securely. The one cumbersome thing about it is that switching from the step-by-step process over to the early voting page, for example, the site doesn't remember voter information through all pages. Any information aside from addresses required by states (like drivers' licenses or SSNs) to determine voter information is not stored in the campaign database for voter privacy reasons.
The VoteforChange is part of the massive GOTV effort being run by the Obama/Biden campaign in order to ensure that the headline "John McCain elected 44th president" never happens. In the related video ad, the campaign showed mock headlines like that one and "Voter turnout lower than expected" to drive the point home. In some states, voting has already started and in many, it begins next week. Just in time for these new tools to be put to use by campaign supporters.
Support HuffPost
The Stakes Have Never Been Higher
Related
Popular in the Community