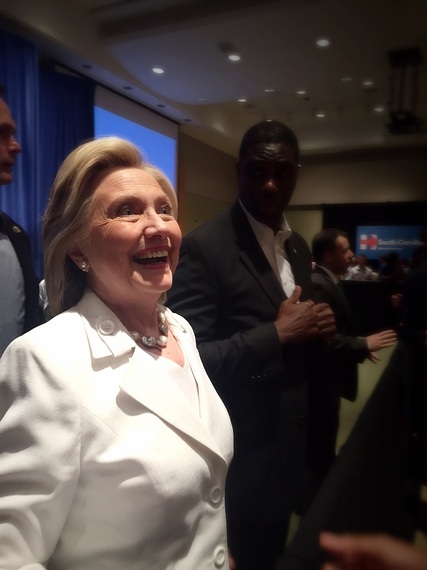 Just one week after joining Instagram, Hillary continued to cater to young voters Wednesday in North Charleston, SC. She spoke at a technical college during her first visit to Charleston since 2007 and second visit to the Palmetto State since announcing her candidacy. The hot button topics? Unemployment after graduation and the economic burden that comes with the diploma.
Much like her SC speech earlier this month to a group of democratic women that focused on women's issues, Clinton was playing to her audience. And the young audience members, many of them students at the technical college, were all ears.
Perhaps the first large cheer erupted when she declared:
"I want to a president for both the successful and the struggling. And right now the struggling need more help."
She unveiled a plan where businesses who employ apprentice programs would receive tax benefits explaining:
"It is time to be able to plan for the future in a way that gives you that path forward, so I support high-quality job training programs. On-the-job training can raise pay by thousands of dollars per year, apprenticeships even more," Clinton said. "This should be a no-brainer."
The plan involves a $1,500 tax credit for companies that hire and train apprentices of all ages. Trident Technical College currently touts their own apprenticeship program providing the perfect backdrop for the proposal.
The day which she described as an "apprentice pep rally" did not go into specific policy details but rather acted as a sort of opening act for the proposed plan and did just what she said it would: rallied the crowd of nearly 500 attendees. To measure success Clinton said she tends to look at "how many children climb out of poverty, how many young people can find good jobs" borrowing similar rhetoric from a previous speech on criminal justice reform.
Surprisingly the characteristically witty Clinton did not make any jokes about choosing to speak on apprenticeships right after Donald Trump announced his candidacy. Luckily some media members in the audience were able to make the joke.
Calling all HuffPost superfans!
Sign up for membership to become a founding member and help shape HuffPost's next chapter