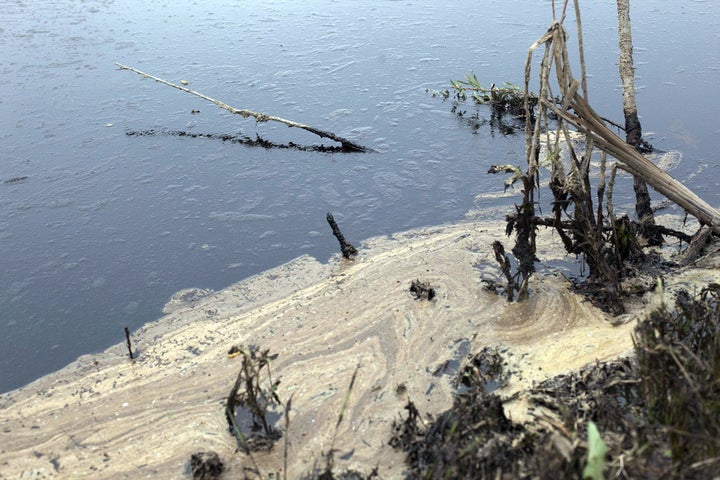 An oil pipeline under the Red Deer River in Alberta, Canada, spilled up to 3,000 barrels of oil into the waterway late last week.
Officials don't know what caused the leak, but the oil from the Plains Midstream Canada pipeline has already spread downstream and threatens the community of "Red Deer, Alberta's third-largest city, which draws its water from the river."
Officials from the pipeline company are assuring the public that the oil isn't a threat yet, though bottle water is being trucked in. But our friends at Greenpeace have been to the site, and the photos are awful. From their staffer Mike Hudema:
Alberta's Premier Alison Redford called the spill an exception. This, despite the fact that the same company had another major spill just over a year ago, one of the largest in Alberta's history... An exception even though less than a month ago Alberta had another spill by Pace Oil and Gas Ltd. and an exception even though in 2010 there were 687 failures, the majority of them leaks in Alberta, which resulted in 3,416 cubic meters of spilled hydrocarbons. In most cases, the cause was internal or external corrosion, or construction damage.
This spill comes on the heels of last week's "Black Out/Speak Out" day, a national day of protest against Prime Minister Stephen Harper's conservative government's attack on civil society organizations -- labor, environment, immigration, and student organizations that have spoken out against unlimited tar sands expansion and pipelines like the Keystone XL.
We all know that this is what oil-industry expansion leads to: more spills, more lives ruined, more environmental devastation. Residents along Alberta's Red Deer River are now witnessing it firsthand.
"My place is destroyed," Mr. Gord Johnston said, as he prepared to abandon his home and later head for a hospital to be treated for exposure to the fumes. "My whole life's work is gone. I've pretty well lost it all here."
This spill is just the latest from Plains Midstream Canada; the company had another massive 28,000-gallon oil spill only last year. And that's just one oil company.
We can do better than this -- Canada, the U.S., and beyond. We can all do better than oil. We need to be investing in clean energy rather than watching more families have their lives and land ruined by Big Oil.
Support HuffPost
The Stakes Have Never Been Higher
Related
Popular in the Community