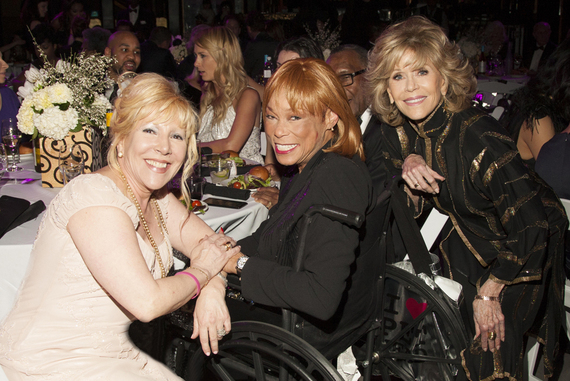 Photo (from left to right): Michelle Elyzabeth, Bernadine Anderson, Jane Fonda
Photo Credit: Paraplue Inc.
Beauty opens up almost as many doors as money does. It is power and a worldwide multi-billion dollar industry that will never die. Without makeup artists and hairstylists, our favorite stars, from musicians to A-list actors would not shine as bright as they do when they step onto the red carpet.

The Hollywood Beauty Awards 2016
Taking place during the same month as the Oscars and Grammys, two of the largest events in the entertainment industry, the Hollywood Beauty Awards (HBAs) turns the tables by celebrating those behind-the-scenes, rather than those in front of the camera.
For the second year, the HBAs, presented by LATFusa.com (LA TV FILM) will explore the careers and achievements of the hairstylists, makeup artists, and the red carpet photographers who shoot and craft the looks of the stars that shape the hottest makeup and hair trends.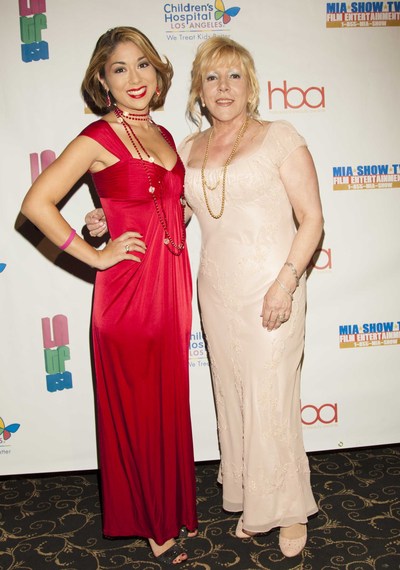 Photo (left to right): Pamela Price (Vice President of LATF and Michele Elyzabeth HBA Founder
Photo credit: Paraplue Inc.
"Although we know there is a void of recognition for the pros of the beauty industry, we are fighting hard to get major beauty companies to rally and support the cause. No one wakes up in the morning looking glamorous and desirable. We have to rely on the architects of beauty.
This is why we have created the Hollywood Beauty Awards," said HBA Creator, Michele Elyzabeth.

On Sunday February 21st, 2016 LATF USA will produce and host the 2nd Hollywood Beauty Awards at the iconic Avalon Hollywood. The annual black tie dinner gala, which benefits Children's Hospital Los Angeles, may very well be the "Oscars of Beauty."
"Each year, we celebrate artists of all backgrounds worldwide," Elyzabeth added.
In a world where award shows are expected to have 100% shock value and zero censorship, the HBAs strive to revive that classic Hollywood glamour that has since long disappeared.

This year the HBAs Have Added Some New Exciting Categories.

"Although few want to recognize publicly that they rely on beauty enhancement with regular visits to their plastic surgeon, it is a common practice in Hollywood. This is the reason why we are honoring one of the best doctors, Dr. Jason B. Diamond. The other category that we added this year is Fragrance of the Year. As Christian Dior so eloquently said, it is "the finishing touch to all couture creations." Coincidentally enough, this year, Sauvage, the latest Dior fragrance was among the five most popular men's fragrances in the world. We are delighted that Johnny Depp will be attending the HBAs to present this distinction to Pamela Baxter, the CEO/President of LVMH Perfumes & Cosmetics North America and Christian Dior Couture," Elyzabeth said.
Fusing the beauty and entertainment industry, the HBAs honor a Timeless Beauty and three New Beauties. This year, Melanie Griffith will accept, as well as Clare Bowen and Chaley Rose of ABC's "Nashville" and Mexican recording artist, Sofia Reyes.

The 2016 honorees are:

Outstanding Achievement In Hairstyling: Sterfon Demings - (Known for: 'Boyz N The Hood,' 'Monster's Ball'
(Halle Berry), 'Milk' (Sean Penn), 'Into The Wild' (Kristen Stewart), 'Bones' (Tamara Taylor).

Outstanding Achievement In Hairstyling: Kathryn Blondell - (Known for: 'Stay Away, Joe' (Elvis), 'HouseSitter' & 'Out-Of-Towners' (Goldie Hawn), 'Cast Away' (Tom Hanks), 'Aviator' (Cate Blanchett), Pers to Leonardo DiCaprio for 12 years including 'The Revenant.'

Outstanding Achievement In Makeup: Laini Thompson - (Known for: 'Jungle Fever,' 'Drop Zone,' 'The Fan' (Wesley Snipes), 'Bad Boys,' 'Men In Black' (Will Smith), 'Money Train' (Woody Harrelson), 'The Evidence' (Orlando Jones).)

Outstanding Achievement In Special Effects Makeup: Mike Smithson - (Known for: 'Austin Powers: the Spy Who Shagged Me' (Oscar nom), 'Fragments' (Forest Whitaker, Dakota Fanning), 'Lone Ranger' (Armie Hammer), 'Avatar.')

Outstanding Achievement In Photography: Norman Seeff - (Known for shooting: Rolling Stones, Andy Warhol, Patti Smith, Carly Simon, Fleetwood Mac, Ike and Tina Turner)

Three established nominees, specializing in creating celebrity looks on the red carpet and for editorial will compete in each honoree category.

Competing Nominees

Sterfon Demings Award For Hairstyling:

Tippi Shorter (Works with AVEDA, Alicia Keys, Kelly Rowland)
Kiyah Wright (Works with Tyra Banks, Ciara, Iggy Azalea)
Marcia Hamilton (Works with Jada Pinkett Smith, Taraji P. Henson, Pink!)

Kathryn Blondell Award For Hairstyling:

Giannandrea (Works with Macadamia Professional, Gwyneth Paltrow, Chrissy Teigen)
Riawna Capri (Works with Julianne Hough, Nina Dobrev, Emma Roberts)
Wendy Iles (Works with Heidi Klum, Marion Cotillard, Cate Blanchett)

Mike Smithson Award For Makeup:

Erik Soto (Works with Kat Von D, KVD Beauty, Sephora)
John Stapleton (Works with MAC, Kelly Osbourne, Margaret Cho)
Rachel Goodwin (Works with Chanel, Brie Larson, Diane Kruger)

Laini Thompson Award For Makeup:

Derrick Rutledge (Works with Michelle Obama, Oprah Winfrey, Kenya Moore)
Mylah Morales (Works with Rihanna, Tinashe, Keke Palmer)
Sheika Daley (Works with Nicki Minaj, Zendaya, LaLa Anthony)

Norman Seeff Award For Photography:

Eric Charbonneau (Shoots for AP/Invision, Warner Bros, Lionsgate, Twentieth Century Fox, etc.)
Jeff Kravitz (Shoots for Getty, MTV, Capitol Records, Disney, etc.)
Mario Anzuoni (Shoots for Reuters, Academy Awards, GRAMMYS, etc.)

Special Honoree Awards

The HBAs will remit a Special Recognition Award to Children's Hospital Los Angeles

Fragrance of the Year - Dior's Sauvage presented to Pamela Baxter (President/CEO Perfumes & Cosmetics Americas At LVMH, President Christian Dior Couture), pesented by Johnny Depp

Beauty Enhancement Award - Dr. Jason B. Diamond presented by Rebecca Gayheart Timeless Beauty Award - Melanie Griffith

New Beauty Awards - Clare Bowen ("Nashville"), Chaley Rose ("Nashville"), Sophia Reyes (Hit Mexican Pop Recording Artist)

Celebrity Presenters & Attendees: Orlando Jones ("Sleepy Hollow"), Tamara Taylor ("Bones"), Jackée ("227," "Sister, Sister"), Heidi Klum, Rick Baker (7-time Oscar winning Makeup Artist), Dr. Charles Elachi (Director of NASA's Jet Propulsion Laboratory), Rihanna, Jon Voight (Academy Award winner, "Ray Donovan"), Angie Harmon ("Rizzoli & Iles"), Kelly Rowland, Alex Meneses (NBC's "Telenovela"), Jose Moreno Brooks (NBC's "Telenovela"), Diana Maria Riva (NBC's "Telenovela"), Kelly Osbourne (Fashion Police), Eric Dane ("Grey's Anatomy"), Tippi Hedren, Nicole Williams (E!'s WAGS), Sophia Pierson (E!'s WAGS), Sam Palladio ("ABC's Nashville"), Amy Paffrath (VH-1's Dating Naked), Chastity Dotson ("Single Ladies").
Related