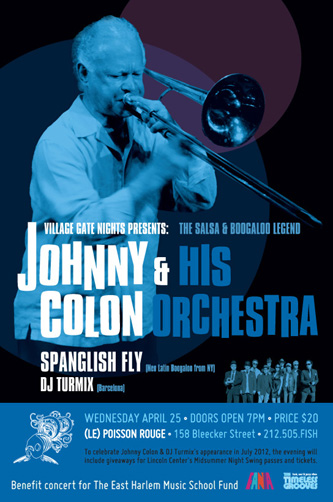 LATIN BOOGALOO: JOHNNY COLON, DJ TURMIX AND SPANGLISH FLY
Latin boogaloo, the infectious musical style blending soul, rhythm & blues and Latin grooves that was born in NYC's Spanish Harlem in the 1960s is undergoing a major resurgence in NYC and elsewhere thanks to legends such as Johnny Colon, who continues to tour, compose and educate, and younger enthusiasts such as DJ Turmix, who are spreading the word to a new fanbase. Johnny Colon, who was born and raised in El Barrio in NYC, is a versatile vocalist, multi-instrumentalist, arranger and musical director who became one of Latin music's leading impresarios at the forefront of the new "Latin Boogaloo" sound when he formed the first Johnny Colon Orchestra in the mid 1960s. In 1966, Cotique records released "Boogaloo Blues," which became a classic in the Latin field, selling over 3,000,000 copies worldwide, and continues to be an anthem for this period on Latin music history. Johnny went on to record many albums over the next ten years including Boogaloo '67, Move Over, Portrait of Johnny, Hot, Hot, Hot / Caliente de Vicio, and Terra Va a Temblar (Earthquake). In the early 1970s, Johnny also started the East Harlem Music School, which is still going strong as a satellite program today.

DJ Turmix, aka Carlos Vera, a Barcelona native who has been DJ-ing for over 20 years, is a Latin boogaloo specialist and vinyl collector who has been instrumental in the recent latin boogaloo revival in NYC, spinning his extraordinary latin boogaloo sets all over NYC, from clubs to Lincoln Center's Midsummer Night Swing and Central Park SummerStage, where he and his music icon, Johnny Colon, became fast friends. DJ Turmix started the monthly BOOGALOO! Party, sponsored by Fania Records, at the East Village club Nublu in January 2011, a celebratory night dedicated to the 60's Nuyorican musical style, with vinyl-only DJ sets and live performances by NYC's Spanglish Fly, an acclaimed 11-piece band dedicated to reviving Latin boogaloo.

On Wednesday April 25, boogaloo past and present will come together when Johnny Colon revisits his boogaloo, salsa and Latin soul roots with his orchestra in two sets of classics at Le Poisson Rouge in NYC, doors at 7:00pm. LPR was the former home of the famed Village Gate, where Colon and his orchestra performed some of the club's longest-running regular sets in the 1970s. The evening will also feature DJ Turmix spinning vinyl-only sets and an opening set by Spanglish Fly, and will benefit the East Harlem Music School Fund and celebrate Johnny Colon and DJ Turmix's appearance at Lincoln Center's Midsummer Night Swing on July 3.
In honor of the upcoming shows, DJ Turmix has put together a "Beginner's Boogaloo" playlist featuring five Colon classics as well as five boogaloo essentials and the stories behind them.
"Boogaloo Blues"
Boogaloo was the first original musical offering from musicians in the Latin neighborhoods, the majority of them of Cuban and Puerto Rican descent, such as the pianist, trombonist, composer and singer Johnny Colon. Johnny entered the recording scene with Boogaloo Blues, an LP that sold over three million copies worldwide. The song I selected has an amazing intro that starts out with a blues piano rhythm and develops into a guajira rhythm.
"Oyelo"
From Boogaloo 67, Johnny Colon's second album, I selected "Oyelo." The trombones, percussion, piano and vocals exchanging repetitive phrases at different times are amazing. It is a song that captures listeners from start to finish.
"Merecumbe"
Johnny Colon released this song on his influential 1972 the album Hot, Hot, Hot / Caliente de Vicio, which was produced by Larry Harlow for Cotique label, and in my opinion is where Johnny Colon shows his greatness and talent-its his second masterpiece after "Boogaloo Blues." Following the '60s boogaloo craze, salsa and came more into the spotlight in the '70s as this LP demonstrates. "Merecumbe" is my favorite song on this album. The piano and the voice of Johnny Point creates a turning point in Latin music, where the excellent execution of the bongo player Louie Bauzo creates a hypnotic rhythm that reverberates to the depths of the soul. If you hear this song at a party, you are gonna dance!
"New York Mambo"
From the 1971 album Portrait of Johnny. Johnny's lyrics (in Spanish originally) describe his lifelong love for New York City: "Listen! I'm Never Gonna Leave NY, because here is where I was born."
"Son Montuno"
Tierra Va A Temblar, released in 1975. He plays piano and sings and is joined in the chorus by Adalberto Santiago, Yayo El Indio and Tito Gomez in this song that takes revisits classic Cuban rhythms with Johnny's special touch.

BOOGALOO ESSENTIALS:
Mongo Santamaria "Watermelon Man"
By 1962, the mambo had started to become outdated and Cuban musicians working in the U.S. were feeling the change. Mongo Santamaria was in New York playing small Latin clubs. One night, his piano player Armando (later "Chick") Corea fell ill and was replaced by a young jazz pianist named Herbie Hancock. Hancock mentioned a number he'd just composed, "Watermelon Man," in rehearsal and the band played it that night. Within months, the song (with vocals by a then-unknown Cuban singer, La Lupe) climbed the pop charts. "Watermelon Man" could be considered the first interpretation of Latin boogaloo.
Pete Rodriguez "I Like It Like That"
In 1966, Bronx-born Puerto Rican Pete Rodriguez was hailed as "El Rey Del Boogaloo," and for good reason. All of his LPs recorded in the '60s are masterpieces of Latin boogaloo.
La Lupe "Fever"
Nicknamed the Queen of Latin Soul, La Lupe--whose eccentricities tested the patience of all the great musicians who worked with her, from Mongo Santamaria to Tito Puente to Ray Barretto--famously recorded one of the best versions ever of Little Willie John's classic, "Fever." No Boogaloo party is complete without this track, which makes women shake their hips like only they know how.

Joe Cuba "Bang, Bang"
"Bang Bang" sold a million records in 1967 and reached number #63 on the U.S. charts. It is a simple and joyful song composed by Jimmy Sabater and Joe Cuba with a catchy melody that engages anyone in the mood for a party.

Latin Blues Band & Luis Aviles "(I'll Be A) Happy Man"
Released on the small label Speed in 1966, this song might sound familiar, as Christina Aguilera used samples of it for her hit "Ain 't No Other Man." The tune features a fantastic horn chart, a funky beat and standout drums thanks to the great work of Bernard Purdie, who worked with Aretha Franklin, James Brown, B.B. King and others.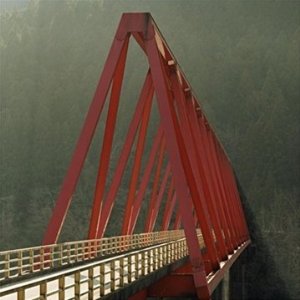 A Conversation with Fanfarlo
Mike Ragogna: Let's start out with the latest album. "Replicate" was a song that you released as a download for the project. What's the story behind "Replicate?"
Leon Beckenham: Mostly to reflect the sort of music that we had been listening too, really. We slowly shifted away from that sort of folky, orchestral sound into something a bit more sparse, more spare, more minimal. We've all been listening to quite a lot of classical music--Steve Reich, that sort of thing--so that idea of repetition was something that we were really keen to explore. That is pretty much what "Replicate" was born out of. We had ambitions because the first album was quite lush and orchestral, so we made a conscious effort initially to try to get away from that and do something completely new. I think it's fair to say the sound you hear in "Replicate" came out of that conscious desire to move things in a different direction. However, it's probably not typical of the album because I think we actually, soon enough, realized that we fall into the lush sound, the orchestrated sound, very easily, and maybe it's more part of who we are, it's more natural for us to do. I think "Replicate" was more an experiment into what will happen if we pull things back and make things more minimal, but it didn't feel that that was the natural way to go for the rest of the album.
MR: Now, we're talking about the album Rooms Filled With Light. How would you sum up that album?
LB: It's tricky because it's a product of five musicians working together. We don't all have the same idea of what we're trying to do and it's often a case of growing ideas together, throwing some out, including some, it's a constant debate often, constant argument. For me, it's basically a push towards more electronic sounds--more edgy, angular sounds--while not losing the good pop melody and the pop aspect of it--the hooks, the dance-ability, and the hum-ability. Still, we did want something a little edgier, a bit less twee.
MR: How do you guys get together and create the compositions which then become recordings?
LB: Well, it starts with Simon (Balthazar). He's the songwriter. He comes into a rehearsal room with a new song and he'll play it to us. We'll just build on that, really. It's been an interesting transition between the two albums because with the first one, so many of the songs came fully formed because he'd been working on them. He had pretty much every layout already worked out, and it was just a case of us tinkering with that. With this album, because we're a fully formed band from the inception of this album, he would just come with the bones of a song, lyrics, melody, and chords, and then we would all get a chance to bring our own ideas to it. Obviously, we would just play through it and add bits, try to include our bits, and if they work, they work. There's discussion as to whether things work or not, and there was always a lot more thrown away than was used in the actual songs. Whatever instrument we play tends to be the parts that you hear in the album that we create ourselves. That tends to be how it works--the horn parts will come from me, the bass riffs from Justin the bassist. Simon is the source of the songs, but they often go through many, many versions and many, many variations before the final one.
MR: When you're bringing the keyboards into the mix, what's your approach? During the process, are you conscious of who you are as a band with its own identity or is it just whatever is appropriate for the song?
LB: I think that's the tricky question, isn't it? We asked ourselves the question before we started recording this album. Who are we? What sort of band do we want to be? Obviously, we don't always agree on that, but we do have a general consensus. How that translates into the actual composition of songs is interesting because something can sound good, but then the question that pops up becomes is this us now or is this old Fanfarlo. It may sound good to us, but is this the direction that we want to go? There's very much that constant dialog between what may sound good to the ear and this idea of the direction we're going. Sometimes they dovetail beautifully, sometimes there's a beautiful keyboard that just really seems to be heading the right direction. And then there can be something else where it sounds great, but it's a little bit in the wrong direction, so there is that constant dialog between that.
MR: And of course, there are influences. Who were some of your musical influences?
LB: Being a horn player, Miles Davis is a hero of mine. I feel like I got the opportunity to use his sound a little bit more, you can hear more muted trumpet and landscape stuff. It's hard to say what else. I've been trained to play with layers of sound a lot more, layer of horns, which Miles Davis did in some of his later stuff. I was a huge fan of Tutu back in the day, that's electro. I actually started listening to it again before we recorded this album to see how well it held up. It is very "of its time," but I still think there are some amazing trumpet sounds in it, so I think I had that sort of sound in mind when I approached it.
MR: What's your favorite Miles album? Would it be Tutu or would it be something like Bitches Brew or Kind Of Blue or...?
LB: Kind Of Blue stands out for me. That was one that first got me into it, his sound. Sketches Of Spain as well. For me, you listen to it and you were there, you can see the landscape, it's incredible. Any of his stuff, it does it for me. I have a love for Spain anyways, so Sketches Of Spain. Kind of Blue also. It's difficult, depends on my mood.
MR: When everybody is together and your guys are tossing about ideas in general for the band, not just for the creative element, do you talk about the evolution of the band? Is it a philosophical thing in addition to it naturally just evolving?
LB: I think it's a combination of the two. I think as a band we talk things through a little bit too much. It has been said by people we work with, "You overanalyze, everything goes to committee and we discuss, discuss, discuss." We realize that makes you miss out. With our great producer, Ben Allen, he's turned around and said that we talk through things more than any band I've worked with. I don't know if that's because we have quite a strong democratic philosophy behind creating our music or maybe we're indecisive, I don't know. But we do talk things through maybe more than we should. We should maybe just get on with it a little more.
MR: Which nicely brings us to the question what advice might you have for new artists?
LB: That's a tricky one. I guess just keep plugging away and getting the music heard has to be the priority. Obviously, with all the music technologies, it's increasingly a writer's and cacophonist's landscape. There are so many new artists that have platforms, but I think it's just a case of plugging away, plugging, plugging away. Very few artists have that big break anymore. Now it just seems to be putting in the legwork for each gig you do, each radio session you do. For each person who hears the music, you're making that advance, even if just a tiny increment... It's a marathon not a sprint. You just have to keep plugging away.
MR: Giving advice to Fanfarlo, what is the biggest challenge for you guys? What is it that you guys need right now?
LB: I guess it's always a case of where to go from here. I think for us as well, it's when do we start thinking about new material, because we've only just started really touring this album. I know with the first album, we self-released it first and toured with it, then got signed, then toured forever. I think by the end of that, we were a little bit jaded, because we'd played the songs thousands of times, as any band does on an extensive tour. I think personally, I would like to start working on new material before that actually happens. Fingers crossed, the second album will be as big a success or more so than the first one. We will be having offers to tour here and tour there, come back to the States. Hopefully, those offers will come up and it's knowing when to say "enough." We love touring, for me especially. It's one of the best things about being with the band, to perform things and traveling. If those requests keep coming in, it's difficult to say, "Okay, now it's time to stop doing this thing that we love and actually start with the hard work of recording songs." As fun as that is, it's definitely work compared to life on the road.
MR: In addition to touring and writing for the next album, what's in the future for Fanfarlo?
LB: It's difficult, it's so up in the air. You discuss and you try to plan as much as you can. We've got another six weeks on the road in the US, we've got a few days off, then we've got a few weeks into Europe, and then summer festivals. By then, so much is going to be dependent on how well the album is being received and picked up that it's really difficult to plan that far ahead because we're so dependent on these things that are pretty much out of our control--i.e. how much people like the album. It's somewhat going to be based on that.
MR: Thank you very much for your time, Leon.
LB: Thanks for having me.
Tracks:
1. Replicate
2. Deconstruction
3. Lenslife
4. Shiny Things
5. Tunguska
6. Everything Turns
7. Tightrope
8. Feathers
9. Bones
10. Dig
11. A Flood
12. Everything Resolves
Transcribed by Narayana Windenberger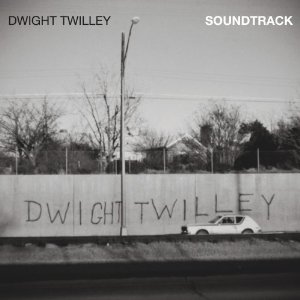 A Conversation with THE Dwight Twilley
Mike Ragogna: It's Dwight Twilley!

Dwight Twilley: Hello, Mike!

MR: How are you doing today? Not too shabby?

DT: Well, not shabby.

MR: (laughs) Well, let's dive into your new album Soundtrack. Can you fill us in about the album?

DT: Well, it was a situation where I just had released an album called Green Blimp, which we were very proud of, and by the way, is being reissued. It's coming out again with bigger distribution. And right around the time that we released that, we were approached by some people that said they wanted to make a documentary film about my life. So, we signed off on the stuff and that I would be available to do interviews, and they'd get to have access to my video archive and photographs and stuff like that. But you know, as the thing was coming together, we saw their proposal and we noticed that they were going to hire somebody to write music that sounded like Dwight Twilley. We thought that was kind of funny. You know, I always kind of wanted to do a soundtrack for film, and so we signed on to write the music for this thing, and just immediately jumped in to recording this album called Soundtrack, which is really different for me as a project because it's a completely autobiographical album. In less than a year's time from Green Blimp, we released Soundtrack. We were kind of worried that we weren't going to be able to live up to the quality that we had achieved with Green Blimp, but we're very, very proud of Soundtrack.

MR: I don't think I've ever heard of a story like this, you know?

DT: (laughs) I know! That's usually the way it happens in my world.

MR: How did you approach it creatively?

DT: Well, what I did was walk around as a songwriter, and I was thinking about it in terms of it being autobiographical, and I would just think of certain points in my life that I thought were really important things that really affected me or became this story or whatever. So I would kind of jump from one subject to another, and most of the time, it worked out. There were a few cases where I started to do something and it turned out to be another thing. But in general, it was just a lot of the stories that a lot of people know about and some that people don't know about. For instance, I guess one of the best examples is the song called "Bus Ticket," which represents what I think was a really critical, really important, point in my life when my partner and I, at that time, were little kids--Phil Seymour and I. We were getting kind of good. We had our little acoustic guitars and our little pretty voices and we were writing these little pretty songs, and we thought, "Man we should go some place and play our songs for somebody, like at a record company." And so we had a set of songs, and we thought, "We can't afford to drive all the way to LA." We couldn't drive all the way to New York, but we'd heard that in Memphis, there were record companies, you know, places where people record, so we got in my little '58 Chevy station wagon and took our little cassette, and we drove to Memphis, Tennessee.
We literally just drove down the streets looking for something that looked like a record company, and sure enough, we were driving along and we saw a place, and we were convinced that it looked like some kind of record company that probably had a recording studio in it. We just walked in the door and somebody was ready to listen to our cassette, and we played it for some guy named Phillips. He liked our tape, and we had no idea of the significance and the meaning of the fact that that was Sun Records. He took us in and kind of guided us down to a town that we knew nothing about called Tupelo, Mississippi, and had us work with an original Sun Artist named Ray Harris, who gave us an education on rock 'n' roll. And so at that time as little kids, we thought The Beatles invented rock 'n' roll, and Elvis was just a guy in movies. So unlike a lot of the acts that were kind of in that same place at that time, we sort of got the education of the roots of rock 'n' roll, so that was a very important part in my life and the history of our band. I think it really set us aside from everyone else because we got something pounded into us that was important.

MR: Nice. And looking back at that adventure, it's got to be one of the more precious moments.

DT: Oh, totally! And we had such a great time.

MR: Phil Seymour passed away a while back. Can we talk about Phil for a moment and your relationship with him?

DT: Totally. You know, in the story that I was just relating to you, we were little kids who grew up together and had our musical dreams and went on adventures and went through a lifetime in the few years that we worked together. We were so close, and you can hear it in the music that we made and the harmonies that we sang together, and we were very, very close until the time that he passed.

MR: Yeah, and of course, I'm sorry for your loss. Also, let's talk about that little song called "I'm on Fire." Can you tell us the story behind it?

DT: Well, we had just been signed by Shelter Records, and we had really only worked in Tupelo, Mississippi, with an 8-track recorder, and we worked at our own little studio that we put together--it was just a 4-track. So when we got signed by Shelter Records in Hollywood, they sent us back to Tulsa because they had offices here since it was part owned by Leon Russell and Denny Cordell, and they sent us into what they called The Church Studio that is still here today, by the way. They explicitly said that they didn't want us to try to make a record. They wanted us to just become familiar with actually recording in a real 16-track studio. So I was good to go with that, and they actually made a big point of that, you know--"Don't try to make a record. Just get comfortable working in the studio." And the first night, we went in--I think it was the day before or after Thanksgiving--and it was Phil Seymour that took me aside in one of the vacant rooms in the studio and said, "Dwight, let's cut a hit tonight!" (laughs) Phil was like that. And the first night, we recorded "I'm on Fire." It was the very first recording we made for a record company.

MR: Wow. And then of course you have great albums. As The Dwight Twilley band you have Sincerely, Twilley Don't Mind, and we should talk about The Great Lost Twilley Album, a collection of all sorts of things that you put together.

DT: (laughs) We recorded so much that there ended up being all this left over material. And that record is not available. It's very sought after. People want that record badly, but it's interesting that you bring that up because while we're so fortunate to have recognition for the new album Soundtrack and the previous album, Green Blimp, the Dwight Twilley Band material is resurfacing. In fact, for the very first time, Sincerely has been made available on iTunes and from the album, Twilley Don't Mind, there is a song in two motion pictures that are coming out in 2012. Actually, one is out. It's called Apart, and it's in theaters and you can see it on demand, and it has the song "Looking for the Magic" in it from Twilley Don't Mind. Oddly enough, later this year, there will be another motion picture called You're Next with the same song. So actually, two motion pictures in 2012 will feature the song "Looking for the Magic" from Twilley Don't Mind by The Dwight Twilley Band, which is kind of interesting.
MR: Congratulations. Let's get to "Girls," your big eighties hit.

DT: Yes, "Girls." And even more recently, a couple weeks ago, finally the album it's from, Jungle, is now available on iTunes. And this hasn't been available on CD or in any form since it was on vinyl. (laughs)

MR: That is so cool. That video for "Girls" is one of the most memorable videos of the era, "Coach Twilley"! (laughs)

DT: We had a lot of fun making that video, and a lot of people don't know that there was an "R" version of that, and that the people remember it was cheerleaders and the football team and obviously the coach, but anyway there were Playboy Bunnies. The "R" version was a great promotional tool at the time. For the radio guys that were out working the record, they would be like "Do you think you could add this Dwight Twilley song 'Girls' to your play list this week," and they would be like, "I don't know...airplay is tight this week, so I don't know if we can do it." And we'd be like, "Look I can give you a copy of the video. Would you like that? Does that interest you?" "We've seen a lot of videos." But then the radio promoter could say, "Well, yeah, but how would you like your own copy of the "R" rated version?" That opened up the door to getting the record added to some stations, so it was a great promotional tool and a lot of fun to make if you can use your imagination.

MR: Getting back to Soundtrack, let's get into a couple more stories here. Is there a song that, more than others, like "Soundtrack," sums up what the project is all about?

DT: That's the thing that I'm proud about Soundtrack. It's not an album that's like one song or a couple of songs that stand out. It's really a piece of work. It's something you almost need to listen to from top to bottom. I have trouble when I go on radio stations and people say, "Well, which song do you want to play?" It's really hard to choose. As far as the title song, I've always been interested in writing a soundtrack or something that would work with film, and then the little songwriter voice inside of me said, "Here I am writing a soundtrack. Well, who's ever written a song (titled) 'Soundtrack'?" So that seemed like an interesting challenge to me, and I'm very proud of it. It's one of my favorite cuts on the record, and it's because as a producer, I tried to create a recording that sounded like film that would sound like it was changing from scene to scene as a motion picture does instead of just a recording.

MR: Dwight, do you have a great Shelter Records story?

DT: A great Shelter Records story? Well, for one thing, my partner Phil Seymour and I grew up here in Tulsa, and Leon Russell decided to live in Tulsa, and it was like having this big rock star guy live in town. Everybody that lived in Tulsa that was a musician or had something to do with music wanted to get in with Shelter Records. They were bound and determined. If you would walk down the street on a Saturday night, you would walk into one bar and people would be singing like this and you'd walk into the next bar and people would be singing like that and all the bands sounded like Leon and the whole town was turned into Leon Town. While we appreciate his talent and liked his music, it was so not us or what we were interested in doing. So we drove all the way to Los Angeles, California, when we thought we were ready to look for a recording contract. We felt like we were ready for one then, and push come to shove, we end up getting signed by Shelter Records in Los Angeles, so we drove all the way across the country to get away from Shelter Records and end up getting signed by Shelter Records in Los Angeles. Later, when we actually met Leon Russell, it turned out that he was such a kind, gracious, and generous person. It was very good.

MR: Nice. All right, what advice do you have for new artists?

DT: (laughs) I don't know. I feel really bad for new artists these days. I feel so fortunate that I was able to get started at a time when the music business was more artistic and creative and less of the big corporate monster it is today. And so I guess I would just say if you want to do music, it's generally that you really don't have a choice. So if you have to do it, then you better just really love what you're doing and understand the importance of what it means to you, and let it slide off your shoulder, what the reality of the business is today. It's gloomy, huh? For the people that want to make it last longer than five minutes, it's a little harder.

MR: Very true. All right, well Dwight, if you had another favorite song from the album Soundtrack, what would it be?

DT: A nice autobiographical song would be "My Life," and you can also go to my website http://www.dwighttwilley.com and see a video that we made for the song "My Life." It's not necessarily representative of the whole album, but it's representative of the idea of it being an autobiographical piece of work.

MR: It's a summation?

DT: Yeah, in a way. And the video too. I think a lot of people will enjoy the video.

MR: Well Dwight Twilley, thank you very much!
Tracks:
1. You Close Your Eyes
2. Bus Ticket
3. Tulsa Town
4. Skeleton Man
5. My Life
6. God Didn't Do It
7. Out in the Rain
8. Soundtrack
9. The Lonely One
10. The Cards Will Fall
11. Good Things Come Hard
12. The Last Time Around
Transcribed by Kyle Pongan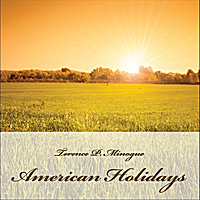 A Conversation with Terence P. Minogue
Mike Ragogna: Terence, you've arranged Jim Croce recordings, produced rockers like Crack The Sky and the cult favorite Spider-Man: Rock Reflections Of A Superhero, created an orchestral version of reggae music as Orchestra Montego, and scored the movie with Melanie Griffith and Tippi Hedren, Roar, among other musical adventures. Now you are writing symphonic music, most recently for your project American Voices. Are there no limits to your musical sorcery, sir?
Terence P. Minogue: (laughs) Well, I've explored all types of music, for film, TV and choirs. As I mature as a musician, symphonic composition feels like a more complete way to express myself.
MR: Is there an overall statement in your latest CD, American Holidays?
TPM: It seems that Americans are politically divided and polarized now more than ever. American Holidays celebrates the things we all agree on. For example, all of our wars since World War II have been highly controversial, lots of argument and disagreement over whether we are fighting to the best of our ability or if we should even be fighting at all. On the other hand, everybody agrees that war is tragic and frightening, and we should honor our fallen heroes. That's why the piece "Memorial Day" has sections that are patriotic, nightmarish, and melancholy. Another example is that families are more complicated now than in the past. There are a lot of "ex" and "step" families to visit on Thanksgiving. No matter who we're with, we're probably eating turkey, and we can all agree that Thanksgiving is a peaceful time of gathering, longing, and nostalgia with deep feelings all represented in the "Thanksgiving" piece.
MR: Let's chat about "Memorial Day." It's full of bugle calls, and there is a section that sounds particularly Asian. Can you tell us what your musical approach was here?
TPM: At the time I wrote "Memorial Day," I was reading Laura Hillenbrand's bestseller Unbroken, a true story of World War II hero Louis Zamperini who spent the war flying terrifying missions and trapped in Japanese prison camps. I also thought about my father, who fought in the U.S. Navy in the Pacific during World War II. To capture some of the nightmarish quality of these experiences, I used the Hirajoshi scale. This is the Japanese 5-tone (or pentatonic) scale that we are most familiar with in the west, and it tends to conjure up images of Asia. Unfortunately, wars seem to send our soldiers to exotic but frightening places. The bugle calls are a combination of "To The Colors," "Retreat," and "Taps." At the end of the funeral dirge in the climax of "Memorial Day," the trumpeter sneaks in with "Battle Call" showing that war is part of human nature and may never end as long as there are people.
MR: Can you go into "Independence Day"?
TPM: Well, "Independence Day" is our country's birthday party, and the music is very happy and celebratory. There are images of fireworks and parades. There is a section in the middle where I quote a passage from William Shields's song "Norah, Dear Norah." This was a very popular tune at the time of the Revolutionary War, and it was George Washington's favorite song. It's a minuet, a waltz that is, and makes me think of Colonial times and powdered wigs.
MR: Excellent. What about the source music in "Thanksgiving"?
TPM: There are two pieces quoted briefly in "Thanksgiving." One is On My Journey Home by William Walker. It comes from his collection, The Southern Harmony Songbook, which was the most popular book in America in the 1840s. It sounds early American, and has religious "hellfire preaching" overtones. The title carries the message that we all want to be on our journey home around Thanksgiving, as we saw in one of my favorite films Planes, Trains, and Automobiles. The Southern Harmony music carries the message that Thanksgiving is a religious holiday and God wants us to be thankful for what we have. The other tune quoted is "We Gather Together," a Dutch hymn brought to Plymouth Rock by the Pilgrims, which was sung at the first Thanksgiving feast. It is played several times by the orchestra chimes, which sound like church bells.
MR: Beautiful. And you also have a piece about Labor Day. The sounds--I guess appropriately--remind me of factories, steam engines, and whistles.
TPM: Yes, I tried to capture the essence of a day at work using industrial sounds and factories. I was influenced somewhat by the group I brought out of Pittsburgh and into the music business, Crack The Sky. They had a sound reminiscent of the machinery in the steel mills--lots of clanking and hammering. There is also a peaceful part in the middle of "Labor Day." It is a fugue that's sort of a more complicated version of a "round." The clarinet starts a melody, and it is echoed by another clarinet, then a flute, and then a bassoon. The parts all fit together, showing that the Labor Day celebrates Americans working together.
MR: Terence, you create from a very deep place. What is your creative process? How do you go about writing?
TPM: Well, it's very emotional, and also can be tedious at times. The trick is to keep going, whether it's working or not, and get the piece done. You can always go back and fix it once it is finished. I found the hardest part of writing seven-minute pieces was to keep up the focus, energy, and interest through the entire piece. It takes a lot out of you.
MR: Terence, do you have any advice that you'd like to give to new artists?
TPM: Keep at it and don't stop writing. The writing will get better. Also, always make sure to arrange for your music to be performed. Your most valid criticism will come from the people performing your music. They will keep you honest. Try to set up in a deadline situation. Writing to a deadline will sharpen up your chops.
MR: Terence, thank you much for coming to spend time with us.
TPM: Thank you so much for having me, Mike.
Tracks:
1. Independence Day
2. Thanksgiving
3. Labor Day
4. Memorial Day
5. Fanfare Of The Founders
REAL LIFE. REAL NEWS. REAL VOICES.
Help us tell more of the stories that matter from voices that too often remain unheard.