By: AOL Latino Entertainment Editors
The biggest and sexiest night of the Latin music industry, the 12th Annual Latin Grammy Awards, took place Thursday evening at the Mandalay Bay Hotel and Casino in Las Vegas. Stars from across the Latino entertainment world -- from music, TV and film -- sauntered, swayed and strutted along the green carpet for a great night of musical celebration.
As the stars started arriving, Daddy Yankee was perched high-atop a Las Vegas skyscraper lending a surreal opening to the evening as it was just beginning.
Under the stewardship of two of the most important hostesses on Spanish-language television, from Univision, Lourdes Stephen and Giselle Blondet, along with the support of Raul De Molina, the live broadcast began in earnest.
1970's heartthrob and current Hispanic TV dancing sensation , Erik Estrada and Blanca Soto, star of the highest-rated, Spanish-language telenovela were among the first to stride down the carpet. Soon followed by Zoe Saldana, Usher, Pitbull and Taboo of Black Eyed Peas.
Rene, lead singer of Puerto Rican hip-hop duo Calle 13, stayed true to their reputation, adding a touch of commentary to his entrance with the slogan "Por la educacion publica (for public education)" emblazoned on his shirt.
A fan favorite, Sofia Vergara, who returned to the green carpet for the first time in a few years was on hand, looking radiant and glamorous, She probably ran into ex-boyfriend Cristian Castro, a nominee who was set to perform later in the evening.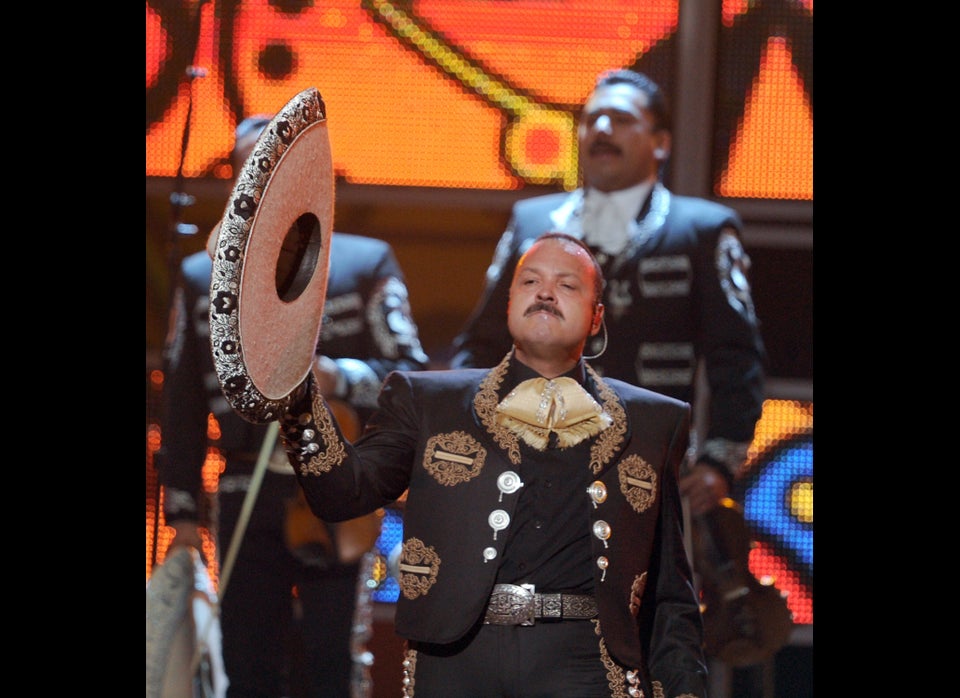 LATIN GRAMMY AWARDS' HIGHLIGHTS
It was a risky way to kick-off the 12th Annual Latin Grammys with Calle 13, who launched into their controversial hit, 'Latinoamerica' accompanied by the great Simon Bolivar Orchestra of Venezuela. The song celebrates the values of Latinos across the Western Hemisphere, who can't be bought or sold. The powerful performance led to the first standing ovation of the night and it turned out to be a harbinger of things to come as Calle 13 dominated the evening, winning 7 awards, including a clean sweep of the 3 most important ones, Album of the Year, and for 'Latinoamerica', Song of the Year and Record of the Year.
Lucero, Sofia Vergara and Zoe Saldana all welcomed the audience to this biggest night for the Latin music industry, a clear, sign that the music and artists recognized tonight would transcend language and culture, reflecting the diversity of the U.S. Hispanic population and those who love Latin music.
Shakira , the Latin Recording Academy's Person of the Year, was the second performer of the night, with an intimate take on 'Antes de las Seis' (Before 6) followed by the 'Golden Girl' Paulina Rubio and Los Tigres del Norte, with the song they recorded together for MTV's 'Unplugged.'
Franco de Vita, the evening's Male Pop Vocal Album winner, who repeatedly said that he doesn't believe in the seriousness of the Latin Grammys, has evidently made peace with the Academy, and along with Mexican rocker Alejandra Guzmán, performed 'Tan Solo Tu' (Only You), a live showing which lost its way and went off key. Thankfully they bounced back, overcoming the glitch.
An impressive Wisin & Yandel hit the stage hard with an electrifying 'Estoy Enamorado (I'm in Love). In black and white the reggaeton superstars were pure fire with Sean Kingston.
The comedy skits were left to Mexican humorist Eugenio Derbez, who in previous years accompanied Lucero with hosting duties. Although it didn't appear to be his best night, at least he understood that his audience is decidely more American, even actor Adam Sandler was on hand, but by mobile phone...
The emotional highlight of the evening was the public presentation of the much-anticipated award for Person of the Year to Barranquilla, Colombia songstress, Shakira and delivered by Sofia Vergara, two Colombianas who have broken cultural and language barriers with their talent and charm, while maintaining their sincerity and pride. The singer also mentioned a rarely known fact: the pair were neighbors in Barranquilla.
"This is without a doubt one of the most important moments of my life, and perhaps the nicest recognition that I have ever received. I'm honored to share it with you. Last night I had a beautiful night to remember, sharing with my friends and colleagues who I respect and admire. My dad even sang. It was a night I will never forget, seeing artists and colleagues singing my songs is an honor I don't deserve. I dedicate this award to my colleagues, who with music cure all ills and give meaning to everything," Shakira said, in a heartfelt and very sincere acceptance speech, remembering and naming every artist who participated in the previous night's tribute celebration, and leading to another standing ovation.
Shakira was also awarded Female Pop Vocal Album, for the Spanish-language 'Sale El Sol'.
At last, the much hyped appearance by Demi Lovato occurred, only she wasn't with Wilmer Valderrama, but with Spanish singer, Pablo Alboran, singing together on stage.
Another grand moment in a night filled with them, was Cristian Castro's orchestra-accompanied performance of 'El Triste' (The Sad One). Demonstrating why he's one of the top-selling Latin singers of the moment. Castro compelled his peers and fans in attendance to another standing ovation. His was the best voice of the night.
Pitbull's epic and -- literally -- explosive entrance, singing 'Rain Over Me' alongside Marc Anthony, left mouths open and an entire audience bobbing their head in synch with the song's beats. Nothing was missing, and his performance, as usual, stood out as one of the evening's best.
For a full list of 2011 Latin Grammy award winners, please visit LatinGrammy.com
WATCH THE GREEN CARPET HIGHLIGHTS:
Popular in the Community