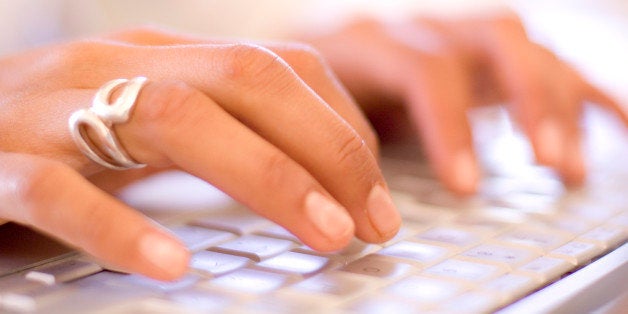 I scoured the internet for interesting blogs written by Latinas, and after googling here and googling there, these 5 blogs written by Latina bloggers in English are the pick of the litter:
1. Salsa Pie – The Salsa Pie blog first caught my attention because of it's clean design and layout. The blog is run by Caroline Urdaneta. Urdaneta designs arts & craft projects for children.
She actually started Salsa Pie in 2009 to help foster an innovative spirit in her four children. Her blog's success led her to provide content for different family and lifestyle magazines & websites. Urdaneta also hosts a weekly Crafts for Kids video series for PBS.
2. Allison Olivia – AllisonOlivia.com is a blog by a Mexican girl living in Paris. The site is not flashy, and the design is rather simple, but what's really here is Allison Olivia's voice. Her writing is witty and concise.
She'll let you know right of the bat she's in Paris undergoing an intense pastry curriculum in France. She also doesn't hide her sailor mouth, nope, not on the pages of this blog.
The beautiful photographs of the macaroons Allison whips up are paired with headlines like "Thoughts: Shitty Cookies". On her site she also shares recipes such as Ricotta Cheesecake and Roasted Peaches, Tacos Secos and Mille Feuille. She also has a section for home decor, travel and a random one where she mainly talks about her life.
"Wouldn't it be cool if I quit my job and moved to Paris?" and so that's just what this Mexicana from LA did.
3. Brenda Bird Designs – This Peruvian living in Utah has masterfully combined her craft, graphic design, with love and family. The wife and mom has thrown those three together and the outcome is this blog.
Her blog From Me, With Love offers Do-It-Yourself projects, tutorials and tips for design. Her designs are also available for purchase on Etsy where you can see the Latino influence in some of the greeting cards she offers. Brenda also has a Facebook page where she offers her blog followers additional perks like this Healthy After School Snack Round Up.
4. Natalia Sylvester - If you love writing or are an avid reader than this blog is definitely for you.
NataliaSylvester.com is winner of the 2013 Top Ten Blog for Book Lovers award.
Though Natalia's background is Peruvian she lives in Texas and goes by the motto "Finding the truth through Fiction". On her blog you can find book reviews, advice for emerging writers and a little bit of Natalia's personal struggles as a writer herself.
Her first novel "Chasing the Sun" is scheduled for a May 2014 release date.
"Seeing the words I'd previously only seen as a word doc transformed into a book—that's a moment I won't ever forget," she writes in one of her most recent blog posts.
Natalia Sylvester also blogs at "The Debutante Ball" a blog for debut authors.
5. Dulce Candy – Dulce Tejada's blog, Dulce Candy, has been featured as number one of the Top Ten Best Latina Beauty Blogs by Latina magazine.
Her how-tos, reviews and infamous haul videos as well as fashion recommendations have made her a go-to-gal for many aspiring fashionistas.
Dulce shares her personal sense of style with her followers and often shows off her OTD, Outfit of The Day, informing those who wish to emulate her look in which stores she obtained her clothing items and what brands she is wearing.
The LA-based Dulce has obtained more than 150 million YouTube views and has a whopping 740,000 subscribers. So, if you want the latest and most trendy fashion know-how, don't forget to visit DulceCandy.com.
REAL LIFE. REAL NEWS. REAL VOICES.
Help us tell more of the stories that matter from voices that too often remain unheard.
BEFORE YOU GO
PHOTO GALLERY
Top Blogs Of 2013