If we had to create a math equation to describe today's interviewee, I imagine it would go something like this:
(Energy + Charisma + Fun) x Dedication = Nina Terrero.
Whether covering the latest in entertainment and pop culture for mainstream platforms such as Entertainment Weekly and the TODAY Show, or just keeping you and I super-informed via Twitter, Latina journalist Nina Terrero exemplifies a charismatic, energetic, and fun style while maintaining a tireless and sincere dedication to her craft.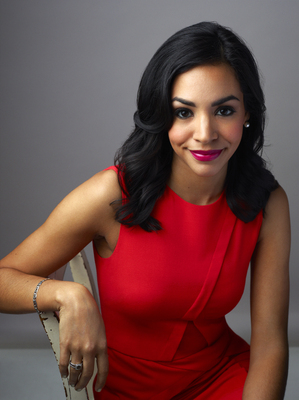 Once on the fast track toward a career in law, Nina changed course and pursued an opportunity in her true dream and calling -- sharing the stories of the world, to the world itself through news reporting.
Since then, she has worked her way from the pay-your-dues world of interning, to playing a significant role in ushering in NBC Latino, to trading dialogue with Al Roker and company while reporting for one of the largest magazines in the country. In the midst of such a fascinating journey, she has spent so much time sharing the world with us that we haven't given her that many opportunities to share her world with us.
I had a chance to ask Nina a few questions about her career as a Latina journalist and how she has made it to the success she's reached today. So without further ado...
Marcus: Thank you for this interview, Nina. Ok...walk us through this: You're about to conduct a face-to-face interview, or write an article that a high volume of people across the nation will read. What's going through your mind?
Nina Terrero: It's like taking the SAT's: study, study, study! I try to read as much as possible about my subject in preparation for an interview, and when applicable, watch their movies or TV shows. You want to be knowledgeable about your subject so you can roll with the punches and be as relaxed as possible during your interviews. At the same time, I try to gauge what people think about said celebrity, topic or platform so I can ask questions in tune with what the audience really wants. I think that's an important part of my approach. With a news story, my approach remains the same but I try to think about what's happened, what's at stake, and what's to come, all in addition to getting the facts.
And here's something funny -- my best questions come to me right before bed or in the middle of the night! Medical studies have proven that sleeping with your phone near you can disrupt your sleeping patterns, but I can't go to sleep unless mine is next to me on my nightstand! So I'll wake up in the wee hours, roll over, type out my question(s) with my notepad function or email myself, roll back over and pass out. And those are often my best questions!
Finally, even if I'm just chatting to a celebrity on the phone -- whether it be Mexican director Guillermo del Toro, British screen icon Helen Mirren, Jennifer Lopez or Japanese artist Haruki Murakami -- I always put on a swipe of lipstick and put my notes together in an orderly fashion. Feeling organized and cute gives me the boost of confidence I need to ask ANY question!
MTW: You were originally preparing for law school when you decided to go a different route and start your path toward a career in journalism. Describe that moment when you decided that journalism was definitely the path you needed to take.
NT: My parents always encouraged me to learn about the world outside the four walls of our home in a very intellectual fashion. We were always going to museums, listening to NPR, reading stacks of books, attending art shows, lectures and cultural events. And this was all on a little to non-existent budget -- we weren't at all well-to-do.
My sister and I weren't allowed to watch a lot of TV, either -- we were limited to broadcast (preferably public television!), about half an hour a day. As a result, even as a kid I tended to think about ideas on a very big scale, and I liked the idea of tackling real-world issues as an attorney. It seemed like a pretty noble calling and something like one of the heroines in my books would do. Also, I felt like my career choices were pretty limiting: I'm bad at math and I hate inflicting/receiving pain, so I could never be a doctor. So law it was! Throughout college at Cornell -- where I was student body president, a government major and even submitted articles for the pre-law journal -- I was pretty sold on the idea of becoming a lawyer.
That is, until it came time to actually think about going to law school. I took the LSAT, got into law school and unlike my friends, was completely uninterested in going. I hadn't quite accepted that it would be my path. I felt so much pressure to do justice by my fancy ivy league degree, to keep up with my friends who were all going to law or medical school or off to impressive banking jobs, and last but not least, to fulfill what I felt was my parent's unspoken expectation that I would become a lawyer. So I did the next best thing: I totally ignored the deadline for sending my law school tuition check and I became a corporate paralegal at a top New York City law firm so that I could see if this law thing was really for me.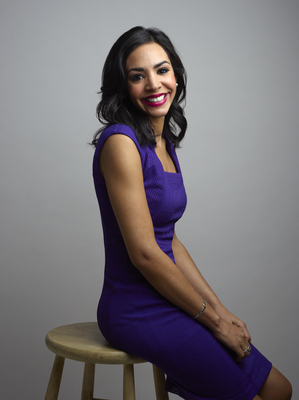 Turns out, it wasn't. Long story short, while I was at the law firm -- right after graduation, in 2007 -- the recession hit and between doing UCC [Uniform Commercial Code] searches and filing bankruptcy documents, I had lots of down time to read useless stuff online. This was around the time The New York Times went digital and lots of cool blogs were popping up, like Gawker. I was obsessed with reading, sharing and interacting with others online. I had always loved writing and storytelling, and suddenly the idea of becoming a journalist -- really, just writing for the web -- was irresistible.
I did a lot of research and it became clear that to get ahead as a journalist, I'd have to go into 2.0 mode and start my career all over again. Grad school seemed like the best option, so I took the GRE and went to Columbia University, where I decided to study political science once again (hey, if the whole journalism thing didn't work out, I could always work on a campaign!) with an emphasis on media.
Getting internships in news solidified what I had suspected: I was meant to be a journalist. I got my start a little later compared to some (when I decided to go to grad school, I was 23 and it felt like my career was half over) but now I'm doing what I truly love. Ironically, I'm married to a lawyer, so whenever I think about what could have been, he snaps me back to reality with chatter all things law-related. It puts me right to sleep (sorry, honey)!
MTW: You have built a career of reporting through various multimedia platforms. What are some of the challenges of being a national journalist in this digital age?
NT: There's always the fear of being a jack of all trades and master of none -- especially in the news industry where employers value versatility but ultimately place value on expertise. I feel comfortable using a variety of social media platforms, digital tools and traditional means of communicating a story, and I get a huge amount of satisfaction from choosing whether I should share a story on video, tweet out a short report, do a broadcast segment or write a magazine story on said topic. But there's always the sneaky suspicion: am I doing this the best way I can? Is this up to par with the competition?
Am I really challenging myself? Practice makes perfect, so I spend a lot of time writing and rewriting, as I have with shooting video (lighting! white balance!) or even reporting on-cam (practicing in front of the mirror might sound crazy but it works!). Being able to report in a variety of mediums is a privilege -- but keeping up with your skill set in all areas can be a challenge.
In saying this, I'm reminded of the many, many hours I spent trying to polish my editing skills. In one newsroom I was in, there weren't too many folks trying to learn how to edit, and some of my peers just shrugged it off as something they just didn't need to know; it wasn't pertinent to their job description. But I made it a priority for myself; and although I definitely had one or two mini-meltdowns over the Avid station late at night long after everyone had gone home for the day, I had the support of my bosses to make mistakes along the way and ultimately, I'm pretty proud of my editing skills!
MTW: Talk a bit about your experience developing your career as a Latina journalist and having the opportunity to represent the Latino/Latina voice through so many platforms.
NT: Becoming a "Latina" journalist who represented "Latinos" was a label that I didn't seek. I've always thought of myself as totally normal -- just a Jersey girl who grew up in the 'burbs. I always lived in very mixed neighborhoods -- Italian, Greek, African American, Indian, Filipino, White -- and looking back, I realize what a gift that was. I learned very early how beautiful the world is when we're able to exchange ideas, cultures and traditions.
I don't think the concept of labels really hit me until I went to Cornell University and people started asking me if I had signed for housing in the dorm designed for Latino students; [they also asked] had I gotten in through a program specifically for minority students? That was a question I was asked all throughout my first semester. The idea of receiving a special privilege because of my race or background, and wanting to live amongst "my kind" was totally foreign to me.
I thought it was all so crazy and needless to say, I rejected that. I quickly became friends with kids of all backgrounds and that was something that I was later picked on for. Someone told me to my face: "Why do you have so many Black friends? Go hang out with the Latinos." I was so hurt by that. I never, ever wanted to be labeled by virtue of my skin tone or background. I never thought for a moment I might want to distinguish myself on the merit of my background alone.
Later, working in a mainstream newsroom, I realized how few Latin journalists were. I was the only Latina reporter in my job capacity at the newsroom and I didn't have any higher-ups to go to for an example of what it meant to be a Latin journalist covering mainstream, hard news. That fact weighed really heavily on me -- as did the fact that stories about Latinos just weren't regularly reported, despite our presence in neighborhoods, communities and jobs across the country.
So when the opportunity to focus on Latino stories -- and a Latino reporting staff! -- at NBC News arose, I jumped at it. That opportunity with NBC Latino changed my life, and my mentors I met and worked with there will always be a part of my life because of it. The opportunity to do lifestyle and entertainment reporting gave me the skill set and confidence to make reporting on our stories a priority, no matter what, no matter where I'd be in the future.
So does it feel weird sometimes always pitching 'Latin' stories now at Entertainment Weekly? Sometimes. But I know how important it is to my community and to me, as a journalist. I love representing my community, my roots and my heritage and I will always do so with a sense of pride, dignity and skill that merit our stories a larger place in the landscape of journalism.
MTW: Your recent article in Entertainment Weekly ["5 Things Hollywood Learned about Latino Moviegoers this Summer"] highlighted the significant percentages of Latino audiences going to the movies. You also cite the recent Columbia University study that focused on the low presence of Latinos in front of and behind the camera in film. Do you see this low presence improving in the near future?
NT: First of all, I have to state that I'm thankful that there are organizations and companies that make it a priority to do research about the state of Latinos in the entertainment industry. We might have suspicions about our presence and significance, but numbers don't lie. Whether I see this low presence improving in the near future -- that's a difficult question to answer. I can only answer with optimism: I hope so. It seems unfair that Hispanic audiences would fund the success of major mainstream studio films and yet we would not be a significant part of production.
Why is having just one token Latin actress per film deemed 'enough'? That rankles me to no end. But the same is true for Black, American Indian and Asian representation as well. Somehow, we need to reverse decades of practice -- and truly become integrated in the fabric of entertainment, as we should government, business and other areas of industry.
MTW: You have come a long way from your first internship at Fox News years ago. What would you say is the most important thing you've learned during your journey?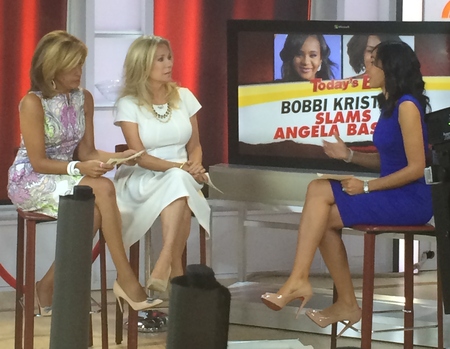 Nina, far right, dishing the entertainment scoop to Kathy Lee Gifford and Hoda Kotb
NT: The first internship I ever had in the news industry was at Fox News. I worked for the morning show "Happening Now," and my responsibilities included writing teases for the show online and recapping the show on its Fox website. It was my very first introduction in learning how to translate broadcast content online, using language that would appeal to a younger demographic and maximize its newsworthy-factor in a very crowded digital space. That's a skill that I use to this day, whether it's sharing my latest TODAY Show segment or doing an exclusive EW.com feature based on something I wrote for the magazine.
I also learned one extremely valuable lesson while at Fox -- and that is that one of the keys to being successful in the business is being visible. I would divide my days at Fox between the dark, cavernous newsroom (underground in the Rockefeller Plaza concourse!) and a tiny cube on a floor designated for talent, where reporters like Bill O'Reilly and Bill Hemmer sat. I preferred sitting in my office -- sunlight and a view! -- but I realized sitting there, that although it was quiet and I could get my work done, none of the show producers ever saw me. I might have been more efficient away from the bustle of the newsroom, but to get plum assignments and build relationships, people had to see me. Volunteering for assignments wasn't enough...building relationships would ultimately be what got me to the next step. That's true in any news job -- and to some extent, every job. Raise your hand and volunteer away -- but remember, your relationships with people are what ultimately adds value to your [career] in this industry. They're the ones that can vouch for you, give you assignments, and mentor you - and that was something I couldn't necessarily get sitting in that cube.
MTW: The stories you share... the articles you write... if they only do one thing for the viewer or reader, what do you hope that one thing is?
NT: Honestly, I'm a huge fan of reading, watching movies, TV, tech and entertainment news. I know what I like -- and I try to bring that experience to my audience. I'm like you; I want to know what movies to see, learn what my favorite television star is up to, and I want to know that if I read just one book this weekend, it's going to be fantastic. I'd like to think that I have a very earnest, fun sensibility when it comes to my interviews, stories and reporting because I come from the same place that the fan does. However, when it comes to stories or news that touch on the Latino community, what drives me is to share why our [story] is the untold story. We deserve to be part of the mainstream -- heck, we are part of the mainstream already! -- but the talent, audience, stories and facts still need to be out there. My goal is always to share that in the most altruistic way possible, because just like I feel as a Latina reporter I deserve to be considered part of the majority, so do our stories. I'd love it if I inspired others to do so, too.
***
For more on Nina Terrero and her work, visit ninaterrero.com
You can also follow Nina on Twitter: @Nina_Terrero
Photos provided by Entertainment Weekly staff
Popular in the Community