At Google's Los Angeles office on a recent Friday night, the presentation room was filled with highly educated, professional, innovative, entrepreneurial and activist Latinas in charge. There were bloggers, journalists, community leaders, professors, business owners, engineers -- all gathered to participate in a unique Latina leadership event, one of the very first times a Fortune 100 corporation has ever hosted such an event.
The ELLA Leadership Institute west coast stop of the "Latinas Think Big" tour, was streamed live on Google Hangout on Air, broadcast to many virtual viewing parties around the nation and to individuals watching the event online. The event kicked off and along with nine other Twitter ambassadors and all participating around the nation, we got busy communicating the key moments and thoughts coming from the stage. When it was over four hours later, there were over seven million Twitter impressions -- SEVEN MILLION!
If anyone doubts the commonly reported finding that Latinas are the fastest growing demographic using social media technology, this event and these numbers should put those doubts to rest.
You can catch the entire event here and you'll want to see it -- where else can you see TED-style talks with an all-Latina leader lineup? In addition, you can see many of the tweets and photos from the event compiled in Storify here. Go ahead and search on the #LatinasThinkBig too, to see many awesome moments captured succinctly.
Here are the Top 10 Twitter moments from the event, brief thoughts on what they mean for our nation and where you can learn more.
"We want a chair on the boardroom table of the same companies that enthusiastically target our dollars." -- Dr. Angelica Perez. #LatinasThinkBig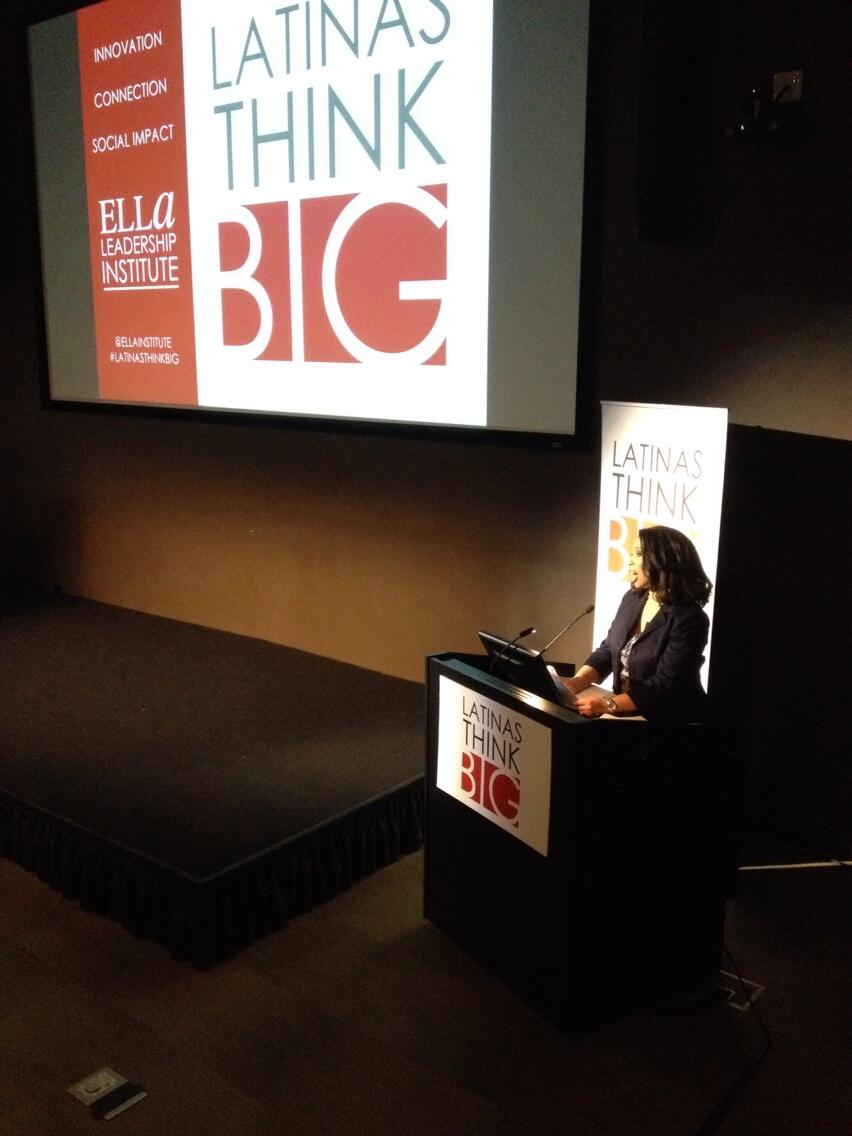 Not much explanation required. The founder of the ELLA Leadership Institute said it quite clearly. We are no longer content with being treated only as consumers, as mamis of children courted to buy the latest baby shampoo, cereal or whatever product. We are highly qualified to serve on corporate boards. We have our MBAs. We have worked globally in leadership and management roles. We have been in leadership roles in community and nonprofit organizations. We've already attended sessions on preparing to serve on corporate boards. Today's corporate board members simply need to understand that we must be included and that we have an expectation that we will be. Why? Let's look at new data about Latina economic power.
Many Twitter moments happened as Dr. Perez interviewed Monica Gil of Nielsen, winner of the Executive Leadership award, as powerful data about our influential demographic was communicated to the audience. This data is beautifully presented in the recent report from Nielsen titled the "Latina Power Shift." Here are just a few key tweets from that moment:

"74 percent of American Latinos are under age of 45. Think about what that means!"

"We are ambicultural. 100 percent Latina, 100 percent American." Monica Gil, Nielsen "Latina Power Shift." ##LatinasThinkBig (PHOTO)
This simply means that we're not to be perceived as 50-50. We are 100 percent of each identity. We behave as if we believe that two cultures are better than one, because they are. We LOVE being Latinas and we LOVE being Americans. For Americans who speak only one language who don't identify much with their ethnicity or cultural heritage, whatever it may be, this may be very difficult to understand. But for us Latinas, we get it.
"We must remind our employers that being Latina is not negotiable." Monica Gil. #LatinasThinkBig and
"Latinas seek information from other Latinas." -- Monica Gil #LatinasThinkBig.
We trust each other. It's a comadre thing. We trust our hermanas more than we trust advertisers who clearly do not understand that we are not stereotypes, and that we'll simply ignore the dancing taco.
During the event, the ELLA Leadership Institute recognized a truly visionary man, the founder of the Ivy League Project, Martin Mares. For over a quarter of a century this high school principal, in his spare time, has transformed the educational outlook of migrant farm communities. Here are two Twitter moments that sum up his extraordinary leadership and contributions to young lives; the first tweet said about him; the second one stated by him as he received ELLA Institute Servant Leadership Award.

"1365 students have participated in the Ivy League Project; 177 have graduated from Ivy League Schools." Martin Mares ROCKS!
"Some like to coach soccer; I coach future world leaders." Martin Mares, Ivy League Project #LatinasThinkBig (PHOTO)
He then added, "We must cultivate the Latinas who love to think BIG." -- Martin Mares, Founder, Ivy League Project #LatinasThinkBig
Speaker Estefania Ortiz, Stanford software engineering student and Facebook intern, shared she was terribly bored in high school. So she elected to homeschool her senior year, learning many skills with online classes and getting more excited about engineering. She gave us these Twitter moments:
Estefonia Ortiz, engineering student @Stanford "stumbled upon a lab where people were building apps."#latinasthinkbig
She did self-teaching to learn what she needed to get ahead, Now a software developer #latinasthinkbig #estafiniaortiz #inspire
"At my programming internship. I felt I could compete. I was fascinated." #latinasthinkBIG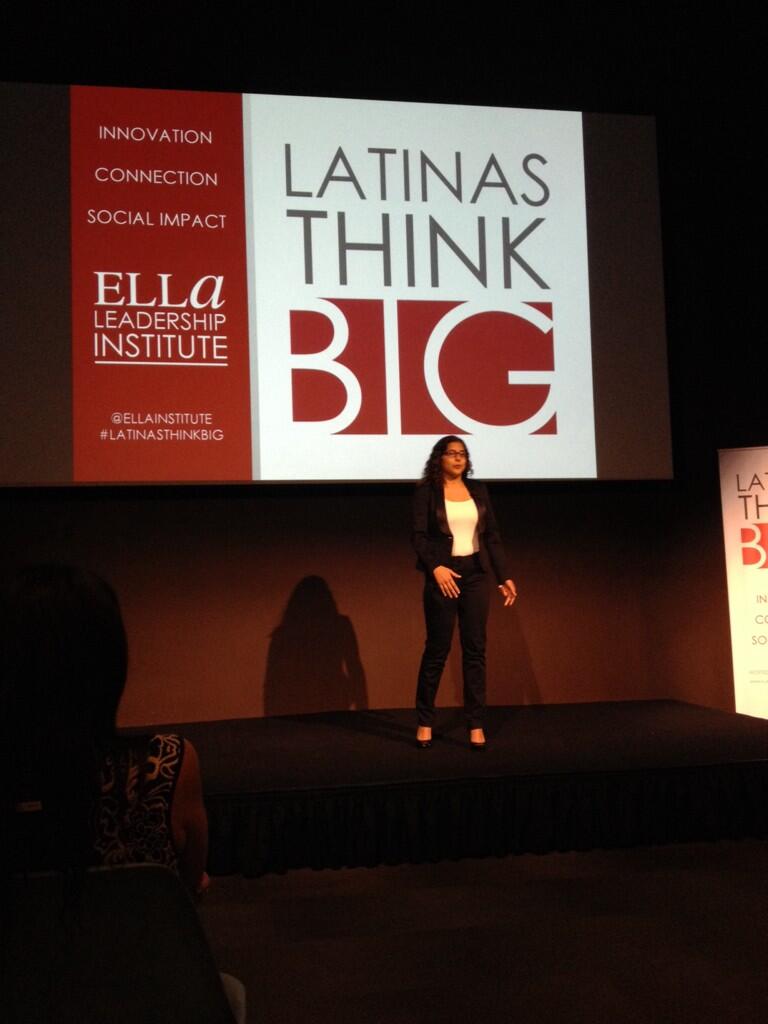 What does her experience tell us about how to motivate young Latinas to pursue engineering degrees? The answer likely isn't "make them memorize facts for years to pass a standardized test and raise the school's API score." It's something else altogether. She said it and it was tweeted repeatedly:
"Teach students how to learn." -- Estefania Ortiz.
The parents, educators and administrators in this nation need to give Estefania's experience some serious thinking -- it has profound implications for how to attract and retain Latinas into engineering studies and professions, something that must happen.
One thing is also clear, as Dr. Perez stated in her opening remarks: "We want to help design the technology that we're so quick to adopt." The Nielsen report shows the fast adoption curve by Latinas in a wide variety of technologies; of course we want to have a hand in their creation!
The head of Google's multicultural marketing is Harvard graduate Eliana Murillo from the New York office. She gave us these two insightful Twitter moments that piggyback nicely with the Nielsen data about how we are the fastest growing demographic utilizing social media tech and apps.
"If technology and Latinas are the future, what can't we do?" @Eliana_Murillo #LatinasThinkBig
"With technology and our smartphones, we can now scale inspiration!" @Eliana_Murillo #LatinasThinkBig
Another speaker, Air Force reservist and intelligence analyst Pam Campos from Portland, used a story about playing on an all-men soccer team while deployed to Kyrgyzstan as a way to encourage Latinas to lose self-doubt. A female journalist approached her and asked her what she was doing out there with all the men. In a moment that many military women and Latinas can relate to about suddenly being made to feel as if you're out of place, Pam instead responded with what became an oft-tweeted perfect Twitter moment:
"I'm supposed to be here. I'm needed here and this is exactly where I belong." Pam Campos #LatinasThinkBig
It takes courage & confidence to act on the power that we as Latinas have. Pamela Campos #LatinasThinkBig @NewLatina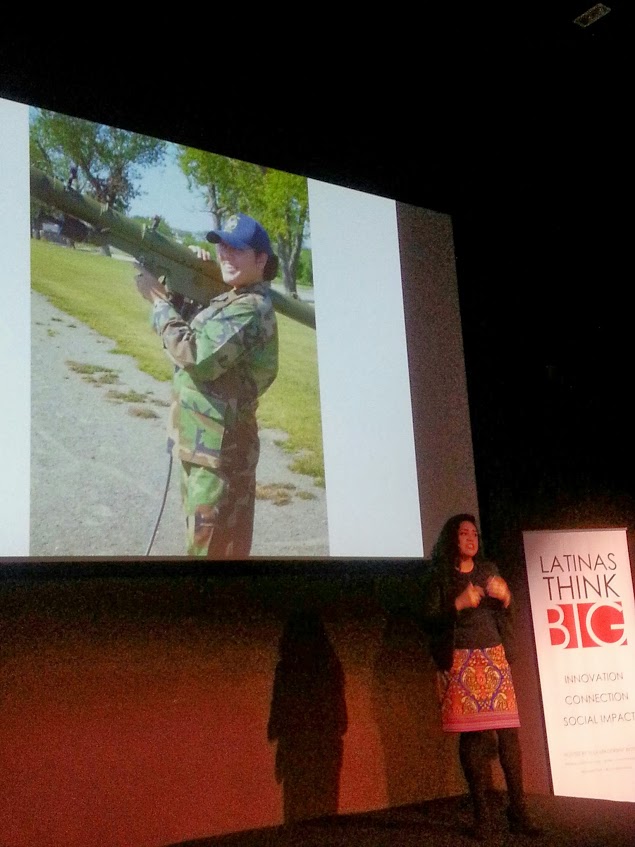 Pam's talk gave everyone listening permission to own the room, to KNOW you belong and to act powerfully, without an ounce of self-doubt. Coming from a woman showing photos of her training with shoulder-launched RPGs, she made her point perfectly. As an Air Force veteran, I was especially proud of her up on stage, expressing how her military service has equipped her for life-long leadership roles.
In the event's most powerful example of tenacity and devotion, Boeing engineer Noramay Cadena shared a story of finding herself pregnant in high school. Devastated and feeling that her dream of becoming a college graduate has been thwarted, she was fortunate to find herself mentored by a visionary counselor. He shared with her that she could still achieve her dream albeit in a different way. Nora shared with us the following:
"I went to MIT with a one-year-old. Now, we've received three degrees from MIT." Nora = @LatinasinSTEM #latinasthinkbig pic.twitter.com/wnkDMKKHzj
Nora is now one of the founders of Latinas in STEM. She said yet another fantastic quote as she shared her BIG idea.
"We are 5 Latina MIT graduates who want to change the face of STEM." @LatinasinSTEM #latinasthinkBIG (PHOTO)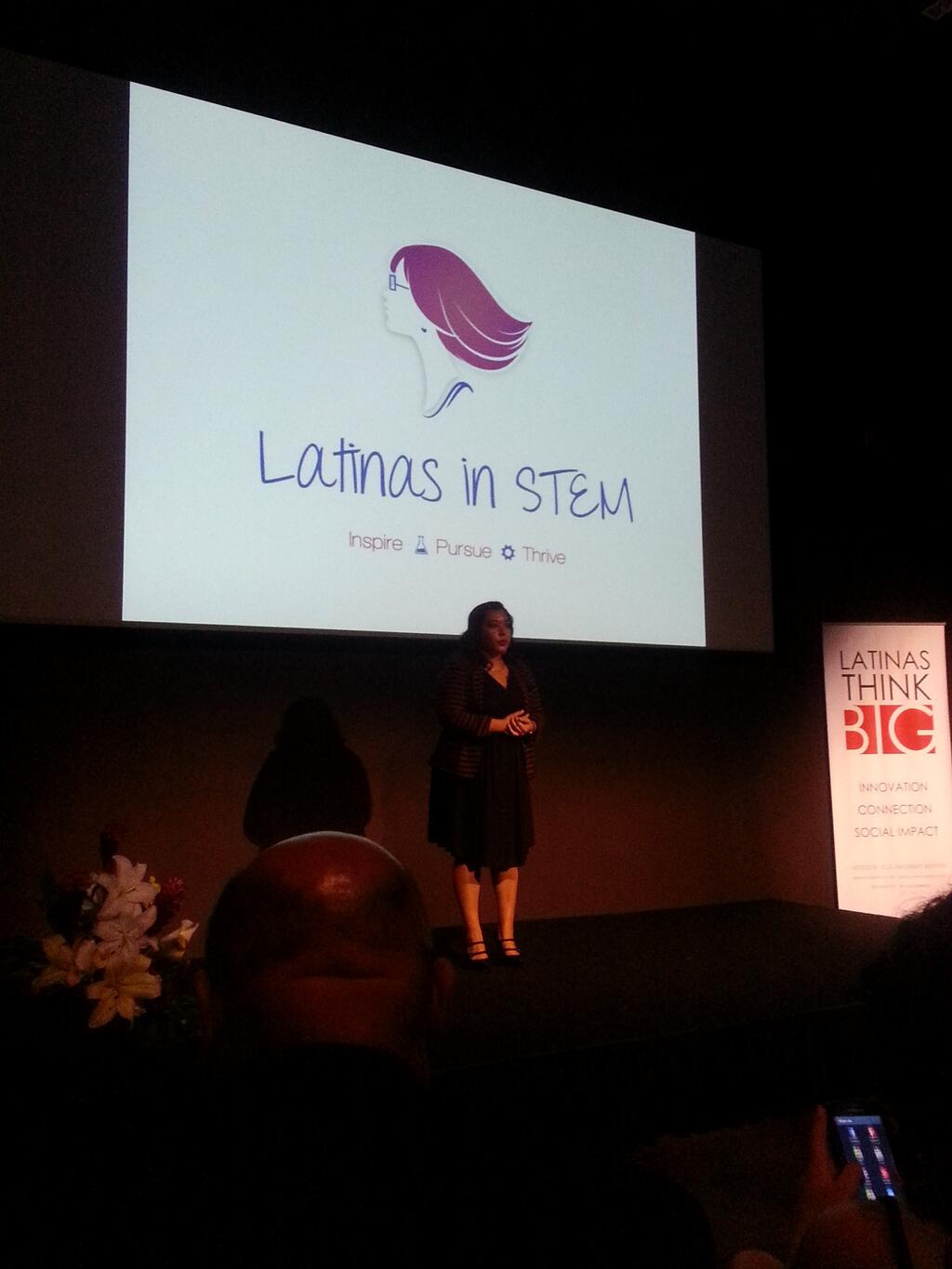 Later in the evening I met her daughter signed a copy of my book to her. I felt a chill go up my spine as I thought of the amazing example she is setting for her child; Nora is one tenacious mother, engineer and Latina leader! You can find Latinas in STEM on Facebook and Twitter and here on the web.
Rocio is a celebrated Chilean-American architectural designer of innovative prefabricated homes. She had the big idea that great home design should not be restricted to wealthy people. She also realized that existing industry infrastructure would not support her big idea.
Karrie Jacobs, claimed in her book The Perfect $100,000 House that Rocio was the first to figure out how to market modern prefab homes: "Even as competitors and imitators spring up, Rocio is the one who really took on the problem of prefabricating a simple, attractive, low-cost modern house and solved it."
Then, we realized Rocio was also a clever entrepreneur:
"I realized I'd have to do the design AND distribution." -- Architect/Entrepreneur Rocio Romero #latinasthinkBIG pic.twitter.com/U3ZGwzUsMt
Rocio's prefabricated homes are environmentally friendly & affordable #latinasthinkbig (PHOTO)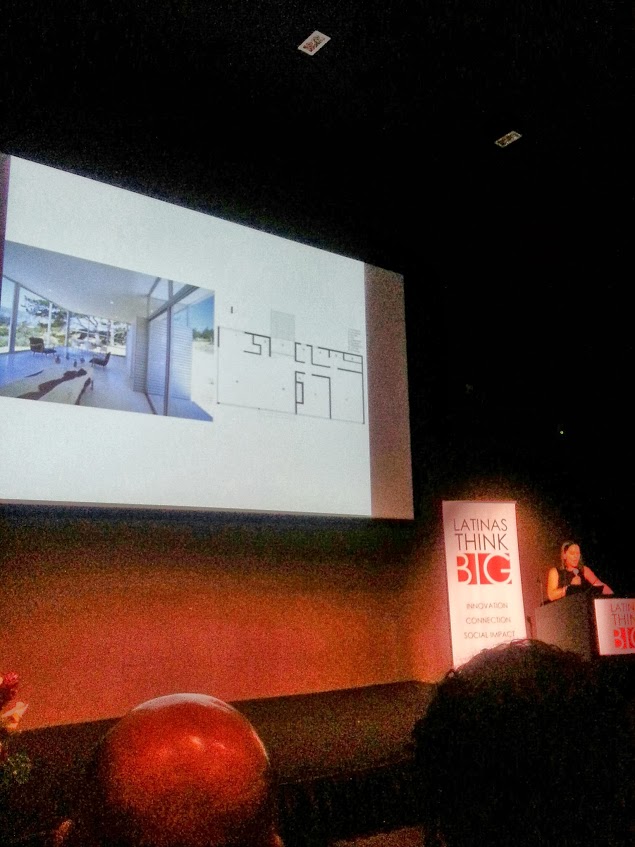 Rocio also happens to be a graduate of my alma mater, the College of Environmental Design and Architecture at U.C. Berkeley. I can't complete this post without adding a "Go Bears!" shout out to celebrate Rocio. See her environmentally-conscious, gorgeous designs here.
There was a moment in the evening when talk turned to money. Dr. Perez reminded everyone that there were many Latina entrepreneurs and business owners in the audience and thousands more around the country. She cited widely reported U.S. Census data that Latinas are the fastest growing segment of small businesses in the nation. She shared that Latinas control 30 percent of the 1.4 million companies owned by minority women in the US, yet 70 percent of Latina business owners have a combined household income of $75K.
This led to some of the key Twitter moments of the night, moments that thousands of women entrepreneurs will nod their heads to as they read:
"Big ideas and ambition can only go so far w/o tangible access to resources and influential networks." @DrAngelicaPerez #latinasthinkbig
And she asked America for very specific actions:
"The time has come for our small businesses to grow into big businesses and the new corporations of the 21st century." -- Dr. Perez #latinasthinkbig
"There are women in THIS room who need $250,000, $500,000 or five million dollars to create and grow their BIG businesses." -- Dr. Perez #latinasthinkbig
"We need access to large amounts of capital and to investors like Warren Buffett." -- Dr. Angelica Perez #latinasthinkBIG
Latina entrepreneurs who own and operate businesses are best positioned to create jobs and fast. We're already up and running, just capital deficient because we're not perceived to be the typical, successful business owners by those who can help to capitalize. As soon as that perception changes and we start to attract investment, you'll see a tremendous bump in economic activity around the nation, growth in the local tax base, employment and much more. But it won't happen, unless we ask; Dr. Angelica Perez just did it for all of us.
#1
There is one final thought from the event, from Dr. Perez:
Make no mistake, we are a group of influential women and the future of this country's social and economic well being. It's time for our country to get to know who we are, to turn the page, to read the next chapter, to learn, to be inspired by us, to support our endeavors and to take note of our achievements and contributions. She reminded those potential investors, current board members and others listening of the inescapable fact that attracts the marketers' attention when they hear the words 'Hispanic market' and 'Latino demographics':
"Latinas are key drivers to $1.3 trillion U.S. Latino purchasing power and make 86 percent of household buying decisions." #LatinasThinkBig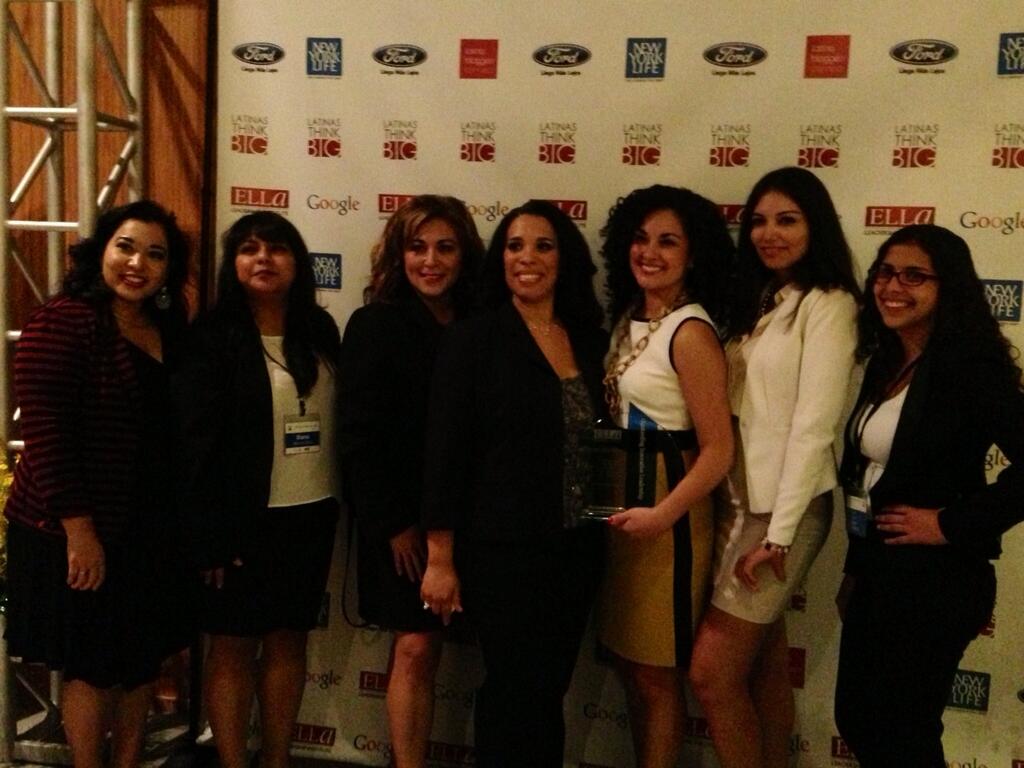 [photo by Caroline Avakian]
Latinas indeed do think big, dream big, and DO big. As those who gathered for the event in person or remotely witnessed, we're just getting started! We're eager to connect with corporate brands and individuals who can dream big alongside us, those ready to invest in our big ideas (as Google, Ford, New York Life and others did as event sponsors) and help us deliver even greater value to our Latino communities and to our American nation.
Related
Popular in the Community