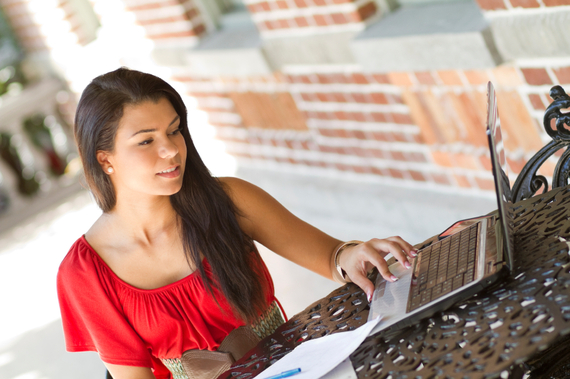 Mentoring continues to be a critical catalyst for the career advancement of Latinas. It offers the support, roadmaps and role modeling they need to successfully navigate their career journey.
When we think about mentoring, we often think of a long-term and special mentor-mentee relationship, strengthened through a series of face-to-face meetings. The mentor is often older and a higher ranking individual (the expert) and the mentee plays a less valuable role (the receiver) in the mentoring relationship.
However, over the past 10 years, technology and social networks are unveiling new tools and vehicles from which mentoring can take place. I lead and manage the Latinas Think Big Community, the largest group of Latinas on Facebook (13,000), recently recognized as the Best Latina Network, by LATISM.
My vision in creating this virtual group was to build a community of talented Latinas, to promote connections and support. I also wanted to reach professional Latinas across the country and around the world, to relieve the isolation so many of them experience in the workplace.
Furthermore, I envisioned this group as a virtual career resource center, where curated content, information, resources and opportunities would be shared by and for the community. Over the past four years, the group has achieved that vision, and much more.
The Latinas Think Big is leveraging social networks, web conferencing, and in-person community events to engage Latinas in mentoring. These tools make it easier and faster for mentees to connect to mentors. Mentees are able to access on-demand mentoring. Furthermore, there is less emphasis on the mentor's age or experience; everyone is considered a mentor.
Latinas Think Big Mentoring
Community Peer Mentoring
Like most professional and entrepreneurial women, Latinas are faced with decisions and challenges that often need immediate resolution. Unfortunately, they don't always have a go-to person at work that can offer real time advice, or help them make an important decision. The Latinas Think Big group serves as that go-to place, where members post their burning question and receive advice from the community. The benefit of community mentoring lies in the diversity of perspectives and advise the mentee receives.
Chat Mentoring
In 2015, I received over 200 mentoring questions submitted through my Facebook account (direct messages). These came from women in the Latinas Think Big community who see me as a mentor, and reach out for guidance and advice. Usually, these are less pressing matters, often revolving around ideas and aspirational goals. I know other members in the community are reaching to one another in this way, and engaging in what I call mentoring moments.
Vicarious Mentoring
As a Clinical Psychologist, I cannot disregard the power of vicarious learning and mentoring. We have many women who never post questions in the group, but they are reading the peer mentoring discussions, and taking mental notes.
Email Mentoring
We receive numerous emails at Latinas Think Big, especially from early career women who need advice on more complex issues. We mentor them, and also leverage the community by connecting the mentee to other members who can further guide them.
Digital Office Hours
This week, we kick off our Digital Office Hour series. These are mentoring sessions focused on a variety of career and business topics, led by expert mentors. Using a web conferencing service, mentees are able to see the mentors from their computer, smartphone or mobile devices. Questions can be submitted ahead of time or during the mentoring session via chat.
Peer Mentoring
The Latinas Think Big Member Directory is interactive (members can message other members) and it has an advanced search feature. Members list the areas in which they can serve as a mentor. This creates a powerful mentoring marketplace, where members can find other Latinas in their professional area, and engage in peer mentoring.
In-Person Mentoring Events
This past year, we launched a mentoring community in San Francisco and another in New York City. These bimonthly gatherings promote peer-mentoring and learning among local professional and entrepreneurial Latinas.
The impact of modern mentoring is significant. Robust research should be conducted to better understand how new mentoring approaches are impacting the careers and businesses of Latinas.
Popular in the Community