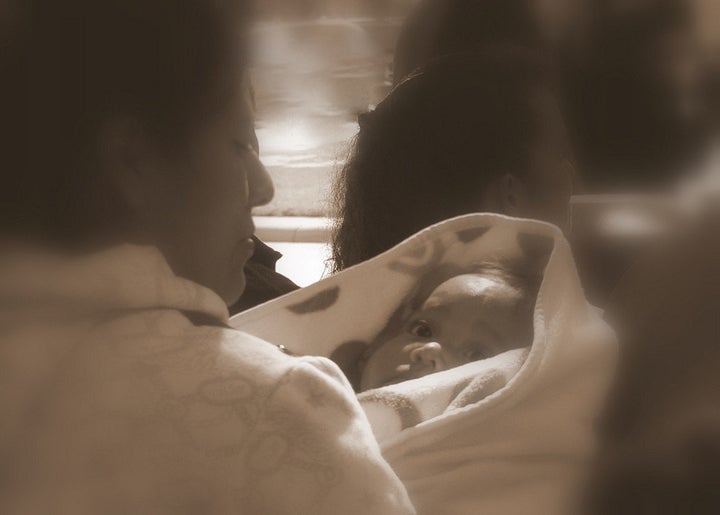 In states hardest hit by the economic crisis, Hispanics are experiencing a sharp drop in birth rates, according to the latest from the U.S. Census Bureau, even more than other groups in the population.
In a particularly striking measure of economic distress, birth rates among Hispanics, who are concentrated in states hardest hit by the economic downturn, like Florida and Arizona, declined by 17 percent from 2007 to 2010, Mr. Johnson said. That is compared with a 3.8 percent decline for whites and a 6.7 percent decline for blacks. Rates dropped most sharply among young Hispanics, down by 23 percent for women ages 20 to 24 between 2007 and 2010.
Still, according to Kenneth M. Johnson, senior demographer at the Carsey Institute at the University of New Hampshire in Natural Decrease in America: More Coffins than Cradles, "Hispanics represent only 16.4 percent of the U.S. population, but they produce 26 percent of all births last year."
In addition to an overall drop in population and decline in birth rates, immigration has fallen to its lowest rate since 1991, says the article, together with an additional plummeting in border crossings.
"Net immigration from Mexico is close to zero," said Jeffrey S. Passel, senior demographer at the Pew Hispanic Center to the New York Times, "and we haven't seen that in at least 40 years."
All of this could be interpreted as an ominous sign for the future of the U.S. Hispanic community, which has been enjoying notable social and political influence in recent years.
In Wednesday's press release, Census Bureau Director Robert Groves said, "The nation's overall growth rate is now at its lowest point since before the baby boom."
Popular in the Community