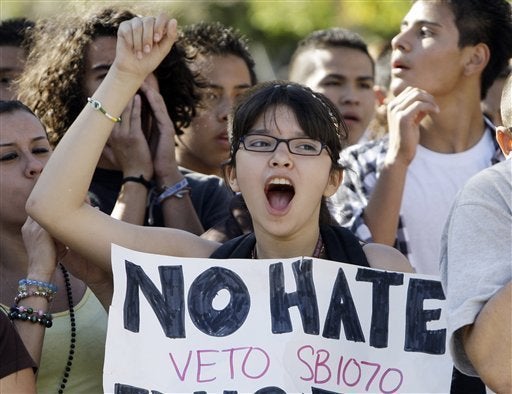 Last Friday, I watched Governor Brewer of Arizona sign the harshest anti-immigrant law in our country and I thought about the many Latino families who would be affected. Most of all, I thought about the Latino children in Arizona and across our country who will make up a vital share of our nation's future adult population. By 2035, Latino children--92% of whom are U.S. citizens--will account for one-third of all American children. As a country we need to think about how the policies and laws we adopt will affect our country's future workers, taxpayers, parents, voters, and leaders. Today, the National Council of La Raza (NCLR), the largest national Hispanic civil rights and advocacy organization in the United States, released a report and online database presenting a comprehensive picture of the state of Latino children in the United States. The report, co-authored by the Population Reference Bureau, examines 25 key factors and outcomes in demography, citizenship, family structure, poverty, health, education, and juvenile justice. In reading the report and looking through the state-by-state data I was struck by the geographic and generational diversity in the Latino population as well as the need for a comprehensive approach to increase opportunities for Hispanic children.
The experience of Latino children varies depending on where they live and how recently they or their family came to the United States. For example, Latino children in the new immigrant gateway states of the Southeast, which have experienced a very rapid increase in first- and second-generation Latino children over the past ten years, have a high chance of being in low-income families and linguistically-isolated households, but also have lower rates of obesity and incarceration relative to states such as California with more established Latino communities. In comparison, Maryland and Virginia, which also have a high-proportion of first- and second-generation Latino children, fare significantly better on several economic variables than those in the Southeast. These differences suggest that Hispanic educational attainment, regional economies, and local level policies are contributing to regional and state differences in Latino child well-being.
At NCLR, we know that informed and effective policy changes and program initiatives can make a crucial difference in the lives of Hispanic children. We need to take specific policies into account and apply a comprehensive approach to help Latino children and families with all of the challenges they face. Immigration enforcement is an example of how one policy area can impact specific indicators, as well as the overall well-being of Latino children. Misguided immigration enforcement often leads to the separation of U.S. citizen children from their parents. Recent reports from the Urban Institute and First Focus show that immigrant children whose parents are detained or deported are more likely to become anxious and clingy. Families who lose parents to detainment or deportation also experience a decline in household income and are often forced to move in with extended family members. Policy issues, such as high unemployment rates in communities of color, the housing foreclosure crisis, low rates of health coverage, underperforming schools, and a broken immigration system affect the well-being of Latino children as a whole. We must address all of these issues in a comprehensive and targeted approach to help Hispanic children--a vital portion of our nation's future population--successfully transition into adulthood.
Latino youth are strong and resilient and can thrive with adequate support and equal opportunity. We encourage you to read the data book and search our online database. Look at the data for your state. How are Latino children doing? How are they faring compared to other states in your region or the national average? What are the most pressing issues for children in your state? What is working for kids in your state? We hope that the information provided here will serve as a tool for all those who seek to join us in this fight for America's future.