Last year, when Hispanic Access Foundation launched Latino Conservation Week we wanted to create a platform for organizations to showcase the involvement of Latinos in the outdoors and this community's concern for preserving our natural resources for future generations.
What we didn't expect is the phenomenal growth of activities between the first year and the second. In 2014, 16 events were held in western states. In 2015, over 50 events are being held nationwide stretching from New York to California.
However, the more than tripling of events isn't all that surprising if you really think about it.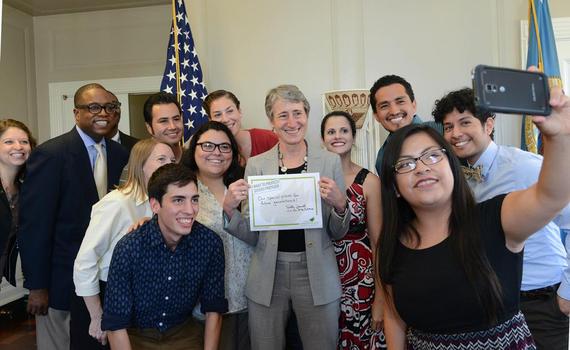 Interns from the Latino Heritage Internship Program, a partnership between Hispanic Access Foundation and the National Park Service's Youth Programs Division, along with representatives from Latino Outdoors, meet with Secretary Sally Jewel during Latino Conservation Week.
Earlier this summer we released a groundbreaking study from Latino Decisions that found evidence that Latinos' stated concerns for the environment and protection of America's public lands is demonstrated at the voting booth - and impacts policy. The research brief analyzed the results of four 2014 environmental ballot initiatives from Florida, California, Colorado and New Mexico. Experts determined that Latinos' voting habits on these state ballot initiatives closely correlated with their stated support for conservation. Moreover, in some states, Latino voters were a key factor in the passage of the environmental ballot initiative.
Numerous polls have shown just how important the environment is to Latinos. In fact, I've written here in the past about how conservation is a winning conversation with Latinos. Last year, our research brief published with leading pollster Latino Decisions analyzed nine public opinion polls finding that Latinos overwhelming support greater environmental protections, such as preserving parks and public lands, so much so that conservation issues could influence voting decisions in the mid-term elections.
When the research is viewed in tandem with actual advocacy efforts of the Latino community - like those around the San Gabriel Mountains and Browns Canyon National Monuments or the protection of the California desert - it is clear that this community is putting "theory into practice."
And within that lies the true lesson that our elected officials should take from Latino Conservation Week - Latinos care about our outdoors and natural resources, they enjoy using them responsibly and they are willing to fight to protect them for future generations.
So, again, the success of Latino Conservation Week should not be surprising, nor should the growing involvement of this community in calling for the reauthorization of the Land and Water Conservation Fund, a topic that dominated many of week's events and is set to expire in less than 75 days unless Congress acts.
In the last 50 years, no government program has been more successful in preserving our country's precious natural resources and improving access to the outdoors, which is essential to the Latino community's health, culture and the future of its children, on a national scale than the Land and Water Conservation Fund.
LWCF takes a portion of royalties from offshore oil and gas development and invests that money in protecting America's most important lands for future generations - whether that be our iconic national parks or an urban neighborhood playground. Based on the simple premise that as we extract natural resources - offshore oil and gas - we should in turn protect and invest in other resources for future generations, LWCF has led to the protection of land in every state and contributed financial support to more than 41,000 state and local park projects, despite only receiving a fraction of its intended funding.
In April, the Latino Conservation Alliance, a group we cofounded with five other national Latino organizations dedicated to promoting conservation priorities in our communities, sent a joint letter to Chairman Lisa Murkowski and Ranking Member Maria Cantwell, of the Senate Energy and Natural Resources Committee, urging the committee to recommend the reauthorization and full funding for LWCF.
As the Alliance noted, "LWCF funding has preserved public lands that are critical to the Latino community, from the Santa Fe National Forest and Watershed, a National Park Service Latino Heritage Site, significant for its history as the home to Hispano settlers and the Sangre de Cristo Mountains to the recently established Valle de Oro National Wildlife Refuge that provides critical outdoor and educational opportunities to Latino communities in Bernalillo and Valencia Counties in New Mexico. In California, Latino communities in L.A. and San Diego enjoy outdoor recreation and celebrate the history of Mexican and Spanish settlers of the state at the Santa Monica Mountains National Recreation Area and the Cabrillo Beach Development. In New York, Latino communities in New York City enjoy a variety of recreational and cultural activities in the Bronx year-round at the Roberto Clemente State Park."
LWCF has been instrumental in creating, protecting and providing access to public lands not just for the Latino community, but also for everyone across the nation - and at no cost to taxpayers.
It's no secret that politicians throughout the country - aside from Donald Trump - are looking at how to best engage, gain support from and represent the Latino community. LWCF provides a crucial opportunity to do so.
It's easy to connect the dots between the Latino community and the reauthorization of the Land and Water Conservation Fund - let's just hope that Congress figures it out in time.
Popular in the Community