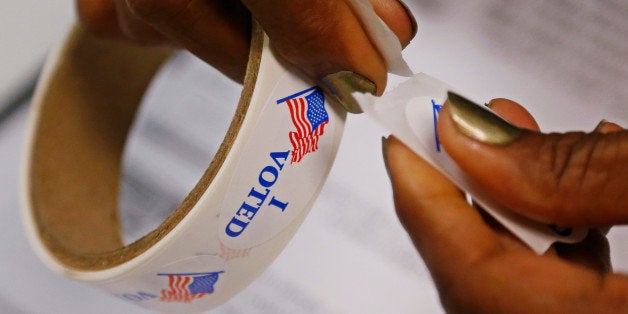 by Matt A. Barreto and Gary M. Segura
Latino Decisions today announces results from four non-proprietary questions in our 2014 midterm election eve poll. Questions and detailed results appear below, but the main story is that "immigration reform/Dream Act" surpassed "jobs/economy" as the most important issue motivating 2014 midterm cycle likely Latino voters.
This result is a striking departure from polling in recent years that showed economic issues consistently rating highest on the electoral agenda of Latino voters. We conclude from this result that, in the two years since the 2012 presidential contest, immigration has emerged as a critical -- perhaps the critical -- issue for Latino voters. Indeed, in a later question, results of which also appear below, more than two-thirds of Latinos said immigration was either "one of the most important" or "the most important" issue in deciding whether to vote and for whom they voted in 2014.
Another key finding -- almost certainly related to the first -- is that the leading motivation for Latinos in casting their votes this year was to "support the Latino community" (37 percent of respondents), a figure that exceeded both the closely comparable share who said "to support the Democrats" (34 percent) and the far lower share who said "to support the Republicans" (16 percent). Although Latinos supported most 2014 Democratic statewide candidates with 60 percent to 75 percent percent of their votes, as we have said repeatedly the refusal of President Obama and certain Democratic candidates to support the use of executive action to end deportations almost certainly has led to the declining share of Latinos who are voting Democratic for the sake of supporting Democrats, and the concomitant rise in those who are voting Democratic to support their community.
Finally, as an informational question specifically related to the political implications of immigration reform, Latino Decisions found that nearly three-fifths of Latino voters (58 percent) say they personally know at least one undocumented immigrant from among their personal network of family, friends and co-workers.
The poll of 4,200 likely Latino voters, which included a nationally valid sample and oversamples in 10 states, was administered October 30 through November 3. The 10 oversampled states polled were: Arizona, California, Colorado, Florida, Georgia, Illinois, Kansas, Nevada, North Carolina and Texas.
Q: Thinking about the 2014 election, what are the most important issues facing the [Latino/Hispanic] community that our politicians should address?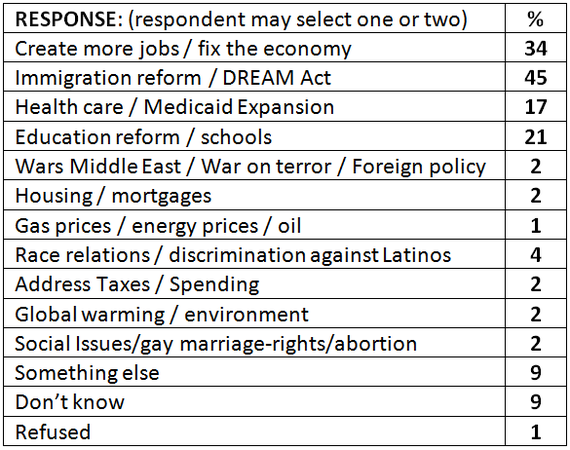 Q: Which of the following three statements do you agree with the most: [ROTATED: I'm voting in 2014 because I wanted to support the Democratic candidate; I'm voting in 2014 because I wanted to support the Republican candidate; I'm voting in 2014 because I wanted to support and represent the Latino community]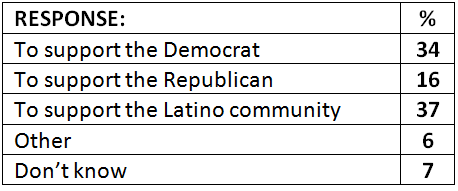 Q: How important is the issue of immigration in your decision to vote, and who to vote for in this election? Is it [ROTATED] the most important issue / one of the important issues /somewhat important / not really important] to your voting decision?
Q: Now take a moment to think about all the people in your family, your friends, co-workers, and other people you know. Do you happen to know somebody who is an undocumented immigrant? This is completely anonymous, and just for a simple demographic analysis.