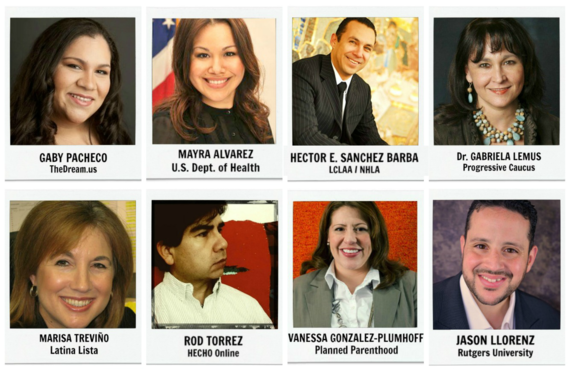 The transitional lull between the end of the holiday festivities and the race back to work is usually an open invite to a little retrospection. 2014 was a decidedly tumultuous year for Latinos, filled with gripping stories, protests, and major letdowns -- among other things, the dip in Latino voter turnout and the congressional inaction on immigration legislation. Along with these we also saw considerable gains, for example, in terms of college enrollment numbers, the number of Latino Congress members, as well as a little light at the end of the tunnel for U.S.-Cuba diplomatic relations. But not everything that makes it to the top of the headlines adds up in terms of impact and/or historical significance. So what were the real top issues for our community? What have we learned in hindsight of this past year, and what can we expect in terms of progress on those issues in 2015? I spoke with some of the leading Latino voices about their thoughts on these very questions. Below are their responses.
I think the most important issue for Latinos in 2014 was immigration. From what looked like a possibility to get immigration in the house, to Central American children to reunite with their families, to the presidents administrative relief, this year was the year of the Latino family. Our community is known for it's strong family values, for sticking together, working together, and in some instances living together with multi-generations in one household.
The top 2014 issue in health care? I would say it was the confusion around what coverage is available because of the Affordable Care Act. Whether it was the state you lived in, how much money one made, or if immigrant families qualified, the confusion delayed action or raised doubts and in some cases, may have hindered families from accessing coverage. The truth is that coverage is available and affordable for millions and all of us have a roll to play to make sure our loved ones, friends, and neighbors have the opportunity to enroll. Immigrant families, lower income families, uninsured -- it is important to learn more. Open enrollment through HealthCare.gov and state marketplaces across the country is available until February 15. I hope the New Year brings an opportunity for coverage for millions more.
Hector E. Sanchez Barba, Executive Director, LCLAA (Labor Council for Latin American Advancement); Chair,NHLA (National Hispanic Leadership Agenda)
After years of austerity cuts that hit Latino families particularly hard, we kept the pressure on Congress to implement a bipartisan agreement to replace across-the-board budget cuts known as sequestration, rather than impose even steeper cuts that threatened to cripple education, job training and other programs critical to helping Latinos gain a foothold on the ladder to the American Dream. While there was success in 2014, the threat of sequestration looms over next year, making it imperative we maintain our advocacy for fair economic and budget policies.
The issue of greatest import to the community was the long awaited Executive Order on immigration. Latinos were able to leverage their power. The trick for 2015 and beyond is to get the Republican led Congress to follow with much needed comprehensive immigration reform.
Marisa Treviño, President, Treviño TodaMedia; Publisher, Latina Lista
The biggest issue for Latinos in 2014 and going forward is institutionalized racism. Now, that the country is finally connecting the dots to its existence -- whether it be via the Ferguson protest marches, Silicon Valley's dismal diversity numbers, the 325 DNA exonerations, etc. -- it's a harder argument now for critics to accuse those of us who talk about racial injustices as pulling the "race card." We see that institutionalized racism exists in our educational system, the courts, corporate America, politics, social agencies and media. If improvements are to made in the quality of Latino lives for ourselves and our hijos, then it's time to finally take a stand and start calling it out in order to make a difference today for tomorrow -- A veces querer no es poder. (Sometimes to want is not enough.)
Rod Torrez, Artist, writer, Director, HECHO (Hispanics Enjoying Camping, Hunting, and Outdoors)
The top Latino issue of 2014 is the health of the environment. In the U.S., many of our largest communities are downwind and downstream of polluting industries, and fossil fuel development has compromised our access to open spaces, including westerm lands that support our oldest traditional communities. But 2014 was also a year in which Latinos truly began to unite strategically to have a voice in conservation. It gives me hope for facing the challenges that 2015 and the new Congress will bring, especially since so many of the newly elected were backed heavily by the fossil energy industry. I think our coalition to protect our planet's health and the lands that we value will only get stronger in the coming year.
A key issue will no doubt be better access to health care. This has been a long-standing concern for families across the country and in particular, in 2014, we saw it was a major issue for Latinas in 2014, and we expect to see this in 2015, as well. The Affordable Care Act is fundamentally transforming access to health care, particularly for Latinos -- 2.6 million Latinos have gained health insurance coverage since the start of the Affordable Care Act, 10.2 million uninsured Latinos have new opportunities for affordable health insurance coverage, and about 8.8 million Latinos in the U.S. have already gained coverage for preventive services without out-of-pocket costs, including birth control, annual well-woman exams, and cervical and breast cancer screenings covered for free -- without a copay. It's going to continue to be important that Latinas, as the leaders in their families, continue to enroll themselves and their eligible family members in plans, for the long-term health of all, but also to send the message that this program is needed and should not be repealed.

We can't talk about the benefits and promise of the ACA without recognizing its intersection with another important area of policy, immigration. President Obama's long overdue executive action on immigration, while being an important step forward, does not include access to health care for all. We continue to join the chorus of voices across the country in calling on the Administration and Congress to work together to do more to reform our nation's immigration system, including the implementation of policies that give all people the opportunity for affordable, comprehensive health care. Everyone in this country should have access to health care, regardless of income, geography, or citizenship status.
he top story for Latinos and technology of 2014 was the publication of abysmal employment data across silicon valley's top companies, revealing Apple, Google, Linkedin, Twitter and others have been doing a terrible job in cultivating workforce diversity. The situation is so bad, that none of the top companies have more than 3% Latino participation in their workforce. Worse, while Silicon Valley leaders have repeatedly complained that there aren't enough STEM-qualified Hispanics to hire, the numbers actually show that even those with the degrees, don't get hired. 2014 made it clear that for Latinos, digital equity -- closing the tech employment gap, and securing a place in the digital economy -- are top priorities.
Did we forget anything? I'd love to hear your top picks, so please add them to the comments!
Popular in the Community