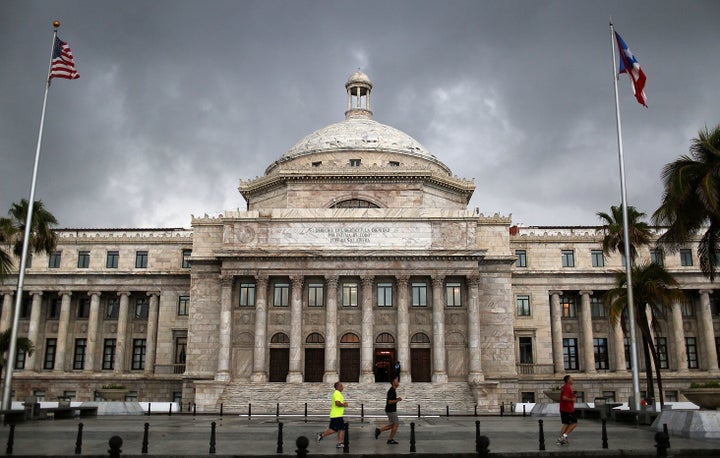 Cristóbal Alex isn't from Puerto Rico. But the Mexican-American activist, born in El Paso, Texas, is outraged by what he sees as U.S. leaders' indifference toward the financial disaster facing the island territory. And he thinks Latinos across the country feel the same.
According to Alex, the Latino Victory Project -- an organization he co-founded with Eva Longoria and Henry Muñoz III last year to boost the number of Hispanics serving in elected office -- will work in the coming year to pressure candidates for national office to work with the island in addressing its debt crisis.
"What folks need to remember is that there are now more Puerto Ricans in the States than in Puerto Rico," Alex recently told The Huffington Post. "And we will really work to remind people who turned their backs on Puerto Rico in 2016. Hopefully, we won't need to do that. Hopefully Congress will do what it needs to do and protect its American citizens."
As the drama in Puerto Rico unfolds, many onlookers have been frustrated with Washington's inaction, since Congress has the power to help alleviate the crisis. 
Puerto Rico faces a debt of roughly $72 billion, much of which is tied up in high-interest bonds issued by municipalities and public corporations like the electricity provider PREPA. And because Puerto Rico is a U.S. territory, it doesn't have the same options that U.S. states or independent countries might have in the same situation. 
Legislation proposed by Puerto Rican Resident Commissioner Pedro Pierluisi, the island's non-voting representative in Congress, would allow Puerto Rico's municipalities and public corporations to file for bankruptcy -- a right afforded to all 50 U.S. states. U.S. Sens. Charles Schumer (D-N.Y.) and Richard Blumenthal (D-Conn.) filed a companion bill in the Senate on Wednesday.
But efforts to move the legislation forward have yet to gain traction, partly because so many members of Congress remain wary of anything resembling a "bailout" -- even though the Puerto Rico measure would not impose a cost on the federal government. Rather, it would effect a change in the terms of Puerto Rico's debts to its creditors, which are primarily investment banks and other financial institutions.
The Latino Victory Project is one of several Hispanic groups taking up the cause of Puerto Rico as the island lurches toward default. Presente.org, a prominent Latino advocacy group, is also preparing a campaign to pressure officials in Washington to act.
"We don't see this as just a Puerto Rican issue -- we see this as an issue that affects all Latinos in our community," said Arturo Carmona, executive director of Presente.org, in an interview with HuffPost. "It's outrageous to us that you have corporations that are too big to fail and the [federal] government steps in and rescues them to the tune of hundreds of billions of dollars. Then you have a government that is not asking for a handout, but just the ability to file for bankruptcy, and the federal government is basically allowing them to fail."
In a letter Thursday addressed to President Barack Obama, the National Hispanic Leadership Agenda, a coalition of 39 Hispanic organizations, likewise urged the White House and Congress to do more to help Puerto Rico out of its debt crisis.
"From the perspective of the National Hispanic Leadership Agenda what affects Puerto Rico affects all Latinos in the United States," the letter says. "Accordingly, the solutions to the Island's economic crisis will be part of our focus now, in the coming election cycle, and in the near future."
Rallying U.S. Latinos around Puerto Rico won't be easy, warns Charles Venator-Santiago, a political science professor at the University of Connecticut who studies Puerto Rico. He said Puerto Rican voters tend to lean heavily toward the Democratic Party, making it unlikely that candidates will fight hard for their votes. 
"Puerto Ricans are really going to vote for Democrats, and they're already getting the sound bites from Hillary Clinton that they want to hear on this issue," Venator-Santiago told HuffPost. "I'm not really convinced that Puerto Ricans will rally behind that further."
Nevertheless, a few presidential hopefuls have already gone on record saying they support allowing Puerto Rico to have access to bankruptcy under Chapter 9. Jeb Bush, the former governor of Florida -- a key swing state, and home to a growing Puerto Rican community that leans Democratic -- said in April that he supported allowing the island to have access to the same bankruptcy relief as the mainland.
REAL LIFE. REAL NEWS. REAL VOICES.
Help us tell more of the stories that matter from voices that too often remain unheard.