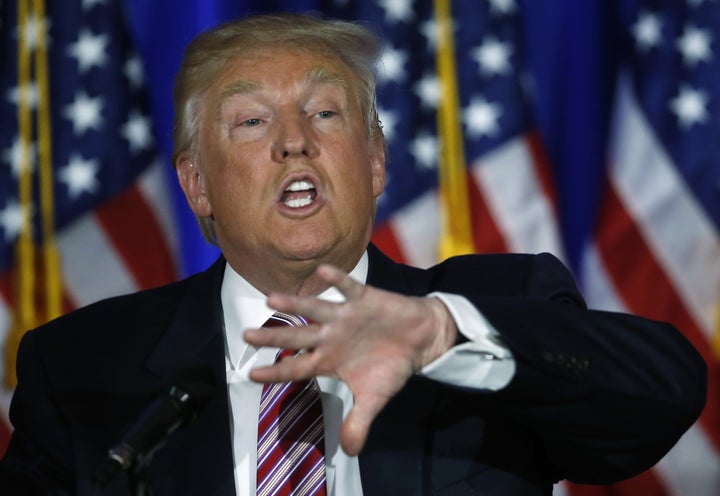 A group of Latino leaders on Wednesday expressed their disgust with Donald Trump's controversial comments about federal Judge Gonzalo Curiel and called on the presumptive Republican nominee to apologize.   
Representatives from leading Latino rights groups and Hispanic legal organizations told reporters on a conference call that they are skeptical Trump will disavow his racist statements about Curiel. Trump has argued that the judge cannot fairly preside over a class-action lawsuit against Trump University because his parents were born in Mexico.
But an apology is necessary if Trump wants to lessen the potential damage his comments could have on both the Latino community and the Republican Party, the group said. 
"Trump needs to publicly apologize to Judge Curiel, to the Hispanic community and to all of the judges who honorably serve this nation," said Robert Maldonado, the head of the National Hispanic Bar Association.
Trump addressed the controversy in a statement released Tuesday, but declined to walk back his remarks. Instead, he mentioned having Mexican friends and repeated his accusation that Curiel would be biased against Trump because of his "reported associations with certain professional organizations." The statement did not name the organizations in question.
"It is unfortunate that my comments have been misconstrued as a categorical attack against people of Mexican heritage," the statement said. "I am friends with and employ thousands of people of Mexican and Hispanic descent."
Trump went on Fox News later on Tuesday and said critics should "get over it." 
Janet Murguía, national president and CEO of the advocacy group National Council of La Raza, said Trump's comments about Curiel were impossible to misunderstand and "remarkably consistent" with statements he has made since launching his campaign one year ago. 
"It is repugnant, un-American and a slap in the face to our increasingly diverse judiciary and to all of us who participate in this democracy," Murguía said of Trump's comments. "The Latino community has not misconstrued Trump's remarks."
Trump's lawyers have not filed a motion in court to get the case reassigned to a different judge. If they were to try, the judge's national heritage would not be sufficient grounds to do so.
Trump, who has made insulting and at times racist commentary a central feature of his campaign, has faced a barrage of criticism over the remarks, including from top leaders in the Republican Party.
REAL LIFE. REAL NEWS. REAL VOICES.
Help us tell more of the stories that matter from voices that too often remain unheard.