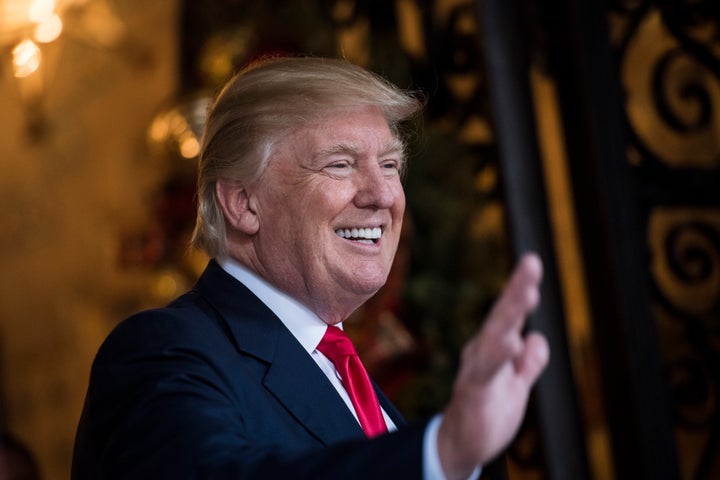 WASHINGTON ― Conservative Latino leaders stopped supporting President-elect Donald Trump during his campaign because of a controversial anti-immigration speech he gave in August. But now that Trump has been elected, they are optimistic that he won't go as far as he promised.
"I'm back on board," said Jacob Monty, an immigration attorney in Houston, Texas, who announced his resignation from Trump's National Hispanic Advisory Council after the campaign speech.
He did not vote for Trump or Democratic presidential nominee Hillary Clinton. But now, he said, "I'm expecting a lot of good things ... from [Trump] on immigration ― and I think he's going to surprise a lot of people."
The president-elect met with his council, a group of Latino leaders from across the country, at Trump Tower in August. At that meeting, he gave members the impression that he was open to considering some form of legalization for undocumented immigrants already in the U.S. But less than two weeks later, Trump made a hardline immigration speech in Phoenix, Arizona, where he promised that the millions of undocumented immigrants would not be able to obtain legal status without returning to their home countries first, regardless of whether or not they have a criminal record.
The Phoenix speech proposal was "very difficult for me, somebody who works with the Latino community, to defend," said Alfonso Aguilar, president of the Latino Partnership for Conservative Principles. He was not on Trump's council, but acted as a prominent Trump surrogate during the campaign. "It was tough, because I really wanted to support him," he added.
Aguilar left his ballot blank when he voted in the presidential election. But he said he's now willing to work with Trump on immigration and support him "100 percent." The interview Trump gave on 60 Minutes shortly after the election, where he called the majority of undocumented immigrants "terrific people" left Aguilar feeling encouraged, he said. It sounded like Trump "was going back to the initial promise," Aguilar added.
Monty predicted that Trump would be "merciful and compassionate" on the issue of undocumented immigrants who are not criminals. He feels that the man he met at the council meeting in August—rather than the one on the campaign trail—is "the real Donald Trump."
It's unclear exactly Trump plans to do on immigration. But his election win has many undocumented people, particularly Dreamers ― young undocumented people ― fearful for their future. Trump has pledged to end the Deferred Action for Childhood Arrivals program, or DACA, which President Barack Obama began in 2012 to grant temporary work permits and reprieve to certain young undocumented immigrants who came to the U.S. as children. Trump has also stacked his team with advisers who have previously pushed for restrictionist immigration policies.
"Before anyone falls into the trap of believing that Trump is 'softening' on immigration, they should remember that we've seen this movie before," said Frank Sharry, founder and executive director of the America's Voice Education Fund, this month.
But even conservative Latino leaders who never spoke out against Trump see his most extreme proposals—like his promise to build a wall on the U.S.-Mexico border—as having flexibility.
"He's a pretty pragmatic guy, he likes the idea that when he throws these 'rhetoric' positions on the table, that's the beginning of the discussion and the negotiation," said Albert Zapanta, the president and CEO of the United States-Mexico Chamber of Commerce, who has been floated as a potential pick for Trump's ambassador to the country.
In regards to the Phoenix speech, he said, "I did not take him literally, I took him of essence that he wants to do something about that. "Zapanta agrees with Trump that the U.S. needs to revamp its immigration and visa policies. But he added, "that doesn't mean that you're mean about it, or that you deport 11 million people tomorrow. That's a non-starter."
Marco Gutierrez, co-founder of Latinos for Trump ― who made headlines during the campaign for warning that without tighter immigration restrictions, there would be "taco trucks on every corner" ― also told The Huffington Post he didn't think mass deportations would happen under the incoming president. "I don't think Donald Trump will deport more people than Obama did," he added.
The Trump transition team did not respond to a request for comment.
Massey Villarreal, a Republican businessman in Houston who denounced Trump's Phoenix speech, told HuffPost he's optimistic about the president-elect because it's in everyone's best interest if he succeeds.
"It's like getting on an airplane [where] I don't like the pilot and hope he crashes," he said. "I'm on the plane too."
Calling all HuffPost superfans!
Sign up for membership to become a founding member and help shape HuffPost's next chapter
BEFORE YOU GO
PHOTO GALLERY
How Donald Trump Talks About Undocumented Immigrants