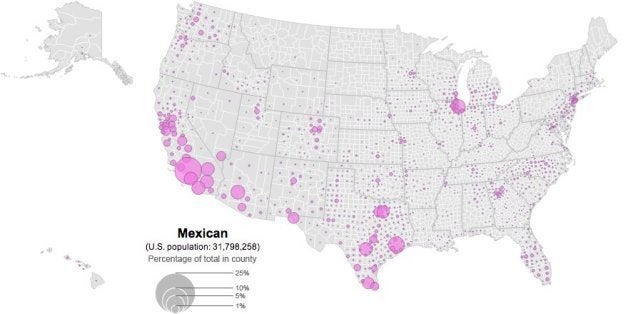 While the Latino identity may be hard to define, it seems the nearly two dozen nationalities that compose this ambiguous ethnicity do share some common ground -- literally.
The maps were posted on the Census website on Sept. 30 but, as The Atlantic Cities pointed out when they featured them this week, the graphic didn't get a chance to circulate because the government shutdown caused the site to go down.

Each map includes the U.S. population of each Latino nationality and uses the area of a circle to reflect the proportion of the group that lives in any given county. Mexico, Puerto Rico, and Cuba were the countries of origin with the highest population numbers in the "Mexican, Caribbean, and Central American" region (pink). Colombia, Ecuador, and Peru were the countries with the largest populations within the "South American" category (blue).
Below you can take a look at 10 of the 22 maps in the series and note the concentration of Latinos regardless of nationality in specific major cities like Los Angeles, New York and Miami. The population of individual with Mexican ancestry, however, stands out not only in size but also due to its more evenly dispersed population.
BEFORE YOU GO
PHOTO GALLERY
Census: Latinos By The Numbers