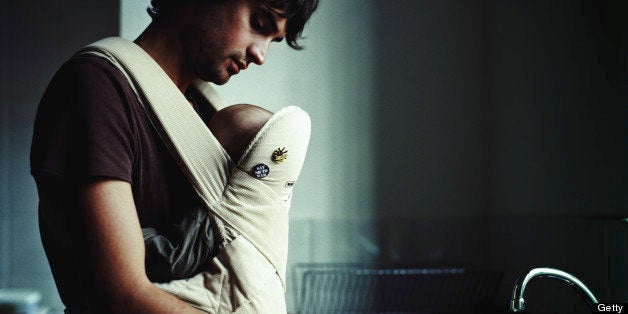 The number of children in the United States living in single-parent homes has nearly doubled in the last 50 years, according to LifeSiteNews.com. Mothers are granted primary custody most often, but that is slowly changing. Single dads are taking on a more active parenting role and want more time with their children.
Traditionally, a father's main duty after divorce is to provide for his children, see them some weekends, and little more. Luckily, there is a new trend in parenting after divorce: fathers are becoming more involved. It seems they want more than just to steal a few hours here and there with their kids, and that is simply wonderful.
The single Hispanic dad is changing with the times. The "machismo" prevalent for years is waning, and since divorce is more widespread than ever, many single Hispanic dads are now fighting to gain more custody of their children. They miss their kids and want to be more involved, as hard as it might be to juggle work and parenting.
I talked to some single Hispanic dads who told me their concerns about being single fathers. They said that their priority was their kids' well-being, and they often emphasized the importance of avoiding fights with their ex as well as trying to be more in-tune with their children's needs.
What a single Hispanic dad goes through for his children
Julio has a 5 year-old, and, as a single parent, his main concern is to minimize the impact shared custody encompasses. He tries to identify how to meet his child's needs so that his boy suffers the least amount of trauma from the separation.
He says he probably worries too much, but he tries to make sure both parents are on the same page when it comes to raising their child. They try to keep the same rules, schedules and lifestyle to ensure his little boy transitions smoothly between homes.
What he finds challenging is to not be overprotective or to give his child too much attention; thereby smothering him and possibly spoiling him due to his own insecurities.
Julio acknowledges that although machismo has been a big part of the society around him, this model is changing. Fathers are trying to break those molds and are becoming as intensely involved as mothers in their children's upbringing. This is not an easy task since men tend to be less emotionally connected.
For Julio, it gets even more complicated because he gets no help from his family since they either live overseas or have their own lives to tend to. His ex-wife travels a lot for business, so he has to adjust to her schedule constantly, which he does willingly for the sake of their child. He also works, and there are times when he has his child for 24 hours a day, 5 days straight, and he has to manage as best he can.
Single dads embrace their roles
In the U.S., small groups of single dads are uniting in online forums and meetups for support. These organizations inform and support fathers with court proceedings and parenting issues. Unfortunately, some women seek to benefit from divorce, guided by the old tradition that moms have all the rights to seek sole custody, and — since the law is in their favor — they try to unfairly get the most they can financially, as alimony from their ex-husband.
Julio and other single dads are more than happy to change with the times and become as emotionally and physically involved in parenting as mothers have been historically. This is progress.
Another Cuban single father I spoke to said he'd like to spend more time with his kids, but due to his ever-changing schedule, he is limited. He is thinking of changing jobs, just to spend more time with his children.
Matthew Weinshenker, Assistant Professor of Sociology at Fordham University, answered questions in the Style section of The New York Times about the single dad trend. He explains that the culture has changed, and fathers are now encouraged to be more involved in their children's lives:
More men are interested in raising their children as best they can in the event of a divorce or the breakup. Today, family courts, which didn't often grant custody to fathers in the past, are more willing to consider a single father as a primary parent. They may even award full custody to the father.
Times are changing, and for that we are glad. My own father did it years ago and people were shocked to see a single father raising his children alone. Divorce was seen as shameful, and a father taking his girls was unthinkable. He was ahead of his time, a trendsetter for future single Hispanic dads, and for that, I am incredibly proud.
Popular in the Community