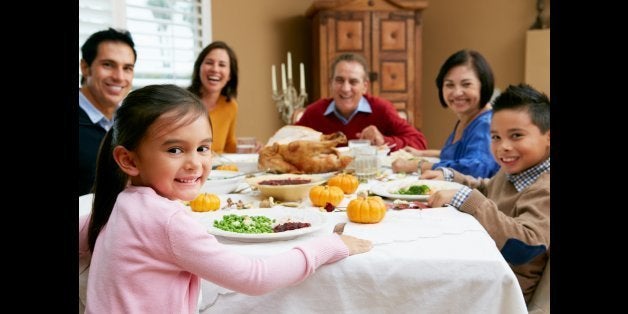 Thanksgiving is a time to get together with loved ones and appreciate quality company and plentiful food–and hopefully a little time off from the daily grind. But for many families, this "cheat day" goes beyond just indulging in some extra servings, it is also packed full with extra calories from not-so-healthy holiday dishes.
For Latinos, who have a cultural love for both family and food, Thanksgiving can be a huge healthy-diet-killer, but there are some healthy Latino recipes which can make great addition or replacements to traditional options.
What to look for in healthy Latino recipes for Thanksgiving
It really isn't difficult to make healthy choices around the holidays. Latinos looking to keep traditional dishes but make healthy substitutions can try the following options:
Use spices and herbs for flavoring instead of salt.
Crisp tortillas by coating them lightly in olive oil and then baking them, as opposed to frying. Stay away from fried foods!
Use dried beans, soaked until soft, instead of refried beans.
Instead of using bullion cubes, use homemade chicken broth for flavoring.
Avoid the use of lard and butter–staples in many Latino dishes–and instead use olive oil as a replacement. For a Caribbean twist, use coconut oil.
Avoid deep-frying and substitute for baking food with a light coating of olive oil.
Use low-fat options for recipes calling for dairy products.
Use Greek yogurt as a substitute for heavy creams.
Use fat-free condensed milk for dessert recipes.
Use lean proteins whenever possible like chicken or fish.
Instead of ketchup or similar, make your own by using fresh produce.
As a general rule, the more fruits and vegetables in a dish the better; if you want to really up your food game, keep those products organic.
Making smart ingredient substitutions can significantly change how healthy a dish is when it gets served and still allows you to prepare the dishes your family knows and loves.
Healthy Latino recipes for Thanksgiving
If you're looking for some great holiday meal options, the National Institutes on Health have compiled these Latino recipes, which are designed to be heart-healthy.
Pupusas Revueltas (stuffed masa cakes)
1 pound ground chicken breast.
1 tablespoon vegetable oil.
½ small onion, finely diced.
1 clove garlic, minced.
1 medium green pepper, seeded and minced.
1 small tomato, finely chopped.
½ teaspoon salt.
5 cups instant corn flour (masa harina).
6 cups water.
½ pound low-fat mozzarella cheese, grated
Directions: In a nonstick skillet over low heat, saute chicken in oil until chicken turns white. Constantly stir the chicken to make sure it is evenly cooked. Add onion, garlic, green pepper, tomato, and salt, and mix well. Cook until chicken mixture is cooked through (internal temperature, 165 °F). Pour the mixture in a bowl and cool in the refrigerator. While the chicken mixture is cooling, place the corn flour in a large mixing bowl and gradually stir in enough water to make a stiff tortilla-like dough.
When the chicken mixture has cooled, mix in the cheese. Divide the dough into 24 portions. With your hands, roll the dough into balls. Press a hole in each ball with your thumb, and put approximately a tablespoon of the chicken mixture into the hole in each ball. Fold the dough over to completely enclose it. Press the ball out with your
palms to form a disk.
In a very hot iron skillet, cook the pupusas on each side until golden brown.
Encurtido Salvadoreno (Salvadoran pickled cabbage)
Medium head cabbage, chopped.
2 small carrots, grated.
1 small onion, sliced.
½ teaspoon dried red pepper flakes (optional).
½ teaspoon oregano.
1 teaspoon olive oil.
1 teaspoon salt.
1 teaspoon brown sugar.
¼ cup vinegar.
½ cup water
Directions: Blanch the chopped cabbage in boiling water for 1 minute and then drain. Place the cabbage in a large bowl and add the grated carrots, sliced onion, red pepper, oregano, olive oil, salt, brown sugar, vinegar, and water.
Place in the refrigerator for at least 2 hours before serving.
Puerto Rican yellow plantain and meat casserole
Meat Filling Layer
1½ pounds lean ground beef.
2 medium green peppers without seeds, chopped.
1 medium yellow onion, chopped.
3 bay leaves.
¼ cup cilantro, chopped.
1 cup low-sodium beef broth.
5 ajicitos (tiny sweet peppers).
½ tablespoon annatto paste (achiote).
2 garlic cloves, finely chopped.
1 cup tomato sauce.
Dough:
8 large yellow plantains, ripe and peeled.
10 cups water.
2 tablespoons olive oil.
Other layers:
5 egg whites, beaten.
1½ cups cooked green beans.
½ cup low-fat mozzarella, shredded.
Directions: Preheat oven to 350 °F and brown the meat in a large pot. Drain the fat and add the remaining filling ingredients. Cook over medium heat for 5 minutes. Set aside.
Boil the peeled plantains in 10 cups of water until soft, then drain. In a large bowl, mash the plantains, then add the olive oil. Mix well, making it into a soft dough. In a separate bowl, beat the egg whites until they are foamy. Spread half of the plantain dough in an 11″ x 14″ baking pan. Add a layer of the meat filling, egg whites, and half of the green beans.
Repeat these layers, and top with a final layer of plantains and egg whites. Sprinkle with the mozzarella cheese and bake for 20 minutes.
Calling all HuffPost superfans!
Sign up for membership to become a founding member and help shape HuffPost's next chapter
BEFORE YOU GO
PHOTO GALLERY
5 Colombian Recipe