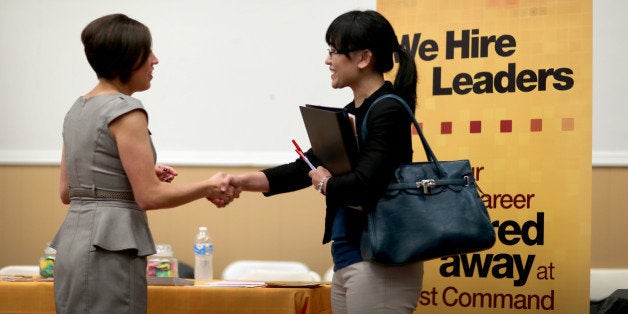 This number surprised some economists, including some surveyed by Bloomberg who said they expected 120,000 jobs would be created last month.
What was also surprising was that despite the growth in jobs, the Latino unemployment rate rose to 9.1 percent in October from 9.0 in September. Nationwide, the unemployment rate also ticked up to 7.3 percent from 7.2 percent.
In an interview with CNN on Friday, U.S. Labor Secretary Thomas Perez noted that new jobs have been added to the U.S. economy for the past 44 consecutive months and that job growth has been 'broad based." He also acknowledged more can be done to decrease the unemployment rate.
"We can always do more," he said. "There's no doubt about it."
Unemployment report: Job growth higher in retail, service
In October, job growth was seen in some industries more than others. The technical services industry saw a job growth of 21,000, while the health care industry added 15,000 new jobs. The manufacturing sector also saw an increase in employment, with 19,000 new jobs added.
Most of the growth was in the retail and service jobs. The retail trade saw an increase of 44,000 new jobs in October. Meanwhile, the leisure and hospitality sector — which includes food services and drinking places — added 53,000 new jobs.
These retail and service jobs often pay minimum wage, which President Barack Obama wants to see increased. Like the president, Senate Majority Leader Harry Reid (D-Nev.) supports a minimum wage hike. Earlier this week, he announced plans to bring up legislation that would increase the national minimum wage.
A long list of economists signed a petition this the summer in support of increasing the current minimum wage of $7.25 to $10.50 per hour to keep up with inflation. Many Republicans oppose the idea, arguing it would hurt job growth because it would put a burden on employers to pay their employees higher wages.
Perez backs raising the national minimum wage
Perez told CNN he is "quite confident" that the national minimum wage will increase.
Perez added that while he supports increasing the minimum wage on a national level, he encourages states to follow in the steps of states like New Jersey and California, two states that recently passed their own laws to raise the minimum wage.
On Tuesday, more than 60 percent of voters in New Jersey voted to approve a measure to raise the state's minimum hourly wage from $7.25 to $8.25. In California, the state legislature voted last month to approve a bill to raise the state's minimum wage to $10.00 an hour within three years.
"Nobody who works a full-time job should have to live in poverty. I think there's partisan recognition of that fact," Perez said.
REAL LIFE. REAL NEWS. REAL VOICES.
Help us tell more of the stories that matter from voices that too often remain unheard.
BEFORE YOU GO
PHOTO GALLERY
The State Of Latino Employment And Education In The U.S.