Hillary Clinton easily bested Bernie Sanders in the Nevada Democratic caucuses on Saturday. But whether that was thanks to Latino voters -- or in spite of them -- isn't clear.
That's because of contradictory results from the event. Entrance polls found that 53 percent of Latinos were supporting Sen. Sanders (I-Vt.), compared to 45 percent supporting former Secretary of State Clinton. But Clinton won caucuses in heavily Latino areas, casting doubt on whether the polling presented an accurate picture of how Latinos voted.
Regardless, the high Latino turnout in the state bodes well for a Democratic nominee come the general election.
Latinos made up 19 percent of the caucus-goers, according to the polls -- an even higher proportion than during the 2008 Democratic caucuses, when they made up about 15 percent.
That figure could decide the general election in November, when either Clinton or Sanders would stand to benefit from a large turnout of Latino voters, who lean largely Democratic.
"Today, we've seen that the Latino vote is going to come out and it's going to come out in great numbers," said Jocelyn Sida, Nevada state director for Mi Familia Vota, a nonprofit that encourages civic participation.
"The candidates on both sides of the aisle are going to have to start approaching, even more so, the issues that are important to the Latino community," she said.
Mi Familia Vota registered 1,000 voters over the course of a month and held mock caucuses for both parties. The group, and a number of other Latino-focused groups, are urging permanent residents who are eligible for citizenship to apply for it so they can vote in November.
Latinos make up 28 percent of Nevada's population and 17 percent of its eligible voters, according to Pew Hispanic Center.
In the 2012 presidential election, Obama won 70 percent of the Latino vote in Nevada to GOP candidate Mitt Romney's 25 percent. In the upcoming presidential election, Democrats' ability to hold onto that level of Latino support will be pivotal.
Republicans will hold their caucuses in Nevada on Tuesday, but are likely to struggle with Latino voters, many of whom view front-runner Donald Trump, who won the South Carolina primary on Saturday, unfavorably.
Latinos at the Democratic caucuses seemed to be "paying attention to the negativity" of candidates like Trump, said Rep. Tony Cárdenas (D-Calif.), who chairs the Congressional Hispanic Caucus' BOLD PAC and was in Las Vegas for the caucuses.
Cárdenas endorsed Clinton, but the PAC has not yet made an endorsement. He said many Latino caucus-goers brought up how Republicans "are bashing on" Latinos.
"I was saying, absolutely, and thank you for being here because the louder your voice, i.e. the more of us Latinos come out and vote, the less they're going to be attacking us," Cárdenas said. "Because they're going to see that we're making a difference when these people want to run for office."
The Clinton and Sanders campaigns clearly already saw the need to win over Latino voters, a fight that in the final days played out most clearly over the candidates' immigration stance.
Nationwide polling has consistently shown that jobs and the economy, education and health care tend to rank higher than immigration when Latino voters are asked about their top issues. Still, immigration is considered important by many Latino voters, and both Sanders and Clinton emphasized their stances on the issue in Nevada.
The state has a large undocumented population: about 210,000 people, according to Pew Research Center. Nearly 18 percent of students there had undocumented parents, the largest share of any state, according to the same report.
Clinton held her first major event on immigration in May in Las Vegas, where she met with undocumented young people and children of immigrants. At that event, she promised to go beyond President Barack Obama on deportation relief for undocumented immigrants. Sanders has done the same.
Clinton made another big promise on immigration in Nevada on Thursday, vowing to begin her push for reform within the first 100 days of her presidency, something Sanders already had said he would do.
The debate over immigration has largely been over who can be trusted most, given that both Democrats largely agree on the major aspects of the issue. Clinton backers argue that she has a better record and tout her vote for comprehensive immigration reform in 2007, which Sanders opposed.
"I like Bernie. He's a nice guy. I have no doubt he means well," civil rights leader Dolores Huerta, who endorsed Clinton, wrote in a post for Medium Friday. "Latinos matter in this election, and he knows it. But my question for Bernie is, where the heck was he for the last 25 years?"
Huerta said Saturday that she tried to translate for Spanish speakers at a Las Vegas caucus site but was stopped by Sanders supporters, who shouted "English only."
The Sanders campaign has countered that Clinton is less consistent than she claims and that he has a more complete and detailed platform on immigration. The campaign held a call with reporters on Saturday to push back on the critiques, featuring some of his own high-profile Latino supporters.
Rep. Raul Grijalva (D-Ariz.) said the Clinton campaign had been working in "a comfort zone" by assuming Latinos would not support Sanders.
"Well, the opposite is true," he said, according to Politico. He referenced the narrow gap between the candidates in Nevada, adding, "Latino voters were thinking for themselves and not being herded into any particular direction ... And so now the attacks begin."
In a statement after the caucus, Sanders also highlighted the relatively close race and the entrance poll figures, which were not reflected in the final outcome:
After trailing by as many as 50 points in Nevada, U.S. Sen. Bernie Sanders pulled within 4 points of former Secretary Hillary Clinton in the Nevada caucuses.

A key factor in Sanders making up so much ground in Nevada was his strong showing with Latino voters. According to entrance polls Sanders won among Latino voters by 8 points.

"What we learned today is Hillary Clinton's firewall with Latino voters is a myth," Arturo Carmona, deputy political director for Bernie 2016, said. "The Latino community responded strongly to Bernie Sanders' message of immigration reform and creating an economy that works for all families. This is critically important as we move ahead to states like Colorado, Arizona, Texas and California."
Clinton spokesman Brian Fallon disputed the idea the Sanders campaign won among Latinos, tweeting that entrance polls must have been wrong given the caucus results.
UPDATE: Feb. 22 -- Clinton's staff has circulated a memo from Latino Decisions, a polling firm that does work for the campaign, questioning the results of the entrance polls on Latino voters.
Matt Barreto and Gary Segura of Latino Decisions wrote that entrance and exit polls "have historically done a very poor job at capturing a representative sample of Latinos, and especially in Nevada," and asserted that "the entrance poll numbers do not mathematically add up." They added that there wasn't enough information available to vet the methodology of the polls:
Often times entrance polls tend to oversample suburban "bellwether" precincts as they improve the reliability of the statewide sample -- however this sampling will badly skew underlying subgroup populations. How many caucus sites were selected that were majority-Latino? How many of the Latino entrance poll questionnaires were completed in Spanish? The Latino electorate in Nevada is 35% foreign born. The entrance poll is reporting that 40% of non-White caucus participants had a college degree. This is off by nearly double (i.e. the actual number should be closer to 20%) What is the geographic distribution of the Latino sample? That is, which caucus sites were Latinos selected from? Were they representative of the actual population of Latino caucus-goers?
This article has been updated with the tweet from Fallon and information about the Latino Decisions memo.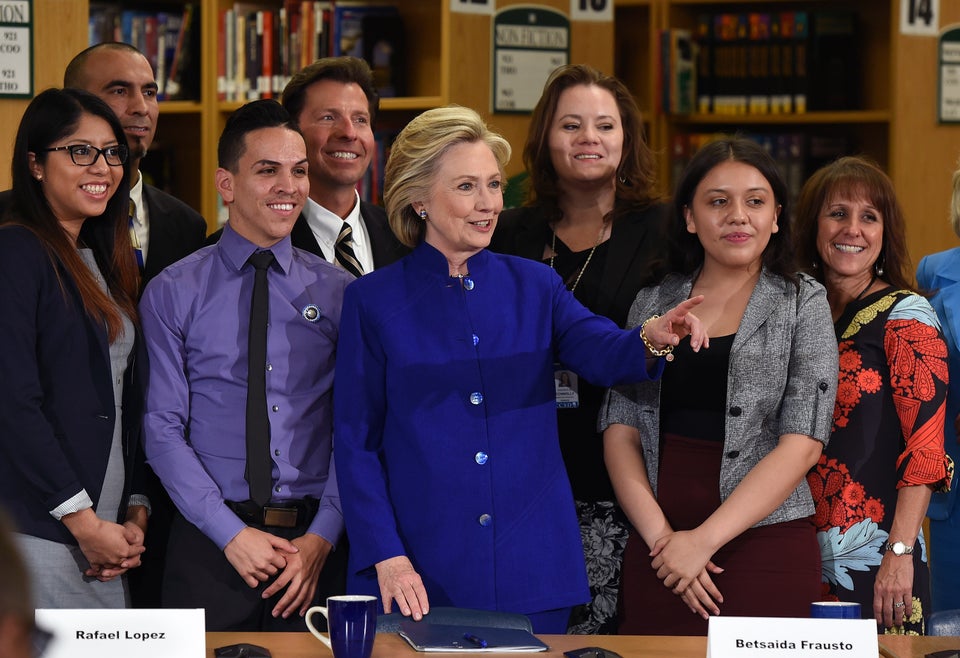 Where Democratic Candidates Stand On Immigration
Popular in the Community