by Adrian D. Pantoja, Ph.D.
Latino voters are about to play a pivotal role in determining the outcome of the 2016 presidential election. The latest Latino Decisions polls show that Republican presidential nominee Trump is losing the Latino vote across the country, including in the battleground states of Nevada (where 17.2 percent of the eligible electorate is Latino), Colorado (14.5 percent) and Florida (18 percent). High turnout rates among Latinos, coupled with a strong preference toward Democratic nominee Hillary Clinton, ensures that those states stay blue.
Trump's likely failure to win states with large Latino populations is not surprising to long-time observers of Latino politics. For many months, we have warned Republicans that Trump's vitriolic attacks against immigrants will activate Latinos to turn out and vote against him and the GOP in record numbers. We witnessed a similar phenomenon in the mid-1990s in California with the anti-immigrant campaigns of Republican Governor Pete Wilson and Proposition 187. For the past eight weeks, the National Association of Latino Elected Officials Education Fund and Latino Decisions national tracking poll has documented the coming surge in Latino turnout and its rejection of the GOP.
Aside from our statistical models, over the course of the tracking poll we have observed an increase in the number of Latinos saying they will vote. Figure 1 above is an example of one of several questions we used in the tracking poll to determine the degree to which individuals were likely to vote. What is evident is the seven-point increase from Week 1 to Week 8 in the number of respondents who said it was "very important" that they and people in their community vote in November.
We anticipated that the mobilization effects of Trump's xenophobic rhetoric would be most pronounced among immigrant Latino voters and consumers of Spanish-language media. Thus, while Latino turnout overall would be historically high, it would be unsurpassed among immigrants and Spanish-dominant Hispanics. That phenomenon was confirmed by the tracking poll.
In another question, respondents were asked whether voting in the 2016 election felt more important than voting in 2012 or vice-verse. In the final week, 76 percent of respondents said that the 2016 election felt more important. Among consumers of English-language media, 74 percent said that this election was more important; Spanish-language media consumers said this election was more important by a rate of 90 percent--a difference of 16 points. This question and others in the poll conclusively demonstrate that immigrant Latinos are particularly energized to vote.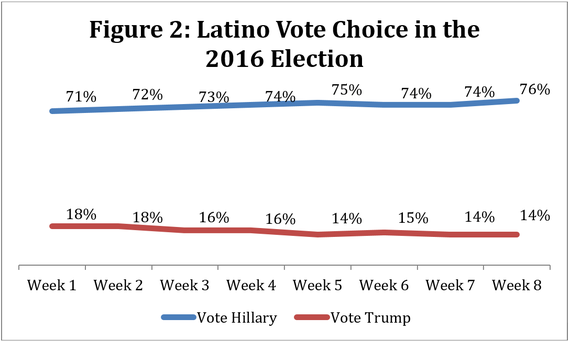 The tracking poll affirms the existence of an energized Latino electorate. The key question is: Who will benefit most from that energy?
In Week 1 of the tracking poll (see Figure 2, above), 71 percent of Latinos said they were voting for Clinton, while 18 percent supported Trump, a gap of 53 points. By that point, Trump's standing among Latinos was severely compromised as a result of his ongoing attacks against immigrants and promises to build a wall across the U.S.-Mexico border.
Yet, there were still opportunities for change. Perhaps an eleventh hour pivot and appeal to Latinos could have forestalled the Latino surge against him. Rather than take that course, Trump doubled-down on his appeals to conservative whites. This proved to be a strategic failure. In the last week of the tracking poll the gap between Clinton and Trump among Latino voters widened to 62 points.
Donald Trump set the tone for his campaign in June 2015 when he called undocumented Mexican immigrants rapists and drug dealers. Experts at Latino Decisions have warned that an anti-immigrant campaign strategy would end in failure. In a number of key battleground states, the Latino electorate is sizable and attacking them would be politically foolish. Those warnings have fallen on deaf ears.
Trump launched his campaign promising to build a wall to keep Americans safe from dangerous immigrants--a promise that was completely unfeasible to all but his supporters. Ironically, Trump has built a wall. It is a wall between him and the Latino electorate. In the end, that wall will block Trump's path to the White House.
Calling all HuffPost superfans!
Sign up for membership to become a founding member and help shape HuffPost's next chapter