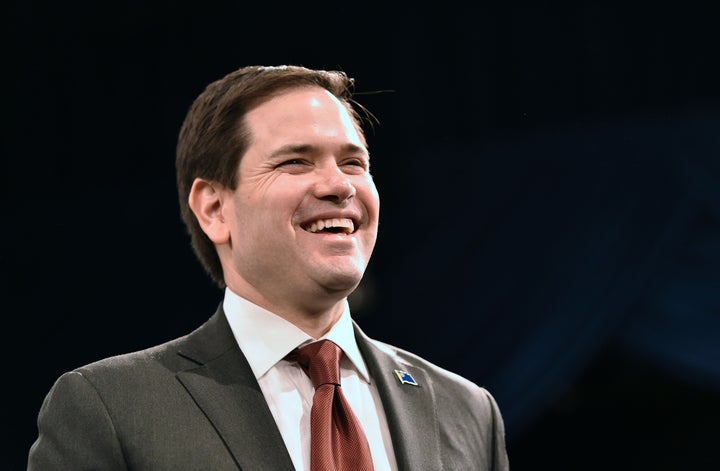 A national survey shows Latino voters leaning toward Hillary Clinton and Marco Rubio. A new report illustrates minority voters' power to change an election. And so far this year, polls are doing pretty well at predicting the primary. This is HuffPollster for Thursday, February 25, 2016.
LATINO REPUBLICANS PREFER MARCO RUBIO - Philip Bump: "A new poll from The Washington Post and Univision finds that Hillary Clinton is the most popular candidate among Hispanics who plan to vote in the Democratic primary, and Sen. Marco Rubio is the most popular among those who plan to vote Republican…. [Rubio] also picked up the largest chunk of support from those who at first said they backed Jeb Bush, and is also the most popular second choice of the voting group….As is the case in other polls, Donald Trump's support is fervent but not very deep.….Hispanics who were born in the United States were slightly more likely to back Trump than those who weren't -- the opposite of the support enjoyed by Marco Rubio.." [WashPost]
Trump has the highest negatives among Latinos - Dana Balz and Scott Clement: "Donald Trump has used the issue of immigration to help make himself the front-runner for the Republican presidential nomination, but his harsh rhetoric also has earned him the highest negative ratings among Hispanic voters of any major GOP hopeful….Strongly negative views of Trump have intensified over the past seven months, as the New York billionaire has repeatedly pressed his call to build a wall along the length of the U.S.-Mexico border and seek to deport undocumented immigrants currently residing in the country. Today, 8 in 10 Hispanic voters have an unfavorable view of Trump. That includes more than 7 in 10 who have a "very unfavorable" impression of him, which is more than double the percentage of any other major candidate. Should Trump become the Republican nominee, his current low standing among Hispanic voters could jeopardize the party's hopes of winning the general election in November." [WashPost]
Entrance polls in Nevada told a different story - HuffPollster: "Donald Trump, who has spent much of his presidential campaign loudly disparaging Latino immigrants, seems to have won a plurality of the Latino vote in Nevada's GOP caucus on Tuesday. Per entrance polls, he had the support of 45 percent of Latino caucus-goers to Florida Sen. Marco Rubio's 28 percent and Texas Sen. Ted Cruz's 18 percent. The statistic, while striking, needs a few caveats. Entrance polls, like other surveys, aren't an exact science, especially when it comes to very small populations. Just 132 of the caucus-goers surveyed were Latinos, giving the results a margin of error of plus or minus 10 percent….Trump's supporters, though, aren't a good representation of Nevada Latinos as a whole. Most of them don't vote Republican…[exit pollster Joe] Lenski estimates that about 1 percent of all Nevada's voting-age Latinos turned out on Tuesday." [HuffPost]
AMERICA'S RACIAL, GENERATIONAL DIVIDES COULD DECIDE WHO WINS IN 2016 - A report from the Center for American Progress, AEI and the Brookings Institution looks at how demography could shape the election: "Results from the past two presidential elections provide evidence that the changing demography of the electorate—with its increased racial diversity—can affect election outcomes in ways that could not have been anticipated even a decade ago. A solid case can be made that the nation's racial minority populations put President Barack Obama over the top in both 2008 and 2012. But racial diversity is not the only demographic change that may have an effect on future presidential elections. In addition to greater diversity—which is primarily affecting the younger part of the electorate—the older part of the voting population is growing more rapidly as the huge Baby Boom generation ages." [America's Electoral Future]
The report considers six possible scenarios for what voter turnout might look like this year, with the predicted outcomes ranging dramatically. Two, Scenarios A and B, which assume that racial groups would turn out in the same proportion and support the same parties as they did in either 2008 or 2012, highly favor the Democrats. A third, Scenario C sees the electorate returning to its relatively GOP-friendly state in 2004. The remainder, rather than emulating past electorates, imagine future elections in which minorities vote as often as whites (Scenario D), the GOP succeeds in winning over Hispanic and Asian voters (Scenario E) or white voters swing increasingly toward the GOP (Scenario F).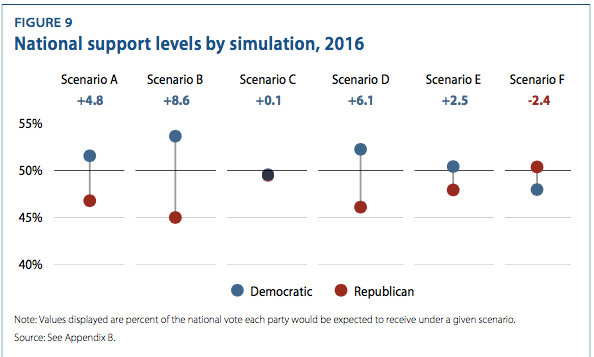 More from the report: "[N]either party can be assured of long-term dominance simply from shifting demographics….both parties will have considerable work to do in order to adjust to the changing structure of the eligible electorate. While shifting demographics favor Democrats when all else is held equal, the party has significant vulnerability among aging white voters, who will remain quite important in slow-growing Midwestern and Rust Belt swing states. Democrats will therefore have to think hard about how to balance appeals to their growing and younger minority base with outreach to older white voters—particularly in Middle America. On the other hand, Republicans face a clear need to enhance their appeal to America's rapidly growing minority population—especially the new minorities of Hispanics and Asians. If they do not, Republicans risk putting themselves into a box where they become ever more dependent on a declining white population— particularly its older segment." 
POLLS HAVE BEEN PRETTY SUCCESSFUL SO FAR - HuffPollster: "Donald Trump has now won three GOP contests in a row, but many pundits are still expressing shock at his success. 'What's actually -- what is happening out there?' Joe Scarborough pondered on 'Morning Joe' on Wednesday after Trump came out on top in Nevada...But HuffPost Pollster's polling averages have pointed to Trump as the front-runner in most contests for several months -- and with the notable exception of Iowa, they've been mostly right in the primaries and caucuses that have taken place….That doesn't mean HuffPost Pollster's averages will continue to successfully reflect outcomes. But given that HuffPost Pollster's averages have correctly indicated the winner in six of seven primaries and caucuses so far, it might be time to believe the polls when they say Trump is leading and the Democrats are in a tight race." [HuffPost]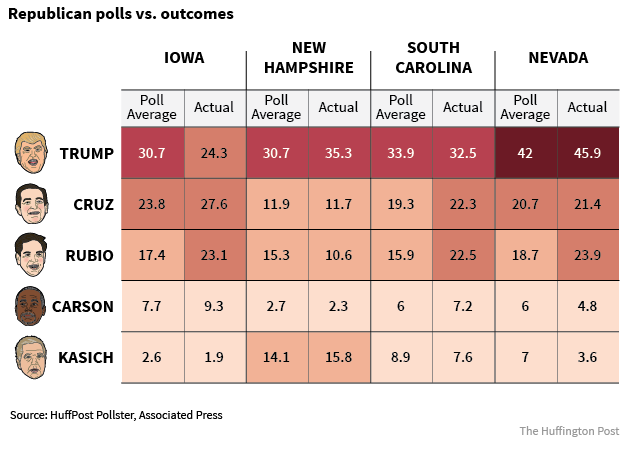 HUFFPOLLSTER VIA EMAIL! - You can receive this daily update every weekday morning via email! Just click here, enter your email address, and click "sign up." That's all there is to it (and you can unsubscribe anytime).
THURSDAY'S 'OUTLIERS' - Links to the best of news at the intersection of polling, politics and political data:
-Americans have no interest in seeing ex-New York mayor Michael Bloomberg run for president. [AP]
-Robert Jones analyzes Donald Trump's puzzling success among evangelical voters. [The Atlantic]
-Nate Cohn shows how delegate rules could allow Donald Trump to gather a large portion of delegates even with a low level of support. [NYT]
-Andrew Prokop says it's plausible that Trump will gain a delegate lead that will be difficult to defeat by mid-March. [Vox]
-Lee Drutman attempts to square Donald Trump's rise with political science. [Vox]
-Kevin Quealy uses game theory to explain why John Kasich is staying in the race. [NYT]
Calling all HuffPost superfans!
Sign up for membership to become a founding member and help shape HuffPost's next chapter