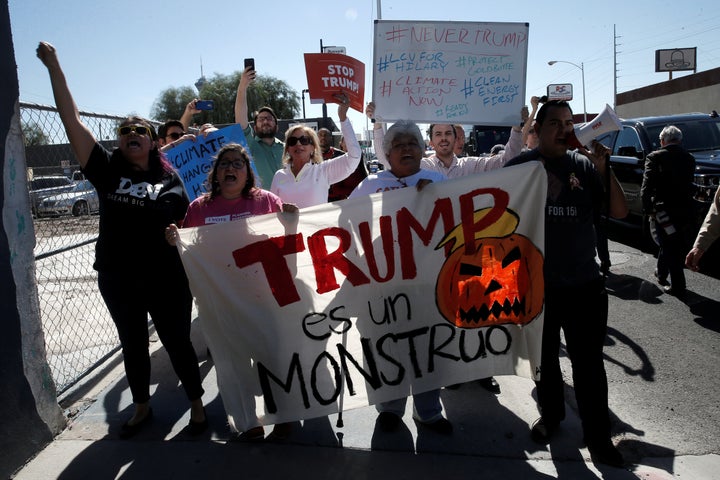 WASHINGTON ― Latino groups across the country are launching into the final stages of an extensive ground campaign to mobilize Latino voters, pushing last-minute registration efforts and early voting in key battleground states.
A spike in Latino voter registration in 2016 could deal a decisive blow to Donald Trump's presidential bid, especially in battleground states with large Latino populations like Florida and Nevada. The GOP presidential nominee has received little support from Latino voters, many of whom despise him for his incendiary positions on Latinos and immigrants.
In Florida, a coalition led by the Latino civic group National Council of La Raza says its canvassing efforts have helped register 46,000 voters. Voto Latino, another civic group, reported registering 10,565 in the Sunshine State as part of a larger effort that has registered more than 100,000 voters nationwide since last November.
With voter registration deadlines across the country fast approaching, other groups have turned their attention to early voting. Families Fight Back, a $15 million voting campaign directed at pro-immigration and historically unengaged voters, is encouraging people to cast their ballots early in battleground states like Florida, Colorado and Nevada.
"The targeting is voters ― infrequent voters, Latino voters, pro-immigrant voters ― who might not otherwise turn out," said Jeff Parcher, the communications director for the Center for Community Change Action, who is leading the campaign. Now that they've identified the voters, he said, "we're winding up, trying to get people to vote as early as they can."
The rate of new registrations among non-Latino voters has been steadily ticking upward. Among Latinos, we see a bigger step each cycle -- and a much bigger step this cycle.

Maxwell Wood, Democratic strategist
Information on voters' racial and ethnic backgrounds won't become available for review until after the general election on Nov. 8. But Maxwell Wood, a Democratic strategist whose company, Deck Apps, develops voter outreach software for campaigns and other organizations, said available data shows a likely spike in Latino voter registration.
"The rate of new registrations among non-Latino voters has been steadily ticking upward," said Wood, who has analyzed state voter registration and consumer data. "Among Latinos, we see a bigger step each cycle ― and a much bigger step this cycle."
Some of those gains are the result of normal demographic changes. About one-third of Latinos in the U.S. are under the age of 18, and more and more people are expected to register each cycle as they reach voting age. But Wood said a spike this year probably couldn't be attributed to that alone.
"There's a lot of natural demographic explanations for it," he said. "But I think we've seen an increase that surpasses an ability for it to be explained away by that. There's something else at play, too."
Still, Trump has insisted that he will win the Latino vote in November ― a goal that does not seem to be grounded in reality. A Wall Street Journal/NBC poll out last month put Trump's support among Latino voters at just 17 percent ― 48 points below Democratic presidential nominee Hillary Clinton.
In Florida, a must-win state for Trump if he hopes to have a plausible path to the presidency, Latinos account for a sizable share of the state's registered voters. Most of them are Democrats.
Trump could face a similar threat in Nevada, where Latinos make up nearly 20 percent of the state's population.
What's more, many Latino Republican operatives and advisers who once backed Trump have jumped ship, citing his hard line stance on immigration. That image was only reinforced by his fiery immigration policy speech in August, when he said that no undocumented immigrant was safe from being deported.
Compounding these challenges, the business mogul will now have to contend with a $3 million Spanish-language anti-Trump TV ad campaign in Florida and Nevada that will debut on Wednesday. The Service Employees International Union, which endorsed Clinton, and the pro-immigration civic group iAmerica Action are behind the campaign.
Most of the organizations that are registering Latino voters say they are nonpartisan ― more focused on encouraging Latinos to participate in the political process than on influencing their choice of candidate. Latinos have historically had lower voter turnout rates, and a July Washington Post poll reported that 39 percent of Hispanic voters said there was a less than a 50/50 chance that they'd vote in November.
"I don't believe this election is about any one candidate," Voto Latino spokesman Mario Carrillo said. "I really do believe that it's a combination of different elements coming together. One is that you have a record number of Latinos that will be eligible to vote."
But Carrillo also acknowledged that the 2016 election was consequential for Latinos.
"You do have an election that a lot of Latinos know is going to mean a lot to them and their communities," he said. "There's a lot at stake."
Calling all HuffPost superfans!
Sign up for membership to become a founding member and help shape HuffPost's next chapter
BEFORE YOU GO
PHOTO GALLERY
9 Other Absurd Things Donald Trump Has Said About Latinos