WASHINGTON -- President Barack Obama won reelection on Tuesday thanks in part to near-record levels of support from Latino voters, who came out in huge numbers to support him over GOP presidential nominee Mitt Romney.
An impreMedia-Latino Decisions poll released Tuesday as an alternative to exit polls found Obama had won 75 percent of Latino voters nationwide, while exit polls found him with around 70 percent Latino support, with figures likely to change throughout the night as tallies come in from the West Coast.
Either way, the margins are likely bigger than ever before, and bad news for the GOP.
"Republicans are going to have to have a real serious conversation with themselves," said Eliseo Medina, an immigration reform advocate and secretary-treasurer of the Service Employees International Union. "They need to repair their relationship with our community. ... They can wave goodbye to us if they don't get right with Latinos."
The country is becoming more diverse in general, with a growing Latino population and an even faster-growing Asian population. Those demographic changes will spell trouble for the Republican Party if it remains on in its current trajectory, among Latino voters in particular.
Immigration isn't the top issue for most -- jobs and the economy rank higher -- but it remains an important one, and for many Latino voters it's something of a litmus test. If a politician seems to disrespect immigrants or Latinos overall, or if the party seems uninterested in winning their votes, the support isn't going to come. This year, it didn't.
Polling shows that Latino voters not only felt they aligned better with Obama on many issues, including jobs and the economy, they also felt the Democratic Party seemed to actually care about getting their votes.
Republicans touted their unprecedented efforts in 2012 to win the Latino vote, from wider get out the vote efforts to more Spanish-language advertising. Romney's son Craig, a fluent Spanish-speaker from his time as a missionary in Chile, appeared on his behalf before Latino audiences, as did Sen. Marco Rubio (R-Fla.) and a handful of other Latino Republicans.
Those unprecedented efforts didn't seem to pay off. Exit polls place Romney at winning 29 percent of the Latino vote, which is lower than Republican candidates received in 2008, 2004, and 2000. The lowest percentage of Latino voters won by a Republican was in 1996, when Bob Dole garnered only 21 percent of Latinos to former President Bill Clinton's record 72 percent.
Latino vote pollsters believe exit polls are even overestimating Romney's share this year. ImpreMedia and Latino Decisions' "election eve" poll was conducted in the final days of the race with Latinos who had either already voted or were certain they would. They found that only 23 percent of Latino voters supported Romney.
A look at the states shows particularly how far slanted Latinos are toward Democrats. Romney won in Arizona, one of the most Latino-heavy states in the nation. But it was despite major opposition from Latino voters, who will almost certainly be an even larger share of the population there in 2016. According to exit polls, 77 percent of Latino voters supported the president; the impreMedia-Latino Decisions put that support at 79 percent.
Obama's win in Colorado, a key swing state, can be attributed in part to Latino voters, who make up about 20 percent of its population. The "election eve" poll found that 87 percent of Latino voters planned to vote for Obama. Election polls put that figure lower, at 74 percent. Either way, the margins were enough to help pull the state to the left for the president to eke out a victory.
In every state polled by impreMedia and Latino Decisions, immigration was a major factor in the decision-making process. Most Latino voters support the president's policies on the issue, even if he has not succeeded in enacting many of them.
The Dream Act, a bill to help undocumented young people, has support from a strong majority of Latino voters, and many said they became more enthusiastic about the president after his June announcement he would no longer deport some young undocumented immigrants who fit the same general requirements.
The impreMedia and Latino Decisions poll shows a pretty clear indicator of why many of those supporters may care strongly about immigration reform: 60 percent of those polled said they knew an undocumented immigrant.
Romney, on the other hand, took a hardline stance on immigration in the GOP primary and was never quite able to shake it as he moved into the general election. His calls for "self-deportation" -- making life difficult for undocumented immigrants until they left -- and for vetoing the Dream Act drew ire from immigration activists and Latino groups in general.
His party had enacted a string of anti-undocumented immigrant legislation in Arizona, South Carolina, Georgia, Indiana and Alabama, and had helped in the Senate to defeat the Dream Act in 2010.
There are plenty of people on the GOP side who have urged a softer tone on immigration, but it didn't seem to sink in with the Romney campaign until after the primary. In the final months of the campaign, he pitched his desire to find a solution for undocumented young people already in the country and advocated a broad fix for immigration problems.
Too little, too late, said Lawrence Benito, CEO of the Illinois Coalition for Immigrant and Refugee Rights, which organized Latinos and other immigrants to vote for the president this year.
"Romney during the primaries put himself into a corner," he said. "He went to the right of everyone in the Republican field, even respected conservatives, and the Latino and the immigrant community was not fooled."
Before You Go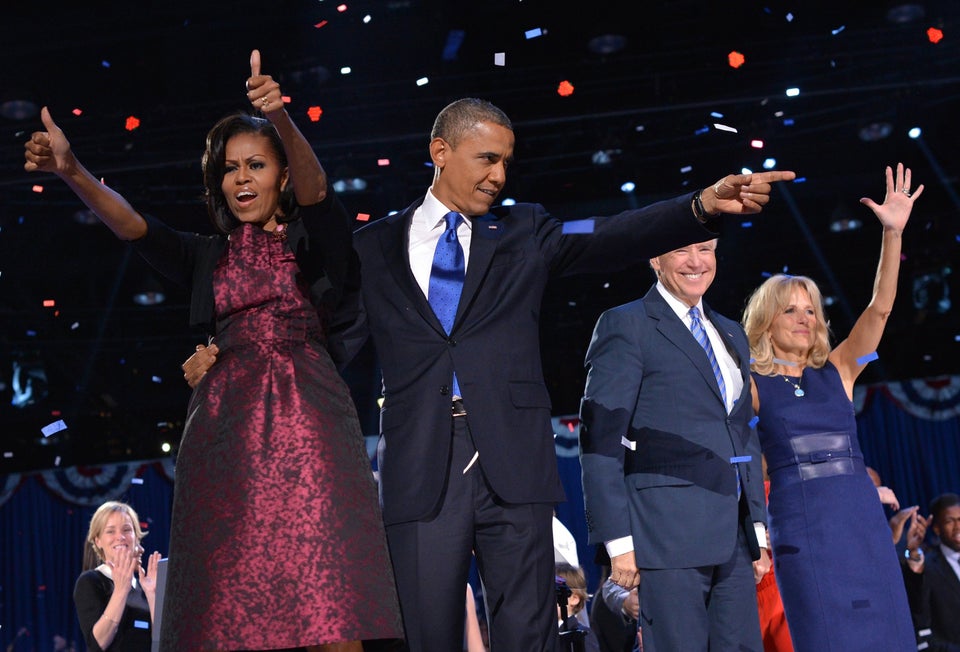 Election Night Celebrations
Popular in the Community