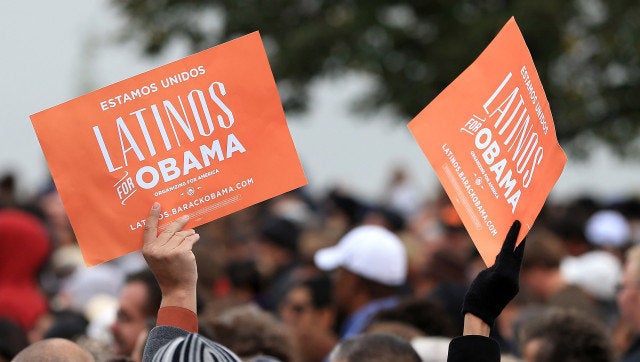 A new survey released Thursday shows that while Latino voters generally support the reelection of President Barack Obama by a wide margin over Republican presidential nominee Mitt Romney, there are wide political divisions among the population's religious groups, such as Catholics and evangelicals.
About three-quarters of Latino Catholics and 8 in 10 religiously unaffiliated Latinos support reelecting Obama, according to the report from the Pew Forum on Religion and Public Life and the Pew Hispanic Center. Yet, when it comes to Latino evangelicals, a growing group that includes about 16 percent of Latino registered voters, just half support Obama while 39 percent support Romney.
By comparison, Catholic whites are almost split, with 47 preferring Obama and 46 percent supporting Romney. Among white evangelicals, Romney, meanwhile, has a significant lead.
There are 23.7 million registered Latino voters in the nation -- about 11 percent of the electorate -- and they make up at least 14 percent of voters in three key battleground states: Colorado, Florida and Nevada. The population of registered Latino voters has grown by 4 million since Obama was first elected and issues of importance to Latinos, including immigration, have become popular topics on the campaign trail.
At Tuesday's presidential debate, Obama and Romney sparred over immigration reform and Arizona's controversial immigration policy enforcement law. In Florida, where the third and last debate between the candidates will be Monday at Boca Raton's Lynn University, there are 2.1 million Latino voters -- about 16 percent of the state's electorate.
The survey found that patterns similar to presidential picks play out among Latinos' political party preferences. Eight in 10 religiously unaffiliated Latinos -- the group makes up about 15 percent of Latino voters -- and 7 in 10 Latino Catholics said they were Democrats who leaned toward the Democratic Party. For evangelicals, about half were Democrats or leaned Democratic and about a third said they were Republicans or leaned Republican.
The survey also asked Latino churchgoers how much they are hearing about political candidates and issues leading up to elections. Fifty-four percent of those who attend religious services at least once a month said they have heard clergy speak about abortion, while 43 percent said they had heard clergy talk about immigration and 38 percent reported speech from the pulpit about homosexuality. About 3 in 10 Latino churchgoers said clergy had spoken directly about candidate and elections.
For the first time since the Pew Hispanic Center started asking about same-sex marriage, more Latinos said they supported allowing gays and lesbians to marry -- 52 percent -- than the 32 percent that opposed it. When Pew asked the question three years ago, 44 percent opposed same-sex marriage while 34 percent supported it. Previous surveys by other organizations have also shown increased support of same-sex marriage legalization among Latinos.
"This finding reflects the overall trend in the general public toward more support for same-sex marriage," the report said.
Among Latino evangelicals, opposition to gay marriage is strong, with 66 percent against and 25 percent favoring. For comparison, registered Catholic voters support same-sex marriage at similar levels to registered Latino Catholics, but surveys of white evangelicals have found they are more opposed to same-sex marriage than Latino evangelicals.
The bilingual national survey was conducted via telephone between Sept. 7 and Oct. 4, largely before the first presidential debate, which was Oct. 3 in Denver. It surveyed 1,765 Latino adults, of which 903 were registered voters.
Related
Popular in the Community