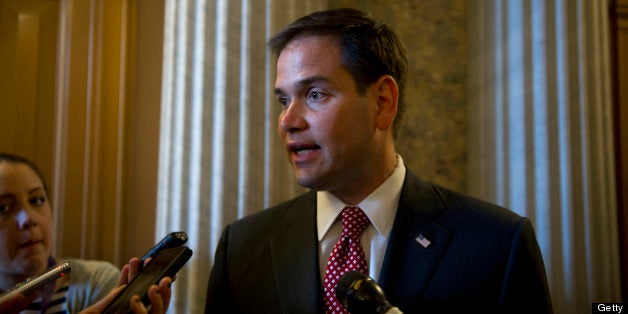 A strong majority of Latino voters reject the idea that border enforcement should come before a path to citizenship for undocumented immigrants, according to a poll released Tuesday from Latino Decisions and pro-reform group Presente.org.
The poll, like other surveys on the topic, found strong support -- 81 percent -- for measures that provide a path to citizenship for undocumented immigrants at the same time as they increase border security. But it also found that many Latino voters are unaware of certain parts of the "gang of eight" bill that passed its first hurdle Tuesday on the Senate floor. That bill would immediately legalize many undocumented immigrants, but would also require that certain border security provisions be met before a plan for a path to citizenship could move forward.
Latino Decisions found that 47 percent of Latino voters had heard little or nothing about the bill's measure to increase the number of border agents, while 44 percent said they had not heard about its provision for more fencing along the U.S.-Mexico border. Fifty-four percent of Latino voters had heard little or nothing about the major increase in spending on border enforcement in the bill, according to the poll.
Border provisions are likely to be a major tipping point in the legislation, with Sen. John Cornyn (R-Texas) planning to offer what Senate Majority Harry Reid (D-Nev.) has called a "poison pill" to increase hurdles on a path to citizenship for undocumented immigrants.
President Barack Obama said in a speech on Tuesday that the gang of eight's requirements for border security improvements are strong without amendments.
"I know there's a lot of talk right now about border security, so let me repeat: Today, illegal crossings are near their lowest level in decades, and if passed, the Senate bill as currently written ... would put in place the toughest border enforcement plan that America has ever seen," he said. "So nobody's taking border enforcement lightly."
The Latino Decisions/Presente.org poll found support from Latino voters for several provisions in the gang of eight bill that would mark steps on the path to citizenship. A strong majority -- 94 percent -- said undocumented immigrants should be required to go through a background check before becoming legal residents. But most -- 78 percent -- also opposed allowing undocumented immigrants to become legal residents without the chance of becoming citizens. Additionally, Latino voters largely oppose increasing the number of detentions of unauthorized immigrants, according to the poll.
"To be clear, our poll finds that Latino voters are very strong supporters of the current immigration reform efforts," Latino Decisions' Matt Barreto said in an email. "However, as the bill moves to the Senate floor for amendment and debate, this new poll highlights that Latino voters have questions about some portions of the bill they would like to see improved. Most notably, the 13-15 year waiting period to apply for citizenship is seen as far too long, and by and large Latino voters would like to see that period reduced."
Latino Decisions polled 500 Latino registered voters nationwide, and allowed them to answer in English or Spanish. The margin of error was plus or minus 4.4 percent.
Popular in the Community