That's a significant concern for any presidential candidate hoping to win over an increasingly diverse electorate. Republicans, though, face a bigger worry ― whether Trump's status as anathema to minorities is likely to rub off on the party as a whole, turning Latino voters further against GOP candidates down the ballot or in future elections.
Surveys last year gave them some reason for hope. In a June 2015 survey for Univision, 61 percent of of Hispanic voters said they believed Donald Trump's comments on Mexican immigrants represented only his view and not the view of the Republican Party. A Gallup survey later that summer found relatively little animosity from Hispanic voters toward any of Trump's Republican rivals.
The latest results, however, paint a dramatically worsening picture for the GOP.
Latinos' already dire opinions of Trump haven't fallen that much more in recent months. Eighty-two percent view him negatively, up modestly from 75 percent in February. What has changed significantly is their views of the two major parties.
Sixty-four percent of Latino voters now hold a negative opinion of the GOP, according to the new poll, up from 48 percent in February. The percentage with a very negative view has risen even more sharply, from 25 percent to a record high 44 percent.

In contrast, the percentage of Latino voters with positive views of the Democratic Party has risen from 53 percent to 65 percent, with very positive views more than doubling from 20 percent to 48 percent.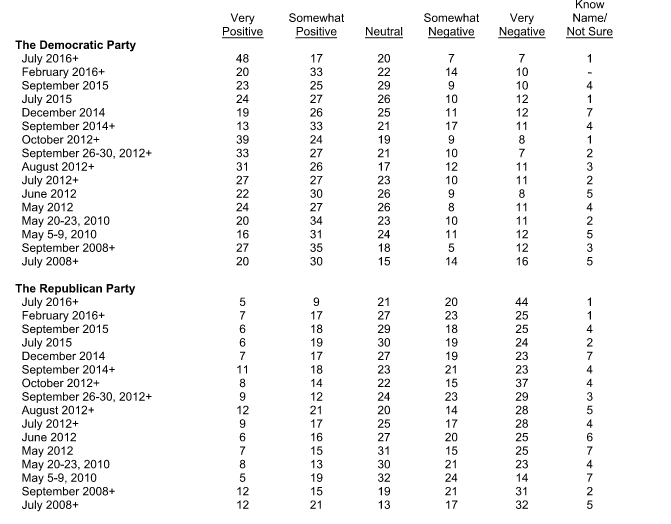 It's never a good idea to read too much into the results of a single survey, especially one, like this, with a relatively small sample size. But if the change it shows is both real and lasting, the effects could ripple past 2016. Republicans have struggled to win over Latino voters long before Trump entered the race ― the party's 2012 autopsy report warned that "[i]f Hispanics think we do not want them here, they will close their ears to our policies." 
"If Hillary Clinton becomes the Democratic nominee, she has this serious opportunity to hit and eclipse the 80 percent mark with Latino voters," Matt Barreto, a pollster whose firm, Latino Decision, has since joined the Clinton campaign's polling team, said in a panel discussion last February. "Now, if that happens...I think you are now starting to talk about a more permanent realignment in the Latino vote."
The survey reached 300 Latino registered voters between July 9-13, using live interviewers to call both cell phones and landlines.
Calling all HuffPost superfans!
Sign up for membership to become a founding member and help shape HuffPost's next chapter