 While President Barack Obama's persistently large Latino voter lead over Gov. Mitt Romney has become a campaign season theme, a new poll indicates that Romney's problems with Latino voters run deep and are closely connected to questions of character and personality. Putting Paul Ryan on the ticket has not helped.
Nearly 65 percent of Latino voters polled in an NBC/Wall Street Journal/Telemundo survey released Wednesday said they plan to back Obama in November compared to about 30 percent who intend to vote for Romney.
Obama, who won the vast majority of Latino voters in 2008, has possessed a substantial lead with Hispanic voters since the Spring, when Romney emerged as the presumptive GOP nominee. Spanish-language ads questioning the way that Obama has managed the economy; others featuring Romney's Spanish-language-fluent son Craig Romney, the senior Romney's business experience and family life have not proven effective in pulling Latino voters into the Romney camp, polls indicate.
An outside group's plans to air ads branding Obama, a president whose administration has deported more undocumented immigrants than any other in history, as the "Deporter-in-Chief" in swing states appear to have done little to reshape opinions of the President as thousands of young, undocumented immigrants lined up this month for the start of a deportation relief program created by the Obama team.
One of the reasons the ads may not be working: Latino voters don't appear to like or trust Mitt Romney and think little, if anything, about Paul Ryan.
Among Latino registered voters surveyed in the most recent NBC News/Wall Street Journal/Telmundo poll, 64 percent said that they believe Obama to be a man who cares about average people, and 59 percent described him as knowledgeable and experienced enough to handle the presidency, down from 65 percent in July. Another 52 percent described Obama as a man with good economic ideas and 51 percent said he has executive or managerial skills.
Latino voters saw Romney differently. Just 21 percent view him as a man who cares about average people and 26 percent described him as knowledgeable and experienced enough to handle the presidency. For Romney, the later figure was up from just 15 percent in July. Another 31 percent believe that Romney has good ideas that could improve the economy and 30 percent believe that Romney has executive or managerial skills.
Obama also topped Romney by large margins in voter measures of likability, transparency, honesty and being a person who consistently stands up for his beliefs as well as a man who can stay calm in crisis, according to the poll.
But for the Romney camp, the problems with Latino voters do not end there.
About 28 percent of Latino voters surveyed in the NBC/Wall Street Journal/Telemundo poll described themselves as less likely to vote for Romney now that he has made Ryan his running mate. Another 51 percent said the Ryan pick left their plans unchanged and 15 percent said that Ryan's place on the Republican ticket made them more likely to vote for Romney.
Ryan, is best known as a staunch ideological advocate of cutting both taxes and spending. Such a combination would require steep cuts to nearly all domestic spending including entitlement programs such as Medicare and Medicaid, education, and most direct government efforts to stimulate the economy. The list runs the gamut of Latino voter priorities identified in other polls.
The poll, conducted between Aug. 16 and 20, was part of a larger survey of voters of various races and ethnicities. The Latino voter data was culled from the answers of 300 Latino registered voters and carries an error rate of plus or minus 5.66 percent. Nearly 20 percent of those polled identified as Republicans or Republican leaning Independents. Another 63 percent identified themselves as Democrats or left-leaning Independent voters.
Before You Go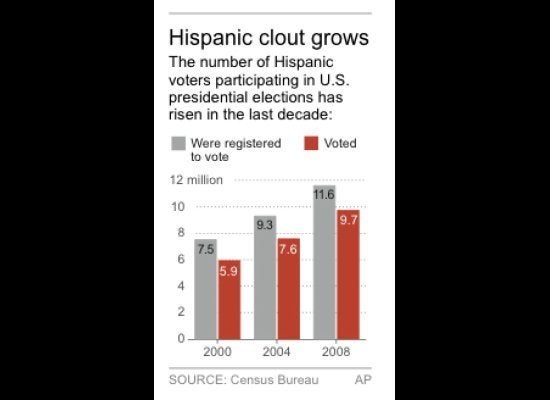 The Politics Of Registering Latino Voters
Popular in the Community