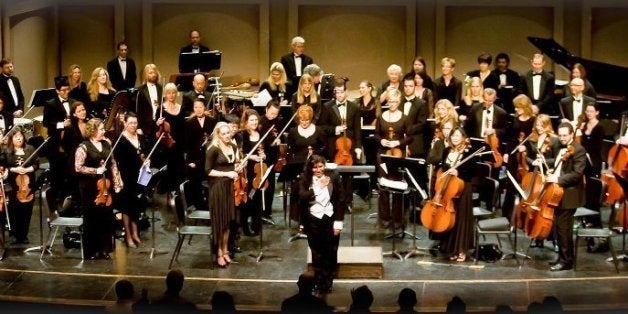 There are many barriers that exist growing up Latino in America, but access to classical music is one that is not often discussed.
However, Santa Cecilia Orchestra (SCO) founder-conductor Sonia Marie De León de Vega has dedicated her life to exposing the Hispanic community to the musical genre she first came to love as a child growing up in San Antonio, Texas. Specifically, it was hearing Beethoven's 7th Symphony at the age of 6 that forever changed her life.
"I'm a fifth generation Mexican-American," De León de Vega told Voxxi. "I'm bilingual and have strong traditions. When I fell in love with classical music I was already playing the piano. I had lessons starting at age 5. So I had an instrument to follow-up what I heard. I asked my teacher to play music by Beethoven."
It's not too often one can take a direct experience from childhood and turn it into a universal model but that's what De León de Vega has achieved with SCO, which was founded in 1992 and works with the Latino population.
Prior to creating the orchestra, she graduated college as a music major and felling in love with conducting. De León de Vega spent years traveling around the globe leading orchestras in Mexico and Italy and watching families attend classical concerts.
Yet when she returned stateside, not only were female conductors – not to mention Latino female conductors – few and far between, but audiences were decidedly upper class and non-Hispanic white. That's when De León de Vega decided to rewrite the perception of classical music.
Classical music and Latinos: Creating a link
Still, it wasn't without its difficulties.
"Our first concert was 21 years ago and nobody went," De León de Vega laughed. "We had more people in the orchestra than in the audience. That's when I thought, 'This is not going to be easy.'
"Because you can deprive people of this, put up barriers and say, 'This is elitist. This is not for you.' Because we have no music in our schools and communities, you can't expect people to be there. I knew I had to build our audience literally one family at a time. I thought, 'If I can't get the adults here, I'll get the children here.' So I went to schools."
That's when in 1998 De León de Vega started SCO's grassroots effort Discovering Music.
The nationally-acclaimed, two-year music education program is currently offered in 18 elementary schools throughout Los Angeles. More than 20,000 kids are involved annually in the program, which not only introduces kids to classical music but provides free violin lessons to 200 students a year.
While SCO's 80-member orchestra – including Latino musicians – performs six public concerts a year, the real work is in the public schools, where chamber music trios and quartets annually play more than 1,000 shows.
"We've been around a while now and really have proved that music is for everyone and is appreciated by everyone," De León de Vega said. "When you go to our concerts you'll see 90 percent families in attendance and about 80 percent Latino. We don't do pops or children's concerts. It is traditional classical music, and we do a lot of music from Hispanic composers [such as Carlos Chávez Ramírez and Arturo Márquez]. We get 1,000 people at every concert now."
As far as Discovering Music's impact, De León de Vega said she's witnessing her goal of breaking barriers come to fruition.
In addition to program graduates studying music in college, the conductor points to kids who first attended an SCO concert while in elementary and still attend as high school students as proof her dream of Latino Americans embracing and spreading classical music is alive and well.
"I've had many families say to me, 'We didn't want to come. My son or daughter begged me, and I'm glad we did, we loved it,'" De León de Vega said. "It just takes opening that door.
"Music is a great equalizer where skin color, money in the bank and education doesn't matter. It just elevates the community. It inspires kids to come out of there and say, 'Look at that woman, she looks just like me. She looks like a family member and she's leading the symphony orchestra. I can do this, I can do anything.'"
BEFORE YOU GO
PHOTO GALLERY
Latino celeb philanthropists