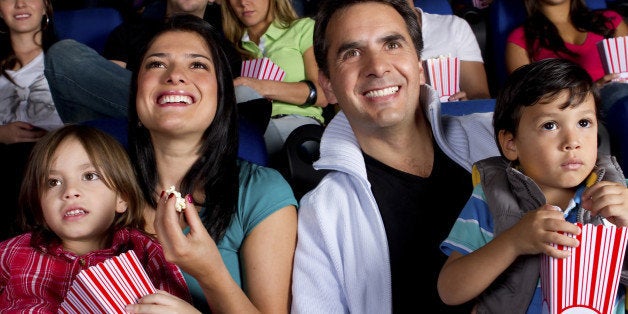 Latinos are the biggest moviegoers compared to other ethnic groups, according to a recent report.
In their annual report, the Motion Picture Association of America found that while Latinos made up 17 percent of the U.S. population, they accounted for 32 percent of frequent moviegoers in 2013. By definition, frequent moviegoers are people who went to watch a movie once a month or more.
Meanwhile, blacks accounted for 12 percent of the population and made up 12 percent of moviegoers last year. As for whites, they made up 63 percent of the overall population and made up 49 percent of moviegoers in 2013.
"In 2013, Hispanics continued the trend of oversampling as frequent moviegoers relative to their proportion of the population and the total number of frequent Hispanic moviegoers (11.6 million) continues to grow," the report reads.
The report also shows that while Latinos are more likely than any other ethnic group to go to the movies, they purchased fewer tickets in 2013 than they did in 2012. Latinos purchased 25 percent of the tickets sold in 2013, compared to 26 percent in 2012.
Why are Latinos big moviegoers? A study by the Nielsen National Research Group seeks to answer that question. The study, which also identifies Latinos as the biggest moviegoers, finds that for Latinos going to the movies "seems to carry a particularly positive cultural significance."
"They were considerably more likely than non-Hispanics to view going to a theater as a way to spend time with their family and friends (86% vs. 77%)," the study reads. "They also were more likely to spend time discussing the movies after seeing them (66% vs. 53%)."
The study also shows that on average, Latinos attended 9.5 movies in 2012, more than any other ethnic group.
Another study by Nielsen shows that while family and action adventure films are popular among Latinos, they "command the highest share of audience in the horror/thriller and romantic comedy genres."
But even though Latinos are big moviegoers, they are the most under-represented group onscreen. A study by the University of Southern California shows that Latinos only play about 4 percent of the roles on the big screen.
Latinos who do land a major role on a film often face one big obstacle: getting stuck with stereotypical roles. Cuban America actor Manny Alfaro, who's the executive director of Hispanic Organization of Latin Actors (HOLA), previously told VOXXI that many talented Latino actors are still being assigned stereotypical roles of housekeepers or criminals, ignoring the fact that there are many Latinos who have blue color jobs.
"It's very hard for an actor to break the mold of a stereotype until he starts making a name for himself," Alfaro said. "But even then, when he makes a name for himself, he is in a stereotype mold for a while until he breaks away."
He added that the good news is that Hollywood producers and directors are starting to provide Latino actors with better acting opportunities.
"There are improvements simply because they recognize the rather voluminous purchasing power that Latino audiences have," he said.