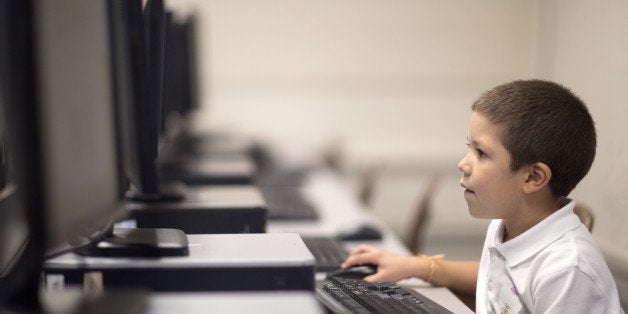 A bill approved in the House to expand access to quality charter schools could potentially have a big impact on a number of Latino parents looking for more school choices for their children.
The Success and Opportunity through Quality Charter Schools Act, also known as HR 10, easily passed in the House on Friday with a strong bipartisan vote of 360-45. The bill would increase annual charter school funding from $250 million to $300. The additional funds would help expand the charter school program to benefit more students.
The bill would also encourage charter schools to reach out to certain populations, including English learners, at risk-students and students with disabilities. Furthermore, the bill would combine the two current charter school programs into one program that would allow states to use federal funds to start new charter schools as well as expand and replicate existing charter schools.
Rep. Luke Messer (R-Ind.), who pushed for the passage of the bill, told VOXXI he thinks every child in the United States should have an opportunity to get a great education.
"Unfortunately, too many kids in America have their destiny determined by a zip code, because too many kids have to walk into schools where they don't have a meaningful chance to succeed," he said. "Charter schools are one of the ways that we can empower families and help them have the ability to pick the best option for their kids."
Over the last few years, demand for charter schools has increased. There are currently 2 million students who are enrolled in charter schools nationwide. More than 65 percent of them are minorities and low-income. Many of them are also Hispanic.
Messer said demand for charter schools has grown so much that there are now about 1 million students on charter school waiting lists. He said he hopes that through this bipartisan bill, the waiting lists will shrink and "more families will have an opportunity to send their child to a great school."
How the charter schools bill would benefit Latinos
When asked how this bill would specifically benefit Latinos, Messer told VOXXI it would give more Latino parents the option of sending their children to charter schools.
"Many in the Latino community and the African American community both live in communities that have challenged public school systems," he said. "Those are many of the families looking for a charter school option, and in my mind, there ought to be no waiting list. We can't rest as a country until every family has a chance to go to a first-rate school of their choice."
The charter schools bill has gotten support from organizations like the National Council of La Raza (NCLR).
Delia Pompa, senior vice president of NCLR, wrote a letter to the authors of the bill, applauding them for introducing it. She described the legislation as "an overdue step toward strengthening and modernizing the federal charter schools program and will have a positive impact on a vast number of Latino school children and their families across the country."
"When too many low-income, minority, and Limited English Proficiency students fall behind their peers, charter schools have a proven record of serving these students and encouraging their long-term success," Pompa wrote. "H.R. 10 would further solidify this trend."
Meanwhile, the American Federation of Teachers (AFT), which is one of the nation's largest teachers union, expressed some concerns.
"Like you, we are disheartened and discouraged when we see reports like the one released this week documenting millions of dollars in fraud, waste and abuse in the charter school sector," AFT President Randi Weingarten wrote in a letter sent to House members on Wednesday.
In the letter, Weingarten also urged House members to support adding amendments to the bill that would "ensure better financial oversight of charters, transparency with charter finances, and equitable access for and treatment of all students." However, those amendments failed on Friday.
The bill now heads to the Senate where it faces a tougher battle to pass.
Popular in the Community