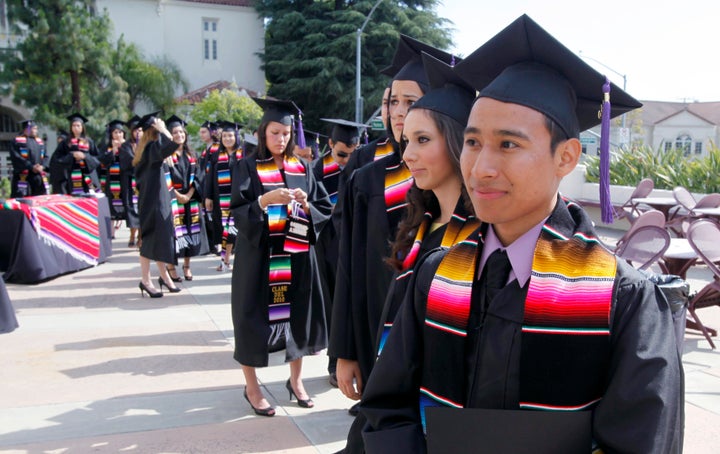 Daniel Perez narrowly avoided the fate of navigating his young life armed with only a high school diploma.
His family had emigrated from Mexico when he was 15 to a new home in St. Louis Park, Minn. Even though Perez excelled at his suburban high school, his parents preferred he get a job and contribute to his family's income rather than pursue the costly dream of a college education.
"In high school, my parents kept pushing me, saying that I needed to become a man and work and support my family," said Perez, who is now 24.
But last May, he graduated from the University of Minnesota. Next month, he begins a Master's degree in social work.
Becoming the first member of his family to graduate from college wasn't easy. "I found myself constantly battling what my parents needed and what I wanted for my own life," said Perez, whose father works for an aluminum company and whose mother works for a temp agency.
Perez sees the dilemma his family faced as one confronting many Latino families. Especially during a rough economic times, the short-term gains of an immediate paycheck can often outweigh the longer-term benefits associated with a college degree.
The current statistics for young Latinos are particularly grim: Almost one in four school-aged American children is Latino, but a report released earlier this year by the White House showed those children achieve "the lowest education attainment levels" in the country.
A recent Pew report found not only do Latinos have a significant high school dropout rate -- 18 percent -- they are also least likely to opt for the GED, which is a vital "second chance" credential when it comes to increasing college-going numbers. Only one in nine Latino dropouts will go on to earn a GED.
The Latino education crisis is hardly distinct from the crisis confronting American education in general, according to a report from the National Education Association. Yet Latinos are receiving special focus, in part because of their growing numbers. Latinos are the largest and most rapidly growing ethnic minority in the United States; if Latino college achievement does not improve in the next decade, the effect on the country's future workforce will be substantial.
"The President has said a number of times that the future of the United States is inextricably linked to the future of the Latino community," said Juan Sepúlveda, executive director of the White House Initiative on Educational Excellence for Hispanics. "It's impossible to reach these 2020 goals without Latinos doing our share of heavy lifting and increasing our share of college attainment."
At a town hall meeting earlier this spring, President Obama didn't mince words: "Our workforce is going to be more diverse. It is going to be, to a large percentage, Latino. And if our young people are not getting the kind of education they need, we won't succeed as a nation." He went on to say that eight out of 10 future jobs will require more than a high school diploma.
Mariela Dabbah, CEO of Latinos In College, an online resource for Latinos pursuing higher education, remains skeptical that the nation will reach such an ambitious benchmark in just nine years. "We've heard this before," said Dabbah. "It's hard to see how it's going to work this time around and that we're not going fall short."
Dabbah says a change of perspective is necessary: A large number of dropouts does not only negatively impact Latinos, but is ultimately detrimental to all of society.
"We need to convey more clearly to the American public that Latino youth is the future of this country, not because it's a euphemism or something nice to say but because the numbers are there," said Dabbah. "And we have to get to the point where we realize it's everybody's problem and a great opportunity to develop home-grown talent, and not just a problem for Latinos."
Increasing the educational attainment of Latinos is Frank D. Alvarez's life's work. Alvarez is the president and CEO of the Hispanic Scholarship Fund, a nonprofit that gives away college scholarship money. While Alvarez believes there's a benefit associated with setting high standards, he concedes that ensuring 60 percent of the general population attains a college degree will be difficult.
For Latinos in particular, Alvarez sees the college-going challenge as a generational one -- but a view that's bound to shift over time.
"When an individual has a college degree, their children have no choice but to go to college," said Alvarez. "Planting a degree in every Latino household will be the key to demystifying this entire process."
Alvarez cited certain barriers to encouraging more young Latinos to not just finish high school, but enroll in college -- and ultimately graduate. Access to education and aversion to debt are both major impediments, Alvarez said. One in four Latinos live in poverty, and the decision to forgo college is often an economic one. He also cited a tendency among recent immigrants to discourage their children from leaving home, preferring they instead live nearby and remain closely linked to their families.
Rather than blaming families, 19-year-old Harvard University junior Isamar Vega says the responsibility of increasing college attainment ultimately rests with each individual.
Growing up in a small town in California's Central Valley, Vega dreamed of becoming the first in her family to attend college. Vega's parents arrived in the U.S. from Mexico nearly 30 years ago. Her father works as a landscaper and her mother works in an auto parts factory. She didn't have a college-going culture at home, so Vega instead relied on the advice and influence of high-achieving peers and mentors at her local high school.
Vega says she leapt at the opportunity to leave home and experience a new world. So when her parents didn't encourage her to read, she forced herself.
"My mother never went to school," said Vega. "She believed that if I went to college, I'd get a good job and not have to work hard labor for the rest of my life. I guess I just always wanted more for myself and college seemed like the best way of getting there."
CORRECTION: An earlier version of this article stated the Latino high school graduation rate is 18 percent. The Latino high school dropout rate is 18 percent, according to the National Center for Education Statistics.
Popular in the Community