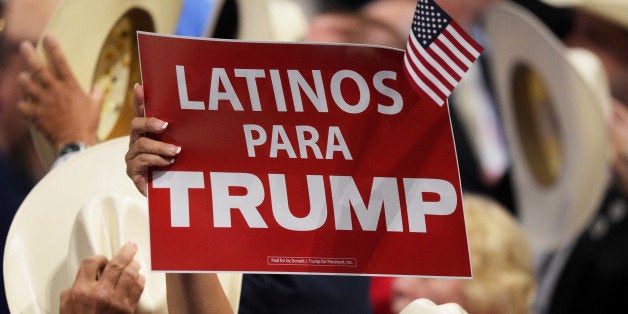 On Wednesday night, Kentucky State Senator Ralph Alvarado became one of the few Latinos to address the 2016 Republican National Convention in Cleveland. "To my Hispanic brothers: Our families fled from countries full of corruption and lying politicians," he said in Spanish. "Please do not let that misery also occur in this country." While pointedly mentioning that his parents were legal immigrants, he praised the shared values of Hispanics and Republicans. "There is only one candidate who will protect it for our current and future generations," Alvarado said. "That candidate is Donald Trump."
Although Alvarado was a good speaker, his speech was embarrassing to watch. Here was an otherwise intelligent, accomplished Latino endorsing Trump. He is one of a small but vocal minority of Hispanic Trump supporters. These are people who, instead of standing for their communities, are lining up behind an anti-immigrant candidate. These misguided Latinos are putting their party loyalty before all else - and that's a shame.
According to an NBC News/Wall Street Journal poll, 76 percent of Latinos support Hillary Clinton over Donald Trump. Only 14 percent of Latinos said they back Trump - which brings us to Alvarado.
Alvarado is a physician and the first Hispanic man elected to the Kentucky General Assembly. With such impressive credentials, it was jarring to hear him say, "Today we have a president who has not only failed to end racial tension, he has made us more divided than ever." Apparently, Alvarado missed Trump's characterization of Mexican immigrants as rapists and drug dealers, and did not notice when he impugned the integrity of a Mexican-American judge. Or maybe Alvarado does not find Trump's proposal for a temporary ban on Muslim immigration, or his questioning the legitimacy of the first African-American president, to be offensive. Either way, Alvarado seems to have a pretty narrow lens for identifying and calling out divisive politicians.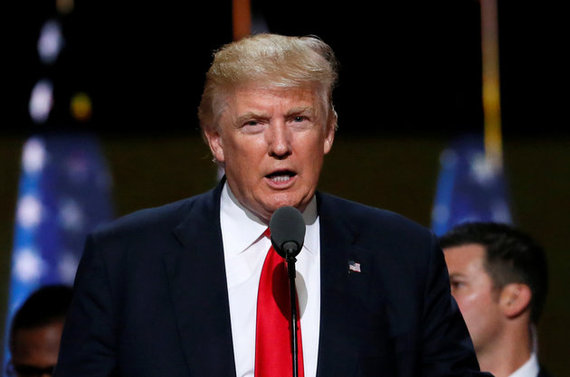 Alvarado is not alone. Earlier this week, a group of Hispanic conservative activists announced their endorsement of Trump as well. In a letter, the coalition of conservatives writes, "We are not enamored with Donald Trump's bombastic rhetoric and personality. But at least we know that Donald Trump won't divide the country and fuel the flames of racial confrontation by accusing the police and the entire criminal justice system of being racist."
Their letter overlooks two key facts. First, Trump's candidacy has been about more than "bombastic rhetoric and personality." It has been about a particularly ugly brand of angry nativism. Trump has called for the deportation of millions of undocumented immigrants, insulted Latino leaders like Gov. Susana Martinez and Sen. Marco Rubio, and blamed Hispanics (and blacks) for violent crime across the country. Second, there is documented evidence of the racial disparities in our criminal justice system, and Clinton has rightfully called for reform. That these conservatives Latinos would brush aside such realities in their embrace of Trump is both troubling and cynical.
"We felt that as offensive as Trump had been, Hillary would be much worse," Alfonso Aguilar, the head of the Latino Partnership for Conservative Principles, told The Washington Post. Again, the same pattern of "selective sight" seems to be in evidence. In fact, Clinton has long supported the interests of the Hispanic community, including immigration reform. It is an astonishing leap to judge her as offensive in advance of her doing anything offensive.
Just last year, Aguilar himself called Trump's attacks on Latinos "ludicrous, baseless, and insulting." Since then, Trump has not changed. Unfortunately, what has changed is that some Latinos are now willing to abandon their principles and get on the Trump Train.
True, this election cycle has left many Latino Republicans feeling locked out of the GOP. It's hard to say what the best path forward is for conservative Hispanics. Miami Rep. Ileana Ros-Lehtinen has stated that she won't vote for Clinton or Trump, and The Huffington Post reports that "a whole bunch" of other influential GOP Latinos are doing the same thing. While their position is not ideal, it still beats endorsing Trump.
Consider that Trump kicked off his "Make America One Again" night at the RNC Convention with Sheriff Joe Arpaio, who has been cited for racial profiling of Latinos, and then ended it with an angry, dystopian rant against immigrants. No wonder that 81 percent of Latinos think Trump is a "bully." Latinos who come out for Trump now are likely throwing away whatever credibility they have in our community in the future. Not to mention integrity.
Donald Trump does not deserve the support of Latino voters. The fact that some Latinos are willing to publicly endorse him is a sad, sorry spectacle.
Calling all HuffPost superfans!
Sign up for membership to become a founding member and help shape HuffPost's next chapter